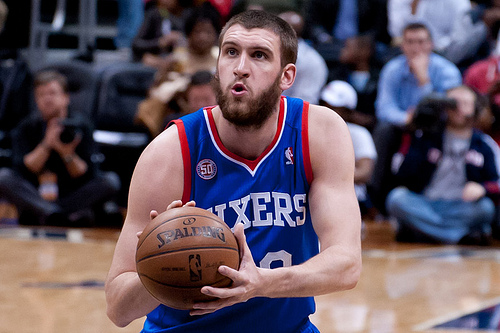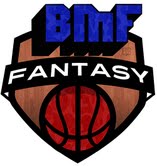 As you know, in the game of fantasy basketball NBA players and their statistical production are treated like commodities and traded like stocks. Their market values vary week to week, depending on how they've performed. Also factored into said valuation are predictions, extrapolations and estimations of future returns—as they apply in fantasy basketball.
Editors Note: Baller Mind Frame's partner Draftstreet is hosting a freeroll starting Friday, 11/15. A $500 prize pool will be paid out to the top 50, $100 for first place. Don't forget to sign up, here's the link.
With Week 2 already in the books, it's safe to say that we have some early valuations and future outlooks for some players.
Players we're bullish on:
Anthony Davis is looking more and more like the real deal. He's currently sitting atop of the rankings and projects to end the season somewhere within the Top 5, even if his production tapers off a bit. He will have his off days. Let's not forget that this is just his second year in the league and he will get challenged by some of the stronger teams. Nonetheless, his ability to put on strong offensive and defensive numbers makes him the most valuable big man on the market.
Mike Conley, Jr. has provided good early returns so far and has even emerged as the Grizzlies' top guy. We saw him make an impressive jump last season, post-All-Star break, and he looks like he's just picking up where he left off.
Eric Bledsoe's pre-draft hype appears to be spot on after all. As the Suns' leading scorer and primary offensive weapon, Bledsoe has brought a well-rounded game to go along with the steals his owners knew he would grab as a starter. With no real threat to his playing time moving forward, the sky's pretty much the limit as far as Bledsoe's production is concerned. So far he's already returning Top-30 level value and we haven't seen his ceiling yet.
Believe it or not, it looks like Shawn Marion has found Tim Duncan's 2012-13 Kool-Aid stash and taken more than his fair share of swigs. Marion appears to have poked Father Time in the eye and is producing excellent lines to start the season. As long as Marion stays healthy, there's no reason to doubt he can hold a relatively similar pace of production.
Players we're bearish on:
Steve Nash is done. His back is clearly an issue and there doesn't seem to be  a scenario in sight in which he can recover and deliver low-end value. He's been dropped in deep leagues and it would not be a good idea to bother stashing him for a rainy day.
This season's No. 1 overall draft pick, Anthony Bennett, should be left in the FA pool for now. He's started off the season with issues to his shoulder and was clearly not 100 percent healthy. Anderson Varejao and Tristan Thompson have a firm hold on the frontcourt minutes in Cleveland for now. Until Bennett shows signs that he's ready to bust out, he should be ignored and left as a fantasy free agent.
Andrew Bynum has already admitted that he's lost most of the explosiveness he once possessed and feels like a shell of his former self. That's not a good sign. Even if Bynum finds a way to become moderately productive based on his size and bulk, his ability to perform consistently due to his knee problems will always be a Sword of Damocles hanging over his fantasy value. It's best to stay away from him.
Buy-Low candidates
Derrick Rose has had a rocky first couple of weeks. We're giving him a pass, with the consideration that he's missed an entire NBA season. He should, in due time, get his bearings back. There's a psychological barrier that Rose needs to overcome and break through. Two seasons ago, while facing up against a defender, he'd think to himself "I'm going to break his ankles with this crossover move and slash straight to basket." And so he does, and scores a bucket, plus an and-1 at the line. Now, in spite of his knee being in very good shape, he's thinking "I can break his ankles with this crossover move, but will my knee hold up?" Once it becomes second nature to him again he'll take less jumpers and slash in the paint once again.
Many people expected Pau Gasol to do well in Kobe's absence, yours truly among them, but he's had a lackluster beginning of the 2013-14 season. He's apparently been dealing with a respiratory infection. Clearly we can't expect him to perform like a dominant big man if he can't get his wind right. Right? Soon enough, coach Mike D'Antoni will be able to lean on Gasol a lot more and he should be able to deliver the goods.
Derrick Favors has not erupted just yet. We attribute this to his still getting acclimated as a main man in Utah. The Jazz have not been getting it done defensively to start the season and we expect coach Tyrone Corbin to wake Favors up from his stupor sooner rather than later. Both Favors and Enes Kanter project to deliver quality numbers moving forward. It's just a matter of time until both sleeping giants awaken.
Sell-High Candidates
Spencer Hawes is not a Top-10 caliber asset. Despite his early explosive games, Hawes does not project to retain such a torrid pace. Considering the vacuum of talent in Philadelphia, Spencer extrapolates to be a productive cog in the machinery, but his numbers will eventually simmer down as his averages even out.
Trevor Ariza has been producing early fourth round-caliber numbers in the first couple of weeks of action. His injury-filled past and the eventual development of rookie Otto Porter will surely chip away at what this talented swing man can bring to the table further down the road.
Carlos Boozer has come up with more than a few solid games thus far, but his best seasons are well behind him and as soon as Derrick Rose gets his groove back, Boozer will likely wind up far less productive than he's been. Boozer is still a viable third-string big man, but he won't end up keeping up his efficient pace for much longer.
Featured image courtesy Mark Runyon/Flickr