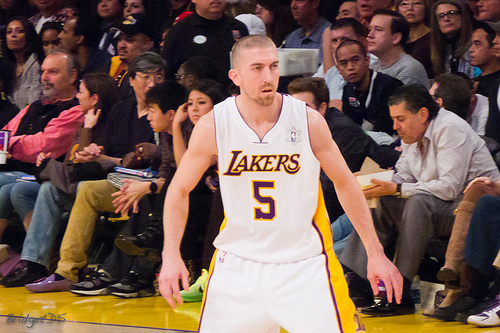 Wine is an interesting thing. Many factors contribute to its success or lack thereof, and albeit personal preference, there are still some constants in regard to harvesting a quality product. When thinking of such constants, environment, growth and management are some of the main elements that come to mind. Vino Blanco, a.k.a. Steve Blake, can be analyzed in juxtaposing fashion, crediting his success to similar key ingredients, ones that surround his winning performances.
Before the 2013-14 season began, this was my spiel when asked about Steve Blake and his importance to the team: "If he can relieve minutes for Steve Nash, avoid turning the ball over, pass accurately and harness the vibe when he's hot from three, he'll be a huge help." This is exactly what we've seen recently, especially when it's mattered most. Blake's averaged 39 percent shooting from behind the arc for the duration of his career, probably the most impressive stat in his portfolio, so it makes sense to put him in position to succeed from downtown. Here's how the vino model illustrates Steve's recent success:
Environment: Environment is critical in the production of a delicious white wine. The climate, the location and attention to growth are fundamental in getting the best of what's potentially available. Now Blake has shown that he can produce in a heated climate and be effective when put in the right place to do so. This being said, his recent success comes as no surprise, being that Mike D'Antoni and Co. have continued to draw up plays that create space for him to thrive.
Growth: Once the right environment has been identified, growth must be monitored. If a harvest is beginning to flourish, the responsible aspects of such must be maintained in order to finish the crop's winning run. This same notion applies equally for a player like Steve Blake. When it becomes obvious that Steve's not being guarded heavily and has drained a few wet ones, it is important to pay close attention to his game play—maintaining all that's helped him to be successful in the first place.
Management: Management is the key to fostering growth and arranging the proper environment, so although redundant, it's critical to mention the importance of such an entity when comparing the turnout of a fine white vintage to the output of a successful Steve Blake. D'Antoni, like any winemaker, is fond of production. When you have a flourishing commodity, you must do what's necessary to ensure the continuation of such. Let's revisit the last five seconds of the Thursday's matchup against Houston. After a negligent move by Jodie Meeks to inbound the ball to Nash's back, Wesley Johnson hustled like none other to retain possession. It is here that one can see how pertinent proper management becomes. The head coach drew up a beautiful play, one that took environment and recent growth into the highest of considerations. Blake has already proven that he could win in that setting and his individual game proliferation was without question as he'd already gone 4-of-6 from the three. At this point, all he needed was an open look. Nash and Pau Gasol set a beautiful dual screen to free up Vino Blanco, and, similar to the feeling of a crisp, white wine kissing one's lips, the result was nothing shy of delicious, fresh and wet.
Steve Blake's newly acquired nickname is more fitting than one may realize. Although it's merely a play on one of the Black Mamba's titles, the phrase is quite representative of him in more ways than one. Going forward, the Lakers must do what's necessary to squeeze the juices out of all that is ripe on the roster: making a vino-x out of every player on the team. If the organization can harvest the natural ability and production of all members, Sir Vino himself will rejoin a group with not only winning marks but with maximum flavor. #CLUTCH
Image courtesy Bridget Samuels/Flickr