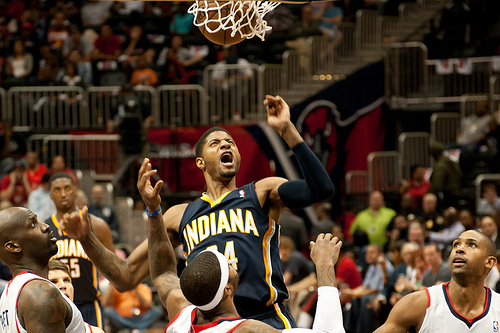 Week three and it's getting kinda hectic. There is but one team still undefeated and one team still looking for that first win. There are rookies off and running and some still at the starting gate. Overall, nothing comes easy here and everyone seems to want to be in the winning action (well almost everyone).
King of the Week: Paul George
The Indiana Pacers forward has been channelling his inner Tracy McPippen (a mutated hybrid of Tracy Mcgrady and Scottie Pippen, derived in an alternate universe) because his offense is smooth and deadly and his defense is smothering. It's no wonder the Indiana Pacers are the final undefeated team in the NBA. He's on a rampage, roasting the likes of Chicago and Brooklyn. The Pacers are beating teams by an average of 10 points and George is a major part of that. The Miami Heat have a force to deal with in the East, and if you ask Pacers fans, King George has a pretty nice ring to it.
Rising Star of the Week: Markieff Morris
The Phoenix Suns forward is off to a pretty nice start to the season, showing versatility on the offensive end and adding a nice rebounding punch off the bench. He and his twin brother Marcus have impressed, but Markieff has been the man around the house so far. Wonder Twins, activate!
Rookie of the Week: Ben McLemore
Sacramento knew they were getting a shooter when they drafted McLemore out of Kansas but his athleticism is surprising. He is able to get his shot off and his size makes him a capable defender. The Kings won't have too many wins this season, but moving forward the future looks bright. Benny Mac is looking good in the second unit with Isaiah Thomas and will continue to thrive as the season progresses.
Team of the Week
The Indiana Pacers Pacers have come out this season with a purpose, and it all starts with defense. Coach Frank Vogel has his team playing inspired ball and it starts from the inside. Center Roy Hibbert is holding it down in the paint and blocking anything that comes near the basket. I'm really liking what I've seen from Lance Stephenson. He made his homecoming to Brooklyn to face the Nets and helped the Pacers pick up a huge road win early and remain the only undefeated team.
Game(s) of the Week
Los Angeles Lakers @ Houston Rockets. Newly acquired Rockets center Dwight Howard welcomed his old friends the Lakers to his new digs in Houston.
http://youtu.be/h-Vdlsi4jOQ
Boston Celtics @ Miami Heat. The rivalry might not be the same since a few names are gone, but Jeff Green is still around.
http://youtu.be/Kn2Xyca6X_0
Hero of the Week: Russell Westbrook
He was supposed to be out until December. It's November and I guarantee no one in Oklahoma City is complaining one bit. He didn't hesitate to get right back to work, putting up 20 points and seven assists in the win against the Phoenix Suns. There is a little rust but that's expected as he gets his game back on track. The explosiveness that makes him so dangerous is still there and that's a great sign.
Play of the Week
Andre Iguodala vs. Philadelphia. Nifty dishing from Iggy against his old team.
http://youtu.be/EPMG8HLhh-4
Jeff Green vs. Miami Heat. It ain't easy being Green.
http://youtu.be/SA29ZsIrMjQ
Steve Blake vs. Houston Rockets. I bet Kobe loved this (but he secretly wished it was him taking the shot). Take that Dwight.
Stat line of the Week
Steph Curry vs. Philadelphia 76ers: 18 points, 10 rebounds, 12 assists, 5 steals, 1 block
http://youtu.be/rw5JbjvGvsA
Kevin Love vs. Dallas Mavericks: 32 points, 15 rebounds, 8 assists, 12/21 FG, 3/6 3PT FG
http://youtu.be/fZagUa1RlZ4
Anthony Davis vs. Los Angeles Lakers: 32 points, 12 rebounds, 6 blocks, 3 assists, 1 steal, 12/18 FG
WACK line of the Week: Pau Gasol vs. Houston Rockets
The Lakers big man was shut down by Dwight Howard, shooting 1-of-10 from the field and finishing with two (yes, two) points. He did salvage the night from being a total waste by grabbing 12 boards. Thankfully the Lakers won, otherwise Charles Barkley, Kenny Smith, Shaq, and Ernie would have roasted him on @NBAonTNT. Better get it together before big brother Kobe comes back.
Play of the WEAK: Dwight Howard's free-throw shooting fourth quarter vs. Los Angeles Lakers.
Watch out Superman, they know your weakness. Shooting 5-of-16 from the free-throw line is going to hurt you. Especially down the stretch.
http://youtu.be/yXGRCKGxXbE
Player of the WEAK: Pau Gasol
Pretty Boy Pau is at the forefront of this Lakers team until Kobe returns from injury. As the resident All-Star he should be putting up better numbers than what we've seen this past week. He had a horrible shooting game against Dwight Howard and the Rockets. Fortunately for him Steve Blake hit a big shot for the win. But he followed that up by getting abused by Anthony Davis and the New Orleans Pelicans. Step it up, Pau. Big Brother is watching.
Team of the WEAK: The Utah Jazz
The Utah Jazz had higher aspirations coming into this season then what we are seeing so far. Derrick Favors and Enes Kanter were given the opportunity when the Jazz traded away Paul Millsap and Al Jefferson, but they haven't been enough to get a win just yet. One bright spot has been Gordon Hayward, who has played with some consistency in this time of disarray. Coach Tyrone Corbin is going to need to find a way to make it work until he can get his rookie point guard Trey Burke back in the lineup to make his NBA debut. Until then this Jazz team is out if tune.
Did you see…
… Tyson Chandler has a broken leg. That's bad news for a New York Knicks team already light in the paint. The Knicks will have to rely on Andrea Bargniani, Kenyon Martin, Amar'e Stoudamire, and more from Carmelo Anthony, to pick up the rebounding and defensive slack. Hope for the best Knicks fans.
… JaVale McGee go down with a stress fracture. The Denver Nuggets center was sidelined indefinitely with the recent injury and it couldn't have come at a worst time. Not only will the Denver Nuggets be without a very integral part of their operation but @SHAQ will need to find another star for #Shaqtinafool.
****Shoutout Alert****
A shoutout goes out to the people of the Philippines. This past weekend a typhoon ravaged the island nation and the outcome is bleak. We all hope for the best and send love and blessings as the people look to make it through these tragic times.
Image courtesy Mark Runyon/Flickr