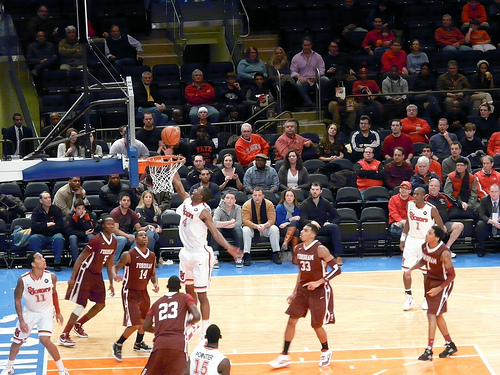 One of the more interesting pieces of the Orlando Magic's rebuild is Maurice Harkless. Harkless, whom the team acquired as part of the Dwight Howard blockbuster, is just nine games into his second season, but has shown some great improvement from year one to two. While his numbers may be slightly inconsistent right now, Harkless has shown signs of being a solid starting caliber small forward going forward.
His rookie season saw him miss all of preseason camp after having sports hernia surgery, which put the young rookie behind the eight ball. For the 19 year old, missing preseason camp showed early in the year. He struggled on both ends of the floor, forcing shots and being lost at times defensively. However, as the year progressed, so did Harkless' improvement on both ends of the floor.
By seasons end Harkless was starting at small forward for the injury plagued Magic team. He had career nights against Kevin Durant and Chandler Parsons, helping keep the Magic in both of those games. The game against Durant, one of the leagues best players, showed Magic fans and fans league wide that the long St. John's product might be a force to be reckoned with for the foreseeable future.
While Harkless struggled with his shot at times, his ability to get to the basket helped him all season. He showed the ability as the season wore on to knock down the corner three ball, and began to slowly not shy away from contact. Below you can see how Harkless faired shooting the ball last season.
Even though there is a lot of red on the shot chart, it shows that Harkless was a smart with his shot selection on the season. He stayed away from inefficient long twos, and settled mostly for attacking the basket, or shooting corner threes. From eight to 24 feet, Harkless took 76 shots, or 13.4 percent of his total shots last season.
In nine games this season, Harkless has shown off an improved jumper, which he attributes to hard work during the offseason. After the teams win against the New Orleans Pelicans earlier this season, Harkless said, "I'm a lot more confident, I put in a lot of work this summer," when asked about his confidence shooting the ball. He's also shown the ability to get to the basket when he wants, whether it be with dribble penetration, or hard cuts from the perimeter. While the sample sizes are much smaller, Harkless is showing that last year's smart decisions shooting the ball have carried over to this season thus far.
With a player as young as Harkless it's really hard to project what he's going to produce in the future.Will he up his scoring to around 15 points a game? Can he be a true lock down defender and consistently knock down jump shots? Is he a better fit as a starter or as a role player off the bench.
His improvement from year one, to year two is impressive so far. For the Magic, the hope must be that he continues to grow and really begins to show his distinct role on the team as the season moves on.
Image courtesy Marianne O'Leary/Flickr