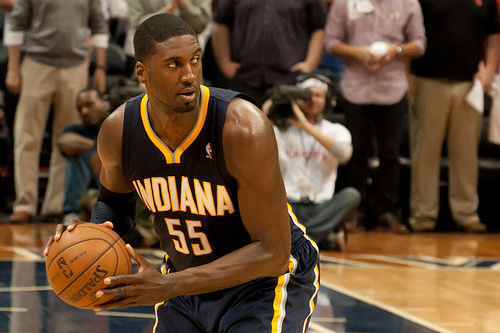 Roy Hibbert blocked a shot off the face of Miroslav Raduljica last night; the replay on the Jumbotron in Bankers Life Fieldhouse was priceless. Watching it live was even better. Hibbert sent a message to the Milwaukee Bucks and the rest of the Eastern Conference that the road to the NBA Finals will go through Indianapolis.
So, they are 9-0 now. That is a message all on its own, I suppose. Streaks like this are fun to ride, and for the moment all of us who love watching the Indiana Pacers play will continue to enjoy the streak, but eventually it will end. What shouldn't end for the remainder of the season is the nearly four-game lead they have in the conference.
They demolished Milwaukee, 104-77. It was never a "game" after the second quarter, and the last-place Bucks never came closer than 10 points the rest of the night. Both Hibbert and Paul George scored over 20 points each and Hibbert finished with another 8 blocks. They limited their turnovers to a respectable 15 and dominated Milwaukee pretty handily.
The next few games will truly tell the tale. The Pacers arrive in Chicago for the first game of a three-game road trip. The Bulls are still trying to find themselves with Rose back in the lineup, as is Rose trying to find himself. The league has seen flashes of the brilliant play it has come to know from the superstar over the last few weeks, but at other times he has looked less than stellar.
Then it's on to the embattled Knicks in Madison Square Garden on Wednesday. MSG has been the scene of many a Pacers demise over the years, but not playing their best ball does not mean the Pacers can't get another beat down in the Big Apple.
Finally, it's on to Boston. Old Brad Stevens from Butler is now the head coach in Beantown. They started poorly, came on to even the slate, and have sputtered as of late. Maybe the "Butler way" only works in the NCAA. Then again, maybe the Pacers streak will end there.
It's sure fun watching this team show its identity night after night. It's muscle and hunger—it's tenacity. We might set the record in Washington in a couple of months or it may end in Chicago tomorrow. Either way, the Pacers are making noise and showing people that they can slap their face off their face if they underestimate the blue and gold.
Gold swagger is here, in Indianapolis. The road to the Eastern Conference is being built in our gym and it's not going to be an easy drive.
Image courtesy Mark Runyon/Flickr