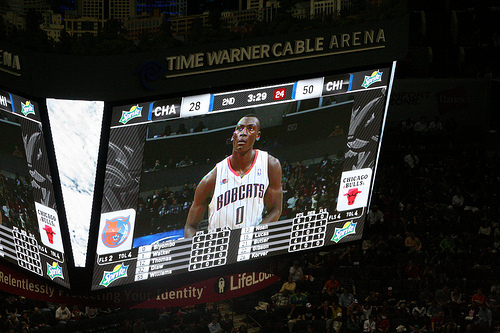 Heading into the season the Charlotte Bobcats were hoping to show that they improved. New head coach Steve Clifford has the team at 5-5 after 10 games and the front office has to be pleased with how the team has performed. Here are some observations of the team thus far:
What to be excited about
The improvement of Jeffery Taylor and Michael Kidd-Gilchrist has to have the front office and fans excited. Both players look more comfortable with the speed of the game and are playing with confidence.
Taylor is settling in as the Bobcats' sixth man. He is developing into a good defender and scoring threat. His three-point shooting hasn't been good so far as he is just shooting 23.3 percent from behind the arc. Last season, Taylor shot 34.4 percent from deep, so expect Taylor to break out of his slump.
MKG is playing with a lot of energy on both ends of the floor. He is attacking the basket well and pushing the ball off defensive rebounds, creating fast break opportunities. On defense, he is becoming the Bobcats' best wing defender. His effort and commitment to defense seems to rub off on his teammates. But MKG still needs to improve on his outside shooting. His awkward shooting motion and release are the root of his shooting woes. He will need to spend more time with former NBA sharpshooter and Bobcats assistant Mark Price. Overall, MKG has shown progression in his second NBA season.
What to be concerned about
The Bobcats should be concerned with the health of center Al Jefferson. He has missed seven games due to an ankle injury and has been in and out of the lineup. The Bobcats have invested over $40 million in Jefferson and need to think long-term when handling his injury. Ankle injuries can linger for a whole season, so it may be wise for the Bobcats to shut him down until he is fully healed.
The development of Bismack Biyombo also has to be a concern for the Bobcats. Biyombo has shown the ability to be a good rebounder and shot-blocker off the bench, but has not met expectations after being taken seventh overall in the 2011 NBA Draft. His offense has not improved and he does not have a high basketball IQ. With the Bobcats drafting Cody Zeller, Biyombo is expendable, and general manager Rich Cho may look to move him in a trade.
Steve Clifford has done a great job coaching and developing his young team. The Bobcats' biggest improvement has been on the defensive end. Through 10 games the Bobcats are fourth in the NBA in points allowed per game, holding opponents to 93.6. Last year the team started off 5-5 and ended the season with a record of 21-61, so it remains to be seen if the Bobcats can continue to play well.
Image courtesy Mike Kalasnik/Flickr