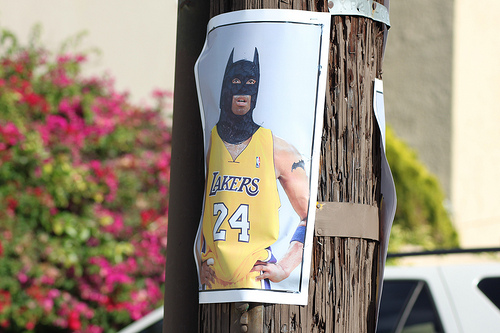 It's been three weeks and Kobe's still not back.
We can't press the process, of course not. As much as I want to see Kobe Bryant in uniform for the Los Angeles Lakers, there is no benefit to rushing rehabilitation, no possible upside. So, we make do without the most dynamic basketball player around, hallucinating his presence in glaring on-court gaps and making do with meager substitutes.
On the home squad, Nick Young has tried his darnedest to volume-shoot his way into our hearts, but his wild swings of (in)accuracy and baffling defense eliminate him from serious consideration. While Jodie Meeks is a fantastic role player and I'm glad coach Mike D'Antoni is finally playing him proper minutes, he will never be Kobe. The strongest local candidate is none other than bench phenomenon Xavier Henry, the new secret weapon D'Antoni hides on the pine for no apparent reason. Henry plays solid D, hits outside jumpers with ease and crashes through the paint for thundering tomahawk dunks; by most accounts, he's one of the brightest spots on the Lakers roster and an obvious choice for starting small forward. Of course, D'Antoni refuses to succumb to logic and routinely buries him at the bottom of a 10-man rotation, limiting what uplifting distraction Henry can provide.
But enough D'Antoni venting for one column. I'm playing right into his game, letting his mind warp get the best of me. Phil Jackson is famous for puzzling his players with Zen proverbs; D'Antoni is screwing with all of our heads, all of the time, with borderline insane coaching. There's no clue to his purpose, whether it's an overwrought prank or a long-term con, but the more enraged we become by his absurd strategies, the more he wins. In the name of sanity, let's move on to better, brighter things.
Across the country, another star has emerged to help fill the Kobe-sized hole in the sky: Paul George of the Indiana Pacers. Last season, he won Most Improved Player after a stellar campaign. He went one further in the playoffs, leading his team past the New York Knicks and trading blows with the Miami Heat, putting them right on the ropes, a hook away from knockout. Dazzling the national audience on both ends of the floor, George came as close as anyone to containing LeBron James on defense and brought near parallel offensive firepower. It was George and the Pacers' coming out party, their series to lose, and unfortunately, they did just that.
Now, at the dawn of a new season, Paul George has grown even greater, leading his team to an early win streak and dropping buckets from every spot on the floor. He's given no quarter to opponents, mercilessly shooting threes over outstretched arms and definitively rocking home alley-oops. Combined with his now consistent tenacity on defense, George's skill set is fairly close to what Kobe was working with at the same age. Not as refined or polished as Kobe's, but a fair approximation nonetheless.
In a recent interview, former Pacers assistant coach Brian Shaw revealed that he drew from his experience playing with Kobe when he instructed his players, including then-fresh to the league George. Whenever his work ethic started slipping or the desire to leave the gym before throwing up an adequate number of jumpers set in, Shaw reminded George of Kobe's dedication, of his constant focus on being and staying the very best, of the sacrifices that he makes every day for the game.
Not that the young man needed much prodding to sway that direction. Having come of age in Los Angeles when Kobe reigned supreme, George has modeled himself after Kobe for years, and it shows in his game. Consider the line drive three, barreling in at improbable angles; the definitive yet restrained finishes at the rim, with fully extended arms and a slinky stomp; the quick penetration to the elbow, only to turn on a dime and release a pull-up jumper; the overwhelming lack of concern for opponents' attempts at defense; and the knowing yet modest march away from burning the basket down.
He wears No. 24 in tribute to his idol, but he may have an opportunity to do his childhood hero one better and keep a long-term title contender afloat. Kobe's manned the Lakers ship for years, overseeing two separate championship squads, and while that's impressive, longer-term consistency would be even better. In high-ego Hollywood, with a surrounding cast of characters at best and egomaniacs at worst, Kobe thrives in spite of his environment. In Indiana, George has the opportunity to organically develop in a supportive structure along with his rising teammates Roy Hibbert and George Hill, among other impressive contributors.
How different are these teams? Compare Hibbert and Kobe's first post counterpart, Shaquille O'Neal. Shaq called for the ball on nearly every play, swallowed the spotlight, and played a gregarious genie in the movie Kazaam; Hibbert waits his turn at the rock, defers as much as he accepts his place on the podium, and had a cameo as himself on Parks and Recreation.
Throw in a nurturing organization, run by Larry Legend himself, and a supporting cast that includes a better starting point guard, Hill, than anyone Kobe's ever played with (sorry, Derek Fisher), and you have the perfect breeding ground for a mini Mamba. No, that's too reductive. The Second Coming of Kobe? Too biblical. I don't know what we'll call it yet, this passing of the stylistic torch, but I'm comforted to know that when Kobe retires, there will be some semblance of his thrill, his edge, remaining in this league.
This playoffs, when the Pacers—Zeus willing—overturn the Heat for a berth in the NBA Finals, I will be content knowing that even if Kobe cannot stop King James himself, his successor can.
Image courtesy Lord Jim/Flickr