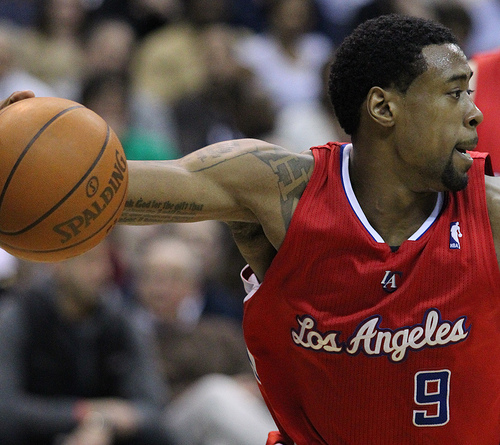 The Los Angeles Clippers starting big men, Blake Griffin and DeAndre Jordan, advertised the work they've put in to improve their games over the summer, and it clearly shows with their play so far this season. Yes, they still launch bricks from the charity stripe, but there's much to admire about the improvements they've made in their approach to the game. The two are pivotal components in turning the Clips into a team to be feared in the West that can do more than just throw down monster jams; with these big men playing better basketball they can throw down on the court, period.
Some have referred to him as a one-trick dunk pony, but Blake Griffin is quietly making some enhancements to his overall game. He is arguably the most exciting player to watch in the air in the NBA today, but those beastly jams may be a distraction to his game as a whole. Under the tutelage of Doc Rivers, he's learning to read and utilize mismatches better, and is also more aware on defense. He's increased the range of his shot, and boosted his field goal percentage to 57 percent from the floor this season so far.
Overall, even though his stats haven't jumped as much as DJ's numbers, his approach to the game has evolved. He's definitely not just a dunker any more, and it wasn't surprising that he flirted with a triple double recently. It may be that Rivers has been a big help, or perhaps his drive for a ring is as strong as ever, but Griffin seems to want to cross out "dunk" off of his dunk champion label.
DeAndre Jordan has definitely stepped his game up more noticeably than Griffin, at least in his stats. With Doc Rivers coaching the big fella, he might be considered for Defensive Player of the Year. Okay, so it may be a little too early for the trophy talk, but he's making some noteworthy improvements both in his stats and his demeanor. Jordan is clocking in at 11.8 points, 12.9 rebounds, 1.6 steals, and 1.9 swats per game. Not too shabby, right? It may only be several games into the season, but the way he hustles and gives the extra effort and focus that he was missing last season is a good sign he's making solid improvements.
Check out DJ against Dwight Howard and the Houston Rockets, and you'll see that he's making a name for himself as one of the best in the 5 spot. DJ now has the hustle and flow to complement Chris Paul's undeniable leadership skills.
CP3 needs DJ and Griffin to be the best versions of themselves on the hardwood floor if the Clippers want to make it to the promised land. If the big men continue down this path, they'll have a better chance of replacing their selfie banners with another one that will hold the room together just a little bit better.
Image courtesy Keith Allison/Flickr