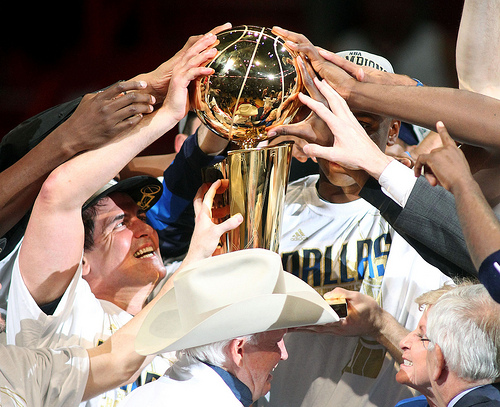 First off, let's have a brief discussion about a misused metaphor. Onions are frequently offered as pictures of complexity and depth. It's all about the layers, folks. There's just one problem: multiple layers do not a complex organism make, most particularly the onion. In case you hadn't noticed, an onion's layers are indistinguishable from one another except that they technically get smaller as you near the onion's core. Peeling back the layers of an onion is not a journey of discovery, it's an exercise in monotony. And what's worse, it makes people cry. So let's stop with the onion metaphor abuse.
In keeping with this helpful clarification, I regret to say that an onion may yet be the best metaphor for the 2013-14 Dallas Mavericks after an 11-game sample. On the surface, we have Monta Ellis. So far, I'm quietly thrilled to have been one of the only voices in the NBA blogosphere who foresaw something close to what Monta has brought to the table. On the next layer, we have Dirk Nowitzki, who, despite the new knee sleeve, is putting up career-consistent numbers on both ends of the floor as he keeps climbing the all-time NBA scoring ladder. Underneath him is a two-headed big man in the form of Samuel Dalembert and DeJuan Blair, who have been more than a refreshing upgrade from Chris Kaman and Elton Brand. Going deeper, we have Jose Calderon, who, along with Ellis, has been a godsend to a fan base who had just endured the point guard delights of Darren Collison and journeyman Mike James. We also have our Vince Carters, our Jae Crowders, our Gal Mekels and our always dependable Shawn Marions.
And so on and so forth. So much depth. So much complexity. And yet when you hold the onion farther away, what you see is a team that's undefeated against non-playoff teams and winless against contenders through the first seventh of the season. Yes, it's still kind of early. Yes, last year's roster would be lucky to be at 7-4 right now with the same schedule. But I see a team so far that, despite the new faces, has shown the same historic Mavericks stigma of having no answer to another team's star. I see a defense that Monte Kiffin could arguably improve upon. I see a team that struggled for three quarters against the Orlando Magic and for four quarters against the Philadelphia 76ers, two teams that should battle it out for the top lottery pick next year.
Keep in mind, you're reading the guy who predicted the Mavs would not only reach the playoffs this season, but actually take their first-round series. Has my optimism been completely sucked away by three weeks of NBA action? Not quite. I do still believe the Mavericks will be in the driver seat down the stretch for at least the eighth if not the seventh seed. But for now, this team is not the stuff of playoff survival. A couple of things might change that. Rookie Shane Larkin finally made his NBA debut against Philly on Monday night, and he provided a defensive spark, pulling in three steals in only nine minutes of play, then converting each of those steals into assists. Devin Harris' return from a toe injury can't be too far off now, and he gives Carlisle an additional layer in the backcourt. Also, Brandan Wright's eventual return from a shoulder injury should give the Mavs an effective third look in the middle.
At one angle, these new additions look like depth. Complexity, if you will. At another, they look like superfluous ingredients in an already flawed dish (specifically in the backcourt, as I've written about here). Speaking of depth, that's what my trust of Rick Carlisle has. If there's anyone who can break these colts, it's probably him. But in full disclosure, I have a creeping suspicion that this year's team may prove to be the same onion Mark Cuban has fielded in all but two of his seasons as team owner. For all the layers, the same characteristics: entertaining offense, sub-par defense, flashes of hope, but we all end up crying.
Image courtesy Danny Bollinger/Flickr