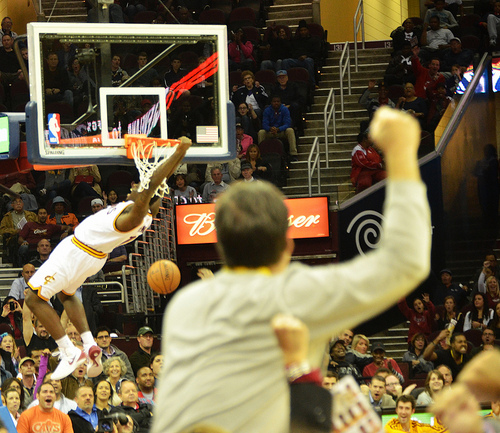 Cleveland Cavaliers rookie forward Anthony Bennett has had a rough start to his NBA career. In his first nine games, he is averaging 1.4 points and 2.7 rebounds per game. This stat line is not uncommon for a rookie trying to learn how to be successful in the NBA. However, Bennett was the first overall pick in the 2013 draft. The expectations for the player selected first overall are to be a franchise cornerstone and All-Star. So far, Bennett has not shown that he will come close to meeting those expectations. Some fans and NBA analysts are already unfairly defining him as a draft bust.
Soon after Bennett and the UNLV Runnin' Rebels were eliminated from the 2013 NCAA tournament, he declared for the NBA draft. Once he made his announcement it was determined that Bennett would need surgery to repair a torn rotator cuff in his left shoulder. Due to his injury he could not participate in any basketball-related activities. Forced to rehab his shoulder for about five months, Bennett could not participate in the pre-draft scouting combine in Chicago or on the Cavaliers Summer League team. He was not medically cleared until a few weeks before the start of training camp. The injury set him back in preparing for his rookie year and he missed good opportunities to stay in shape and play in some competitive exhibition games.
The Cavaliers do not have any expectations for Bennett this season. Most players taken first overall in the draft are immediately inserted in the starting lineup. But power forward Tristan Thompson is playing well, and head coach Mike Brown stated when Bennett was drafted that he wants Bennett to play small forward but he'll start his career at power forward.
Bennett also struggles because Brown doesn't run any plays for him. At UNLV, Bennett was most effective when he started out in the post getting easy baskets, then facing up his opponents and taking them off the dribble. His inside game would set up his three-point shot. Now when Bennett is on the floor he doesn't seem to have a clear role in the offense. He is often used to set screens to help the Cavs shooters get open and only takes shots as a last resort.
In no way should Bennett be let off the hook for his struggles. He needs to work harder on his game and improve his conditioning. There are times when he looks fatigued after about three trips up and down the floor. But it is hard for a young player to get comfortable in the NBA when he cannot train due to injury, has no expectations set for him, and isn't being included in the daily game plan. There are some players that have to gain a few years of experience in the league before performing up to their potential. The most recent example of this is Philadelphia 76ers shooting guard Evan Turner, who started off slow in the beginning of his career and now is playing at an All-Star level. Bennett deserves some time and consideration before being determined a draft bust. Although he has some legit reasons for his slow start, it will ultimately be up to him to show the world why he was the first overall pick.
Image courtesy Erik Drost/Flickr