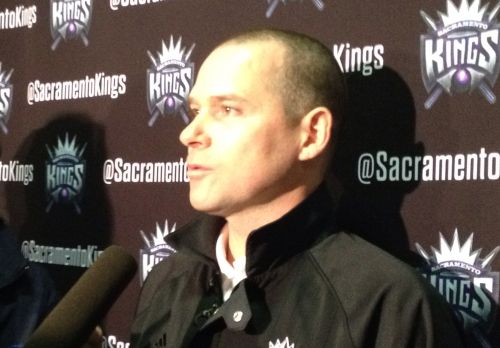 Here are a few extra tidbits from coverage of the Nov. 19 matchup between the Sacramento Kings and the Phoenix Suns.
– In his pregame interview, Michael Malone said that he'd been thinking about giving Jimmer Fredette some run:
"When you're 2-7 you think a lot. I have (thought about using Fredette). Jimmer has been the ultimate professional. He had a tremendous preseason. Obviously I've gone with Marcus (Thornton) and given him a chance, but I have thought about Jimmer. … For me, I keep on reminding myself: we've played nine games. I knew when I took this job that it was going to be a process and that it would probably get worse before it got better when you're trying to change so many things. And the reality is that I just want to make sure we do two things every night: play hard and defend. After that, hopefully that will give us a chance to be in the game and win the game and Jimmer's a guy that may be able to help us out with that."
Fredette did indeed make it into Tuesday night's game and had ups and downs on each side of the ball – the low being the shot he had sent into the crowd by Archie Goodwin and the high being a late three-pointer that brought Sacramento within two points of the lead.
Overall, though, he was happy to have gotten some playing time:
"It felt good. I didn't shoot the ball as well as I wanted to, but was able to make some other plays. You don't necessarily have to score to be effective on the floor. … (Malone) told me I might get a chance tonight and to stay ready. He was proud of how I've been acting  and how I've tried to do everything he asks and stay ready. … I got my feet wet in the beginning and then played better in the fourth and helped our team get a win, so hopefully it continues."
With Malone going to Fredette as the backup shooting guard, Thornton didn't see the floor at all.
– Tuesday night, the Suns were without Eric Bledsoe, who injured his shin in practice. Phoenix coach Jeff Hornacek said whether or not Bledsoe plays tonight would be a game time decision.
Malone praised the Suns point guard and his backcourt cohort Goran Dragic:
"(Bledsoe) is a pitbull. That guy is tough, strong, very good defensively on the ball – makes the opposing point guard's life difficult out there – and offensively he's a tremendous push guard. When you have him and Dragic out there together – two very quick guards that can get to wherever they want to go on the court – it puts a lot of pressure on the defense."
Dragic's movement gave the Kings a lot of problems Tuesday. Adding Bledsoe to the mix may change the result when the two teams meet again tonight.
– Finally, Malone disclosed that rookie point guard Ray McCallum will have an upcoming stint in the D-League:
"I think what happens to a lot of NBA players and young guys is that they view that as a demotion. My thing to Ray is, 'you haven't played a game since Oct. 13, when we played the Clippers in the preseason. This is great for you. Go down and get as many games and minutes under your belt. You are not a D-League player, you are an NBA player that's getting experience playing against some older guys.' He'll go down there at some point. I'm not sure exactly when, but we will use Reno for Ray's development this year."