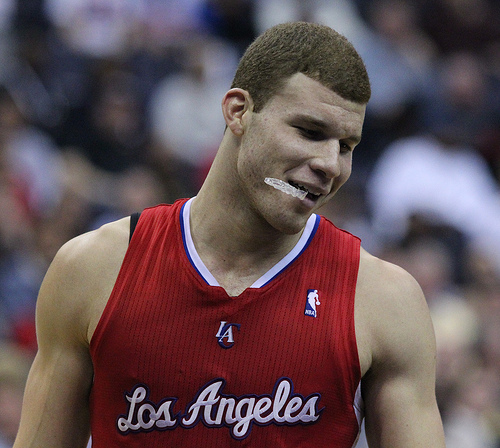 There's a lot going on in Clipper Nation. One-hundred straight sell-out games, Chris Paul tying Magic Johnson's record of 11 points-assists double-doubles to start a season, and Blake Griffin winning a Western Conference Player of the Week award. You'd think that would translate to a team on top of their conference standings with a spotless home record. But the season is currently in its infancy and the Los Angeles Clippers currently sit in sixth place in the Western Conference standings with a 7-4 record. Charged up and ready to correct mistakes made in Monday's loss to the Grizzlies, the Clippers took to the road Wednesday night to take on the eighth-place Timberwolves, who have battled to an early 7-5 record.
Matching up for the second time in two weeks, the Clippers jumped out to an early 12-0 lead. J.J. Redick started out hot with 10 points in the first quarter, but the lead didn't last long. The Timberwolves' new starting lineup additions of Corey Brewer and Kevin Martin then picked up some of the slack, playing to a four-point lead. Kevin Love was pretty cold, going 2-of-10 from the field in the first half.
The second quarter opened to a more fluid Clippers bench, who ran off 11 points to force a Minnesota timeout. But the T-wolves came back on free throws and poor defense, notably allowing Corey Brewer to shoot comfortably from the corner where he's a successful 41 percent from three, instead of forcing him to the wing where he shoots 29 percent, although as a team Minnesota shot a dreadful 23 percent from distance on the night. Nikola Pekovic kept the Timberwolves in the game on his way to 20 points on 9-for-13 shooting, sending Minnesota into the locker room tied with the Clippers at 46 at the half.
Keeping a great pace and even better spacing in half-court sets allowed the Clippers to open the half and gain the lead with great play from Jamal Crawford, who contributed 16 points, going 4-of-7 from the three-point line, as the Clippers shot 50 percent from the perimeter and three. The lead would be exchanged a few times, but towards the end of the third the Clippers made a 19-6 run to build a double-digit lead fueled by Blake Griffin, who scored 12 points in the paint and finished the night with 20 points and 10 rebounds.
Kevin Martin scored 15 of his 28 points in the fourth quarter, but his attempt to match Chris Paul basket for basket would be unsuccessful. Paul scored 13 points in a row and 16 in the quarter to take the win 102 to 98. He finished with 20 points and 11 assists. Reflecting on a rough shooting night, he commented "It's just cool to see the ball go through the net. I'll take it whenever. Fourth quarter is winning time and we're all competitive, but as the leader of the team, me and Blake, we know that's when it's time to win."
Image courtesy Keith Allison/Flickr