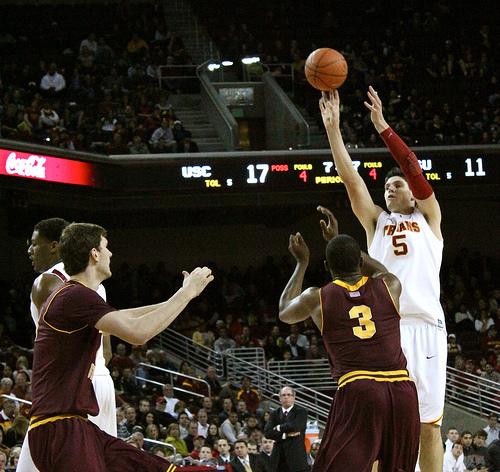 When he arrived in Orlando via the Dwight Howard trade, not many people knew who center Nikola Vucevic was. There were large shoes to fill and it was the young Montenegrin's job to fill them. However, it was unknown how well the big man would do stepping in for arguably the franchise' best player ever. While his tenure with the team is only a season and 11 games long, Vucevic has shown considerable growth from his first action with the team and in the league.
Rookie Season
In his 55-game rookie campaign with the Philadelphia 76ers, Vucevic showed upside as a offensively talented player & potential to be a top rebounder. While he only scored 5.5 points and grabbed 4.8 rebounds per game, his per 36 minute numbers, 12.5 points and 10.9 rebounds, helped show how much he could produce given starter minutes. Vucevic also sported a 16.8 total rebound percentage, further proving he had a nose for the ball when on court.
While Vucevic struggled with his shot at times – he shot a subpar 45% from the field – the big man showed off his versatility and ability to score from multiple places on court. The shot chart below shows how wide spread his game was his rookie season, showcasing his ability to step out and shoot a mid-range jumper, while also being able to go down low and score. It is slightly concerning that he took nearly as many shots from outside of eight feet (138) as he did inside (153), but it was a transitional period for the young big, learning the physicalities of the NBA game, compared to college.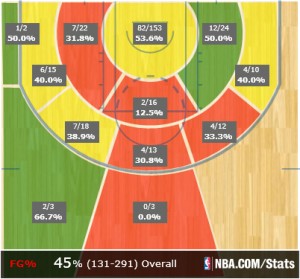 Sophomore Season 
With his first real consistent playing time of his career in hand, Vucevic made the best of his great opportunity with the organization. Vucevic saw his minutes double up, going from 15.9 to 33.2 minutes per game, while watching his scoring go up to 13.1 points per game and rebounds go up to 11.9 per game – good enough to rank him second in the league in rebounds per game. While he was seeing just slightly under 36 minutes per game, Vucevic's per 36 minute numbers were outstanding, sitting at 14.2 points and 12.9 rebounds a game.
Vucevic also saw big increases in his total rebounding percentage, up to 20.2 from 16.8 and his true shooting percentage went from 46.2% to 53.4%. Vucevic showed Magic fans his high motor and hard work on the glass, grabbing 17 rebounds or more ten times, including a 29 rebound performance against the Miami Heat. Vucevic was also able to put up his first career 30-point, 20-rebound game in a dramatic overtime victory over the Milwaukee Bucks.
Below shows Vucevic' shot chart from his first season with the team. While he hung around mid range quite a bit, taking 197 shots from 16 feet to the three point line, his 533 attempts inside of eight feet were a good sign for the Magic. While a lot of those opportunities were either dunks or offensive rebound put backs, his jump in shot attempts close to the rim was a good sign that Vucevic was growing his game more from a jump shooter, to wanting to go down low and bang.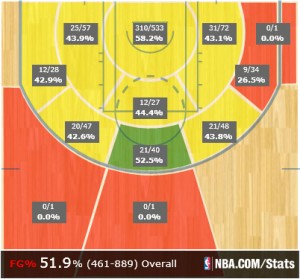 Third Season 
A mere 11 games into his third season in the league, and second with the organization, Vucevic has continued to show growth on both ends of the floor. In the Magic's 11 games thus far, Vucevic has shown the things we knew he could do (rebound and shoot), but has also sported a new & improved post game and looks better on the defensive end as well. While the Magic have struggled defensively after a hot start, the improvement from both the team and Vucevic is a good sign for the team that finished 25th in the league in defensive rating last season, giving up 106.7 points per 100 possessions.
Another improvement for Vucevic early into his third season has been his passing. His assists are up from 1.9 to 2.7 so far this season, most of which have come from the high post to slashing wings. However, he's going to have another area where he can possibly start racking up the assists in. Teams are starting to bring hard double- and triple-teams on Vucevic when he's in the paint, forcing him to pass it out whether it be for a re-post opportunity, a chance to hit a cutting player, or fire off an open shot attempt from outside.
As for his shooting numbers, Vucevic has spent most of his time inside the paint this season, taking 82 attempts there, compared to just 45 outside of it. Vucevic has converted a good percentage of his shots outside of the paint, shooting 46.7% there this season compared to 41.9% last season. He's also been very good inside of the restricted area, shooting a sizzling 65.5% there so far this season.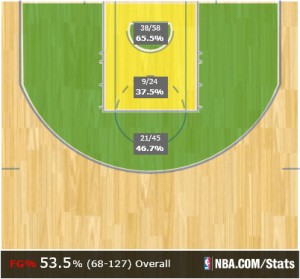 So far this season, Vucevic has seen his rebound fall some, down to 10.9 rebounds per game, but his scoring is up nearly two points to 14.9 per game. The increase in scoring is nice to see from Vucevic, up from a 19.3 usage rate to a 20.2 usage rate thanks to being used slightly more so far this season. His total rebounding percentage has dropped slightly, falling to 18.3% thus far, but some of that can be attributed to the improvement of teammates and the guards' willingness to crash the boards.
Overall, the improvement in not only his statistics but his overall game is a good sign for Vucevic and the Magic. He's still young and will continue to grow, but how much more can he really grow from where he currently is? Is he the team's center of the future? Is he going to continue to produce at this type of rate on a greatly improved team, or is he a "good stats, bad team" kind of guy? It's still early in the season, but this could be the season that some of these questions are finally answered.
You can read more about Nik and the Magic at O-Town Magic here.
Image courtesy Neon Tommy/Flickr