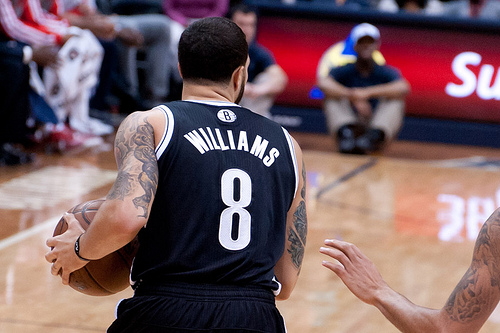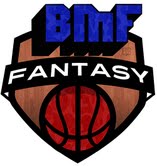 Atlanta Hawks
Lou Williams: Williams has recently returned from a knee injury that ended his 2012-13 campaign. The Hawks are treating him with kid gloves so he isn't playing in back-to-backs yet, but he could be a fantasy difference maker down the stretch with a nice combo of threes, assists and scoring.
Brooklyn Nets
Deron Williams: Just as I was typing that Deron was back from an ankle injury that sidelined him the last two games and Shaun Livingston would go back to being fringe fantasy player in standard leagues, D-Will goes down again. It's not a stretch to believe that Deron will now see extended rest to get his ankle 100 percent. With Williams out, Shaun Livingston is the man running the show in Brooklyn and should be owned in all leagues for the time being.
Brook Lopez: Brook has missed the last three games with an ankle injury and was a late scratch last night. He should be back in action for the Nets' Friday matchup with Minnesota.
Andrei Kirilenko: AK47 has been sidelined for the last seven games with back spasms. After receiving an epidural injection it will three to four more days before he can return to practice.
Boston Celtics
Rajon Rondo: Rondo is still working his way back from a knee injury but his return is on the horizon. He is officially taking part in contact drills and could be back as soon as mid-December. If Rondo was dropped for any reason, grab and stash immediately.
Charlotte Bobcats
Al Jefferson: If you need another reason to be concerned about Al Jefferson's ankles, take a gander at this quote: "It's a bone bruise," said Jefferson. "I've had arthritis in this ankle since I was six." Six? He has had arthritis in his ankle since six!? This is either the perfect buy-low scenario or the beginning of the wheels falling off the Al Jefferson Express. Big Al is expected to return to action on Friday but most likely in limited minutes as conditioning will be an issue.
Chicago Bulls
Jimmy Butler: Jimmy didn't practice on Tuesday because of a toe injury and after an MRI it has been determined he will be in a walking boot for a two- to three-week period . Expect Mike Dunleavey to see extended minutes and Tony Snell may even become a sneaky deep league play.
Cleveland Cavaliers
Dion Waiters: Waiters is not living up to his preseason proclamation he had put the work in and was ready to be the best shooting guard in the NBA. Fresh off a recent five-day absence due to "sickness," Dion came off the bench last night behind new starter C.J. Miles, who suffered a calf injury three minutes into last night's game. Looks like Waiters may have gotten his starting job back by default. If he hopes to stay there he better improve on his 40 percent shooting from the field and 58.3 percent from the charity stripe. Yikes!
Tyler Zeller: He injured his ankle during Monday's practice, making him a late scratch last night. No word yet on how long he could be on the sidelines.
Carrick Felix: Felix is recovering from a sports hernia and practiced for the first time last Tuesday. Despite a nice showing in Summer League, don't expect Carrick to have any fantasy impact this season.
Dallas Mavericks
Devin Harris: Devin is ahead of schedule (toe surgery) and is now targeting a return by late November. While Harris can be a productive fantasy player, he will have to fight for scraps behind Jose Calderon and Monta Ellis. Put him on your deep league radar for the time being.
Brandan Wright: Brandan continues to recover from a left shoulder injury, but we are left in the dark as there is still no timetable on when he might return to practice. He is worth a stash in most leagues if you have the roster flexibility.
Denver Nuggets
JaVale McGee: Pierre recently admitted he has been in pain since last season but didn't seek treatment until "it was unbearable to the point that it was affecting my play." McGee is listed as out indefinitely and could remain that way for an extended period of time. At this point McGee is droppable in shallow leagues or those without an IR. Thanks for ruining my so-called fantasy basketball life, JaVale.
Danilo Gallinari: Danilo was targeting a late-November return from his torn ACL, but has recently stated he has "no idea" when he will return to action. Gallinari is in the early stages of rehab and is limited to lifting weights and shooting free throws. Stash him now in hopes of a bright 2014.
Detroit Pistons
Chauncey Billups: Billups sat out again on Tuesday with knee tendonitis in hopes the rest will improve the lingering pain. At Billups' age I would avoid him in all but the deepest leagues and roll with Rodney Stuckey or Kentavious Caldwell-Pope as your Pistons shooting guards of choice.
Will Bynum: Bynum was out Tuesday and Wednesday with groin and hamstring issues and is listed as day-to-day moving forward.
Golden State Warriors
Stephen Curry: Steph is now listed as day-to-day with a mild concussion after being suplexed by Marvin Williams. Kidding. Look for Kent Bazemore and Harrison Barnes to benefit from extra playing time.
Tony Douglas: Douglas is out at least another week with a stress reaction in his left tibia.
Festus Ezeli: Festus had knee surgery in June and was put on a six- to nine-month timetable for his return, leaving mid-December a possibility. Without any updates available I would lean toward the latter on this one.
Jermaine O'Neal: A recent MRI revealed O'Neal has a bruised right knee and a minor groin strain after doing an unintentional split on the hardwood. Consider Jermaine day-to-day until further notice.
Ogjnen Kuzmic: Kuzmic fractured the fifth metacarpal in his right hand after hitting it on the backboard, rendering him out indefinitely. Golden State is now extremely thin up front with only Marreese Speights and Dewayne Dedmon at the backup power forward and center positions. We may see extended small ball lineups from the Warriors with Harrison Barnes and possibly Draymond Green playing some power forward.
Houston Rockets
Greg Smith: The good news for Smith is he had an MRI on his right knee that revealed he only had a sprained LCL and would be out 10 days. The bad news is the Terrence Jones has blown up the spot as the Rockets' starting power forward and appears to have the position on lock. Unless (until) Asik is moved, consider Greg waiver-wire fodder.
Indiana Pacers
Lance Stephenson: Last we heard Lance was being held out of practices with a foot injury but no word if he would miss any game time. We will have to monitor this one closely. If he does miss any time, Orlando Johnson and C.J. Watson could be solid deeper league plays. Donald Sloan even, if you are reaching the depths of the waiver wire.
Danny Granger: Danny has started off the season with 10 straight DNPs due to his sore left calf and it looks like number 11 is on the way. While it's still too early to jump ship, put your life jacket on just in case.
Los Angeles Clippers
Matt Barnes: Barnes stayed home for the latest Clippers road trip after sustaining a bruised left eye on Monday, leaving him out for at least the next two games. He will be reevaluated on Friday. The three-headed monster of J.J. Redick, Jared Dudley and Jamal Crawford will soak up his minutes.
Los Angeles Lakers
Steve Nash: As sad as this sounds it looks like we might have seen the end of Steve's career. It's being widely reported that Nash is "seriously considering" retirement due to his ailing back. If you haven't already noticed, the other Steve (Blake) in L.A. has been killing it and should be owned in all leagues moving forward.
Kobe Bryant: The Mamba is back baby! Well, kind of. What we do know is he has been fully cleared by doctors and had a minor setback in his second full practice but hasn't been ruled out against the Warriors on Friday, while it seems more likely he'll return later in the month, I'm not counting him out just yet.
Memphis Grizzlies
No injuries to report!
Miami Heat
Dwyane Wade: Wade has missed the last two games and his status is a bit up in the air. "I'm 70 percent healthy and some days 75," Wade said. "Hopefully the shock wave knee therapy I got this summer will take over a little more and the discomfort will go a way a little more." It might be time to put Wade on the block.
Greg Oden: Consider him out indefinitely and maybe longer.
Minnesota Timberwolves
Chase Budinger: Chase looks to be on a six- to eight-week timetable. He has rejoined the team while he is still rehabbing but doesn't yet have a return date. If you own Corey Brewer make sure to keep an eye on Budinger's impending return as he may ruin all of Corey's fantasy fun time.
Shabazz Muhammad: The youngster has missed the last three games with an ankle injury. While he has returned to practice, he is still experiencing minor tenderness.
Milwaukee Bucks
Brandon Knight: Due to his lingering hamstring issue, Knight has missed seven of the Bucks' 10 games but is finally expected to return to practice today. No word yet on when he will return to regular action.
Gary Neal: Neal reportedly left Tuesday's practice due to a setback with his plantar fascitis. He wasn't expected to play last night but gutted it out to play 23 minutes of action, scoring 11 points.
Caron Butler: Butler returned from his shoulder injury to put up 9 points and 7 rebounds. While he isn't a huge fantasy producer across the board he will maintain value as long keeps playing big minutes for the depleted Bucks.
Carlos Delfino: After foot surgery in May, Delfino was on track for recovery until it was discovered in August the fracture still remained. Now he will need another surgery with a four- to six-month recovery period. It's safe to say he is droppable in all leagues.
Larry Sanders: Larry is one week into his six-week timetable following thumb surgery. It may be a pain but you have to hold him in all leagues due to the talent level.
New Orleans Pelicans
Greg Stiemsma: The Sties will be sidelined for the next six to eight weeks with a grade-2 sprained left MCL. If you aren't on the Jason Smith bandwagon yet you better hurry before it leaves without you.
New York Knicks
Tyson Chandler: As recently as last Friday, Chandler was seen on crutches and has been quoted as saying he has no clue if he will be able to return from his fractured right leg in the four- to six-week timetable he has been given. It's time to cut bait in shallow leagues.
Metta World Peace: MWP didn't travel with the team to Detroit due to a death in the family and having fluid drained from his left knee, but he returned to the court last night, playing 16 minutes in a minor role.
Oklahoma City Thunder
No injuries to report.
Orlando Magic
Tobias Harris: Last season's fantasy wonder kid has participated in back-to-back practices and is closing in on a late-November return. If you own him now is the time to get excited and do a little dance while no one is looking. If not, it's time to scour the waiver wire and see if anyone was foolish enough to drop him.
Glen Davis: Like Harris, Davis has participated in practice on Monday and Tuesday and is ramping up his activity (hide your keyboards) to get back into game shape. There is no timetable for his return yet, but he could be back on the court in as little as week to ruin the fantasy values of Jason Maxiell and Andrew Nicholson.
Philadelphia 76ers
Michael Carter-Williams: MCW returned last evening with a mixed bag for a stat-line, going 2-of-10 from the floor with a devilish 6 assists, 6 rebounds and 6 turnovers. Say goodbye to Tony Wroten's impressive run.
Jason Richardson: Last we heard he was doing a lot of pool work and is on-target for a return around the All-Star break. I have stashed him in several leagues that have an IR and suggest you do the same.
Nerlens Noel: While 76ers coach Brett Brown has backed off his comments of Noel not playing at all this season we have no reason to think he won't sit out the whole year at this point. He still remains a solid stash for the second half but we just don't have any more information to go on.
Arnett Moultrie: Moultrie was in line for big minutes until ankle surgery derailed his coming out party. He is now set for a January return and could have be nice asset down the stretch. Coach Brown has already stated he's looking forward to his return due to his energy so keep an eye on his progress as he should see plenty playing time upon return.
Phoenix Suns
Eric Bledsoe: Lil Bron was listed as questionable for last night's game but word is they expected Bledsoe to play. No such luck but it looks like he's extremely close to a return so get him back into your lineups ASAP!
Emeka Okafor: Okafor is still out indefinitely with a herniated disk. Even if he does return this season I don't think we will see the Suns play him as they are in full-blown tank mode.
Portland Trailblazers
C.J. McCollum: C.J.'s recovery from foot injury seems to be progressing nicely as he has been cleared for light shooting drills. He still has no specific timetable for a return and will be out for at least another month.
Meyers Leonard: Myers is recovering from an illness but has yet to be activated by the Blazers and has most likely been passed on the depth chart by Joel Freeland.
San Antonio Spurs
No injuries to report.
Sacramento Kings
Carl Landry: Carl just had surgery (11/19) to repair a torn hip flexor and will be sidelined three to four months…. I miss you already, Carl!
Toronto Raptors
Quincy Acy: He has been dealing with an ankle sprain since Saturday that caused him to miss last nights contest with the 76ers. Without any word on the grade of the sprain we can assume its minor and consider him day-to-day.
Utah Jazz
Marvin Williams: He'll undergo surgery on the fractured nasal cavity he suffered in a wrestling match with Stephen Curry. Despite the surgery Marvin is expected to play on Friday with a fresh face mask strapped on. Are the Jazz fans ready for the masked Marvin era?
Brandon Rush: Rush has played only 10 minutes of action this season and that was back on November 5. Without any updates to go on I'm considering him out indefinitely and see no reason to keep hope alive outside of the deepest leagues. If he can ever return he could be a very useful multi-category fantasy asset but we just don't know when that is.
Andris Biedrins: If an Andris injures his ankle in practice and no one cares does it really ever happen? He wasn't playing before and he most likely won't see any time unless a catastrophe hits the entire Jazz frontcourt. Walk away, nothing to see here.
Washington Wizards
Trevor Ariza: Trevor missed his third straight game last night and is questionable to return for Friday's contest in Toronto. With the stellar play of Martell Webster I'm not so sure Ariza's starting spot in the lineup is secure. We pretty much saw the same thing happen last year.
Otto Porter: The more we hear about Porter's hip injury the less we seem to know. What we do know is he is no where close to returning and shouldn't be on any fantasy rosters at this point.
Al Harrington: Baby Al has ain't so young any more and has been out since November 13 with chronic knee pain. There seems to be no timetable on his return. He's ultimately droppable in all leagues.
Image courtesy Mark Runyon/Flickr