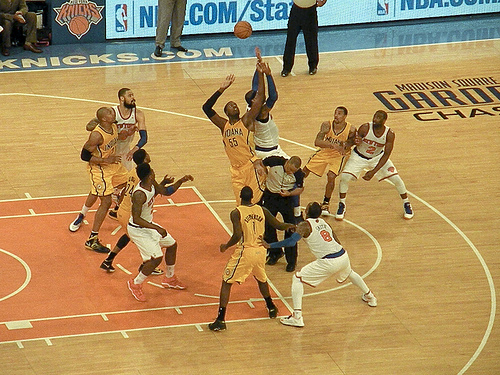 The Indiana Pacers survived a scare last night. As dominate as Carmelo Anthony was, as badly as the Blue and Gold shot free throws (or the ball, for that matter), as much "bad Lance" that showed up during the third and fourth quarters, in the end Indiana was able to gut out an overtime win against the New York Knicks, 103-96.
I have no idea what's going on in New York. On paper, they look like a playoff team. Maybe not one to go deep in the playoffs, but at least one that will compete. They are 1-6 at home (six-game losing streak for those counting), which is stunning. At their current pace, they will be lucky to win 25 games all year.
The Pacers, on the other hand, were true to form. Solid defense, less than 15 turnovers for the third straight game, and they owned the second half, outscoring the Knicks by 12 in the two quarters and extra frame. Paul George showed why he is an elite superstar, with 35 points, nine of which came in overtime as Indiana won their tenth game of the season.
It's on to Beantown after a day of rest on Friday night for their last road game of this Eastern Conference road trip. Boston got crashed by San Antonio on the road Wednesday night, but for such a young team they are a respectable 2-3 at home. Led by Jeff Green, Avery Bradley, and Jared Sullinger, their 4-9 record is not indicative of how competitive they have been in many of their games this year.
They are probably no match for the Pacers if Indiana comes focused and ready to play. These next two are bait games, with a home game against Philadelphia on Saturday night at Bankers Life Fieldhouse. They could get caught looking ahead to the big game on Monday night, also at home, against the 7-6 Minnesota Timberwolves.
Indiana seems to have shaken off that beatdown by Chicago fairly well. Struggling against a clearly inferior Knicks team notwithstanding, their ability to gut out last night's win in overtime riding the coattails of their superstar is a good sight to see.
Prior to the game, on ESPN, the network aired an interview with the Pacers team. This week Larry Bird was approached by Steven A. Smith for an interview about the Pacers. He said that ESPN should talk to the team. They approached Paul George, who, in turn, said he'd only do the interview with the entire team. The team did the same thing last year after Game 6 of the New York playoff series win. All five starters went into the media room for the interview.
It's good to see the focus on this team. The selflessness and focus on goal-oriented basketball. With that mindset, they will continue to be a force to be reckoned with in the NBA this season. It doesn't get much better than 10-1.
Image courtesy Matthew D. Britt/Flickr