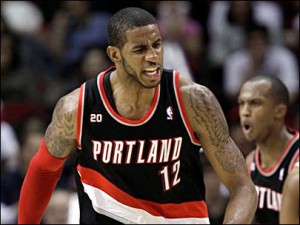 I just can't get enough of this NBA action. Rookies are making noise, stars are shining, and some big names went down to injury. I've added a new category, ODBs (Other Dudes Ballin'), Wu-Tang represent. Let's see what went down from 11/17 to 11/23.
King of the Court: LaMarcus Aldridge
There were rumors this past summer of LaMarcus Aldridge being unhappy with the Portland Trail Blazers. If he is unhappy, it sure doesn't look that way. LMA has been a double-double machine and the Blazers are the second-best team in the West behind the San Antonio Spurs because of it. "All Day" Aldridge is giving defenders fits with his inside game and his outside touch. He had a stellar week and was named NBA Western Conference Player of the Week, capping it with 30 points, 21 rebounds, 3 steals, 3 blocks, 3 assists against the Golden State Warriors on Saturday.
ODBs (Other Dudes Ballin'): 
Kevin Love
LeBron James
Arron Afflalo
Monta Ellis
Spencer Hawes
Rising Star of the Week: Terrence Jones
He was highly touted at the University of Kentucky, but was extremely quiet his rookie season. The Houston Rockets have a budding talent in Jones. He's big, he's athletic, has nice range, he rebounds, and now that he's in the starting lineup he's putting up some noticeable numbers. He brings a toughness, and seriousness that Dwight Howard isn't necessarily known for. With Omer Asik likely getting traded, Jones gladly stepped into those minutes and everyone in Houston is happy about it, except maybe Omer Asik.
http://youtu.be/e8Kqeyu1GFo
ODBs
Bradley Beal
Andre Drummond
Anthony Davis
Harrison Barnes
Damian Lillard
Rookie of the Week: Nate Wolters
Wolters is a really tough kid that has shown no hesitation. The first-year player from South Dakota State University is turning heads with his solid point guard play, sporting a 4.6 assist-to-turnover ratio that is second in the NBA. He averaged 22.3 PPG in his senior year of college, so he can score, but his focus has been on running the second unit behind Brandon Knight. He's got a bright future ahead of him with the Bucks, even though the Bucks' future this season is looking like the draft lottery.
Team of the Week: Portland Trail Blazers
The P-Funk All-Stars are legit. Led by LaMarcus Aldridge and second-year phenom Damian Lillard, the Blazers are riding a 10-game winning streak. With depth and toughness, they are definitely throwing their weight around the league. Head coach Terry Stotts has his team firing strong early this season. Make my funk the P-Funk, I wants to get funked up!
Game of the Week: Houston Rockets @ Dallas Mavericks
Great game from the start. The underlying story of this game is that Dwight Howard passed up playing with Dirk Nowitzki on the Mavericks and instead decided to take his talents to Houston to play with James Harden. The Mavericks' consolation prize in this past summer's free-agent fiasco was Monta Ellis. Ask Monta and he'll tell you he's nobody's consolation, he's a main attraction.
Hero of the Week: Trey Burke
As the NBA's worst team, the Utah Jazz need all the help they can get. The first-round draft pick out of Michigan came to play, scoring 10 points in his season debut. The Jazz are still trash, but there is a silver lining to this sad story: Trey Burke and the incoming draft class.
Play(s) of the Week
Gerald Green vs. Sacramento Kings – Watch your head young fella!
Spencer Hawes vs. Milwaukee Bucks – Channel your inner Dirk Nowitzki, Spence!
Ben McLemore vs. Phoenix Suns – Benny Mac can do more than just shoot the lights out.
LeBron James vs. Orlando Magic – He makes it look too easy.
http://youtu.be/ThtJjENSknA
Stat line of the Week
Monte Ellis vs. Houston Rockets – 37 points, 8 assists, 2 steals, 13/18 FG, 2/4 3PT
LeMarcus Aldridge vs. Golden State Warriors – 30 points, 21 rebounds, 3 blocks, 3 steals, 3 assists, 16/19 FT
Lance Stephenson vs. Boston Celtics – 10 points, 11 rebounds, 10 assists, 4 steals, 1 turnover
ODBs
Dirk Nowitzki vs. Houston Rockets – 35 points, 7 rebounds, 4 assists, 1 steal, 1 block, 13/20 FG, 2/5 3PT
Anthony Davis vs. Utah Jazz – 22 points, 9 rebounds, 4 assists, 8 blocks, 9/12 FG
Kevin Love vs. Houston Rockets – 27 points, 15 rebounds, 2 assists, 1 steal, 11/22 FG, 2/5 3PT FG
Stat line of the WEAK: Gordon Hayward vs. New Orleans Pelicans – 6 points, 1/17 FG, 0/8 3PT FG. I think this is some sort of record.
Player of the WEAK: O.J. Mayo
It's no wonder the Bucks have the worst record in the Eastern Conference. The Bucks lead man has been cold all week, failing to reach double digits in three games played. Their team isn't the strongest, but Mayo is going to have to step it up.
Team of the WEAK: Milwaukee Bucks
The Bucks have been losing and they make it look easy. They've got some promising youngsters in Nate Wolters and John Henson, but that's about it. Brandon Knight has provided little since coming over from Detroit and O.J. Mayo has gone cold. The lone bright spot has been Caron Butler, who has played decently in the early going this season. I'm not saying they are tanking, but the thought of a lottery pick in this upcoming draft is seeming more and more enticing.
Did you see …
Derrick Rose injure his other knee? Not looking good for Bulls fans.
Andre Iguodala go down with a hamstring injury? May not be that bad though. We'll see.
Marc Gasol go down with a knee injury. Hard out there for a Grizz.
Get well soon, fellas.
I'm out!
Image courtesy of Tiago Hammil/Flickr