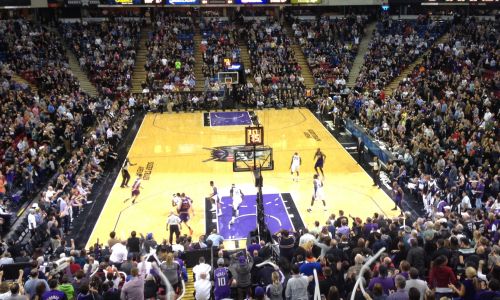 In a game between interstate rivals separated by less than 100 miles, a 115-113 outcome neatly reflected the Sacramento Kings and Golden State Warriors' proximity.
However, while the Kings only narrowly lost the contest (and even had a chance to tie or win in the final possession), the play of the Warriors backcourt showed how wide the gap truly is between Western Conference contender and bottom-feeder.
Stephen Curry and Klay Thompson dazzled in ways you would expect them to when playing at their peaks. Curry, current holder of the title World's Greatest Shooter, started off slowly by his standards, but improved as the game went along. Even without taking a single three in the final period, he accounted for 12 points and five of his team's final nine shots.
Meanwhile, Thompson didn't seem to see a three he didn't like; he shot an eye-popping 8-11 from beyond the arc, accounting for 24 of his 28 points. All told, Golden State's potent backcourt duo combined for 64 points on 24-43 shooting.
One weakness Curry did display was turning the ball over, which he did seven times. Sacramento (4-11) consistently bothered Curry into making mistakes handling the ball, but failed to capitalize quite as much as Golden State (10-8) did.
Every Sacramento player that checked into the game turned the ball over at least once – Isaiah Thomas matched Curry's seven turnovers himself – which the Warriors unsurprisingly exploited, notching 33 points off of Kings turnovers. For a team with Sacramento's record, it's done a surprisingly good job of hanging onto the ball this season, but Sunday wasn't the first time coughing it up has been key in a loss.
Sunday did feature what may have been a first from DeMarcus Cousins, though. Dating back to the preseason, he has struggled against the league's best defensive centers, perhaps holding him back from garnering the accolades that come along with being an All-Star caliber player. Against the Warriors, Cousins faced off against Andrew Bogut, one such defensive stalwart who has given him problems in every meeting this season, but this time he found offensive success; Cousins finished the night with 24 points on 10-13 shooting.
In spite of the loss, Cousins was high-fiving teammates and clapping after the game, presumably because of their effort rather than his individual performance. (Cousins has stated multiple times this season that a big stat line in a loss is irrelevant to him.)
Sacramento had a solid outing and perhaps they were able to take something away from the loss, but still, Sunday was another example of a glaring theme in the Kings' season: early miscues end up sinking the team late.
Photo courtesy of OregonDOT | Flickr