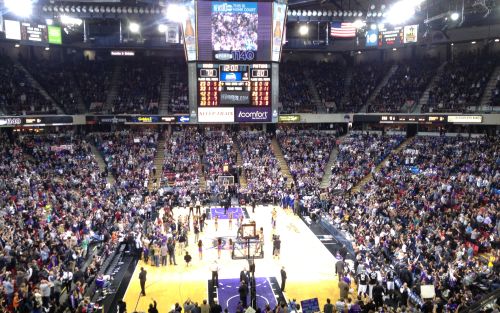 One possession it was Jason Thompson and a few later it was Hamady N'Diaye. Whichever Sacramento Kings player tried their hand at scoring in the post didn't matter much, the result was the same.
Establishing offense in the paint proved to be a considerably more difficult task without DeMarcus Cousins, who was out Tuesday night with a sprained ankle.
Kevin Durant and the Oklahoma City Thunder, on the other hand, encountered less resistance and went inside when jumpers weren't falling – the Thunder outscored the Kings by 14 points in the paint – to build a lead large enough to walk out of Sleep Train Arena with a 97-95 victory
With Cousins out, more offensive responsibility fell on the Sacramento's guards.
In what may have been his strongest performance of what has been his best season thus far, Isaiah Thomas delivered. Sacramento's sixth man led a late-game surge, frantically clawing his team back into the game.
It wasn't déjà vu, though. Rather, Thomas has been making a habit of igniting in the final quarter of games this season.
"Prior to (the fourth quarter) he was trying to be a very passive, playmaking point guard, and that's not who he is or who he's ever been," Malone said. "Isaiah Thomas is at his best when he puts pressure on the defense, looks to score, and then off that, he'll get other guys involved. When he plays like that, we take on his personality."
Despite his efforts, Thomas' 21 points and three steals – amassed in the fourth quarter alone – weren't enough to notch the Kings' fifth win.
With time winding down, he looked to cap off his scorching performance with a game-tying fadeaway jumper, but, like Sacramento's comeback, it too fell short. Thomas tried to take the blame for missing a relatively open shot, something his coach refused to acknowledge.
"I said 'My bad' and (Malone) was like, 'Don't ever say your bad. You were the one that got us back in the game. That was a great shot," Thomas said. "I got a the separation I needed, but just didn't get the lift on the shot."
Thomas wasn't alone in carrying the burden of Cousins missing scoring load, as McLemore seemed to ramp up his aggression.
The rookie was relentless and didn't hesitate to let the ball fly regardless of how he was shooting; one Kings possession he even had three shot attempts.
Along with being tasked with running sideline-to-sideline on offense, looking to spring open for a shot, McLemore was also assigned with guarding Russell Westbrook. He didn't run out of energy on either end of the floor, and even helped in forcing seven Westbrook turnovers.
"It's mentally going out there and telling yourself 'This is what you need to do – this is what you need to do to stop this person,'" said McLemore, who limited Westbrook to 15 points on 7-19 shooting. "I just have to go out there with the same mindset and be ready to go up against anybody."
The Kings lost Tuesday night, but, down their best player and with a chance to win a game against one of the NBA's elite teams, had an air of satisfaction afterward.
"The biggest thing for me is keeping our guys' spirits up," Malone said. "We're losing a lot of close games, but if we stay together and continue to work hard and fight like that, things will get better."