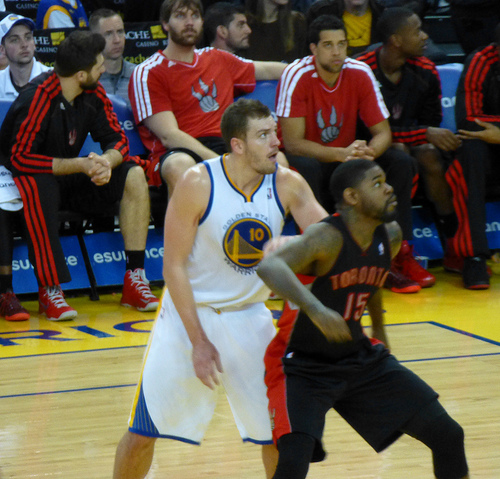 If you watched this game last night, you witnessed the biggest meltdown in Toronto Raptors franchise history.
At one point the Raptors had a 27-point lead, the biggest lead given up in Raptors history. The way the Warriors battled back isn't surprising, nailing three-pointer after three-pointer, making a remarkable eight threes in the fourth quarter alone.
Early on this game played out exactly how you would not expect it to. The Raptors ended the first quarter with a 36-19 lead and shot an astonishing 66.7 percent from the field. The "Splash Brothers," Stephen Curry and Klay Thompson, were not factors for most of this game. At halftime, Thompson had seven points on 3-for-10 shooting from the field and Curry had only four points on 2-for-6 shooting, a trend that would not continue in the second half.
The Raptors took a 65-48 lead into the second half but because of the Warriors' three-point barrage, the lead vanished quickly. Toronto actually had a great third quarter, winning it 23-22, with DeMar DeRozan scoring 12 of his 26 points in the frame. It was another story when the fourth quarter rolled around however.
Klay Thompson set the tone right away with a three-pointer to open the quarter. That trey sparked an 11-4 run from Golden State that cut Toronto's lead down to 11. With a couple of Thompson three-pointers and a Curry and-1 layup, Golden State cut the once 27-point lead down to only five. The red hot Curry then hit back-to-back three-pointers that gave the Warriors a 101-99 lead.
The Warriors weren't done though, with Klay and Harrison Barnes hitting two more three-point shots to seal the deal. If you were wondering what kind of run the Warriors must have went on to come back from 27 down, wonder no more. They finished this game on a 64-28 run, a feat that might only be possible for this Warriors team with their ridiculous shooters.
Now to touch on a few of the Toronto players.
For the first time all season, Rudy Gay finally shot 50 percent from the field. He had 18 point in this game, shooting an incredible 6-for-12, incredible for him. Gay helps his team more when he's shooting less. When he decides to play "hero ball" and shoots it 27 times a game, Toronto can never win. He calls for isolation plays and cools off his teammates, creating quite possibly the worst team currently in the NBA.
DeMar DeRozan continued his high level play, scoring 26 points on 10-for-18 shooting. DeMar was aggressive all night, hitting a couple of three-pointers early and attacking the basket late. He might be the only bright spot for the Raptors so far this season, which isn't saying much given the play of his teammates.
Kyle Lowry played Curry really well through three quarters and had a solid game overall. He finished with 20 points, 9 assists and 4 rebounds on 7-for-13 shooting. Like DeRozan, he was aggressive the entire night, going at Curry on both ends of the court as well as getting his teammates involved.
Amir Johnson had his best game of the season with 16 points and 10 rebounds on 7-for-10 shooting. Amir has noticeably been in a slump for this entire season so far. He's usually known as the heart and soul of the Raptors but this season he looks dejected and depressed both on and off the court. That's what four seasons of no NBA Playoffs will do to you.
This is the type of loss that would usually put a head coach in hot water. It's unclear what general manager Masai Ujiri's direction for this team is, but if it's losing rather than winning, don't expect Dwane Casey to be fired soon, he's too helpful in the tanking process.
Toronto continues their road trip when they take their sorry selves to Phoenix to take on the Suns on Friday. A 9-9 Suns team has surprised many people this season, with most prophesying them to be at the very bottom of the league's standings. Marcin Gortat has given the Raptors problems with his size and Eric Bledsoe will keep the Raptors guards on their toes throughout this one.
Image courtesy Matthew Addie/Flickr