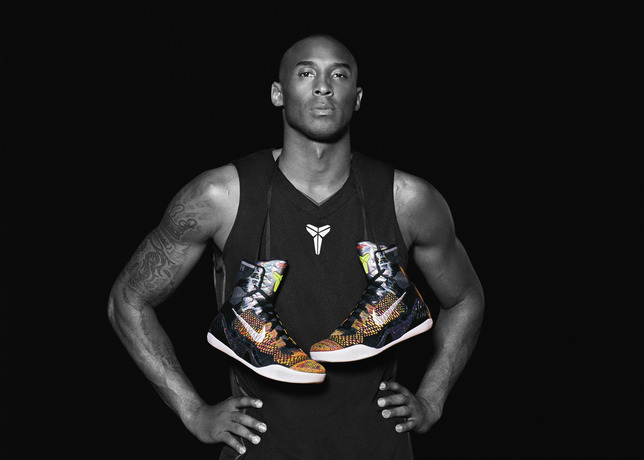 The amazing aspect of Nike's Kobe signature series is its evolution. From being somewhat conventional as a mid-cut basketball sneaker to getting higher to becoming something of a soccer shoe as a low-top to a something like a car with modifiable parts, the former Zoom Kobe series has become everything that innovation is canonized by in the signature Kobe models. Now, there is more to see and new ground that's breaking.
Kobe Bryant is coming back with a high-top sneaker and the most divergent footwear seen from his shoes since the Zoom Kobe IV — the Nike Kobe 9 Elite.
On the heels of the Nike Kobe Prelude Pack, the Kobe 9 Elite is, at its simplest measures, a yarn-knit slipper fashioned and equipped as a performance basketball shoe, specifically made to enhance the strength and responsive abilities of the human foot — namely Kobe's own feet. It's everything the Nike Huarache series has aimed to be, everything that the Hyperdunk was working toward, and beyond what most people could believe is possible for a basketball shoe — footwear that has to absorbed thousands of pounds of force from running and jumping on the basketball court.
For a more comprehensive breakdown of the Kobe 9 Elite, see below (courtesy of Nike):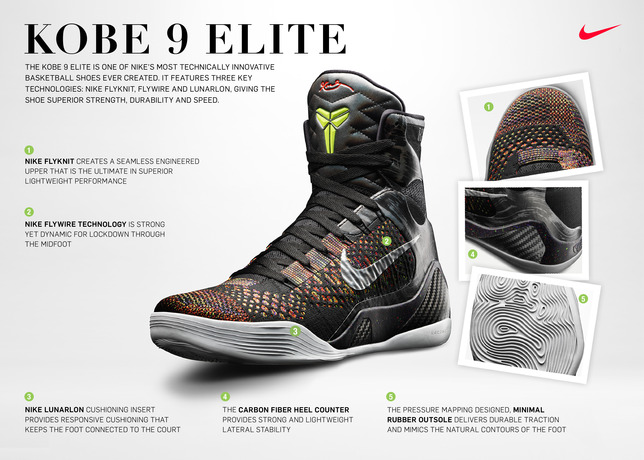 THE MASTERPIECE
Designed with Kobe's tech insights and design inspirations, the KOBE 9 Elite features three key technologies: Nike Flyknit, Flywire and Lunarlon, giving the shoe superior lightweight performance. The innovative design enhances the foot's natural movements while providing Kobe with strength, durability and speed, plus all the benefits of natural motion where he needs it most.
"I draw inspiration from where I am as a player, as a person, and where my career is at this moment.  I'm trying to do something that the majority of people think is impossible to do," Kobe reflected when asked about the inspiration for his latest shoes and about getting back into the game. "I let my emotions out when I step on the basketball floor, it's always been my escape, and these shoes will touch a nerve on the court in the same way I do."
Nike Flyknit – which was first used in Nike Running shoes in 2012 – defies conventional shoe manufacturing processes by creating a one-piece engineered upper made from single strands of yarns. Lightweight yet incredibly strong, it has redefined sports shoe technology and comes to basketball for the first time in the KOBE 9 Elite.
"Nike Flyknit acts as a second skin for Kobe, giving him engineered strength similar to the design of a spider web – tension and strength just where it's needed," said Eric Avar, Nike Creative Director and VP of Innovation, who has worked closely with Kobe on his shoe designs for a decade."
Reverting back to a higher cut for the first time since his third signature shoe in 2007, Kobe's ninth signature shoe features a knit collar for the proprioceptive feel of a low-top with the support of a mid-top.
With the lead colorway dubbed 'Masterpiece,' the KOBE 9 Elite uses the intriguing visual patterns allowed by Nike Flyknit to create a piece of art on the upper, nine red embroidered details on the heel give a nod to Kobe's Achilles sutures. The design on the outsole is based on the pressure mapping of Kobe's own foot, creating a beautiful pattern while providing traction on court.
DYNAMIC FIT
Nike Flyknit and Flywire technologies are a one-two punch, leading to a dynamic fit for Kobe's intricate footwork. 
The single layer Nike Flyknit creates a seamless engineered upper that is the ultimate in superior lightweight performance integrating areas of high breathability, stretch and support where it's needed most. 
Nike Flywire technology is strong yet dynamic for lockdown through the midfoot; its cables loosen and tighten with the natural motion of the foot.
The carbon fiber heel counter provides strong and lightweight lateral stability when moving from side to side, while the heel remains stable.
RESPONSIVE RIDE
Eliminating bulk and distraction was a focus for Avar. The idea of 'simplifying without compromise' helped shape the design of the KOBE 9 Elite.
Nike Lunarlon cushioning insert provides responsive cushioning that keeps the foot connected to the court.
The pressure mapping designed, minimal rubber outsole delivers durable traction and mimics the natural contours of the foot.
DESIGN WITH A PURPOSE
Nike Flyknit technology introduces a new way to construct a shoe upper by knitting strands of yarn. Nike Flyknit is better for the planet because it drastically reduces waste and materials from typical upper construction. The KOBE 9 Elite upper reduces waste by nearly 50% compared to traditional high-top basketball shoes that use multiple segments and cuts of material in the construction process.
The KOBE 9 Elite releases globally on Feb. 8, 2014, at Nike.com and select global retail locations.