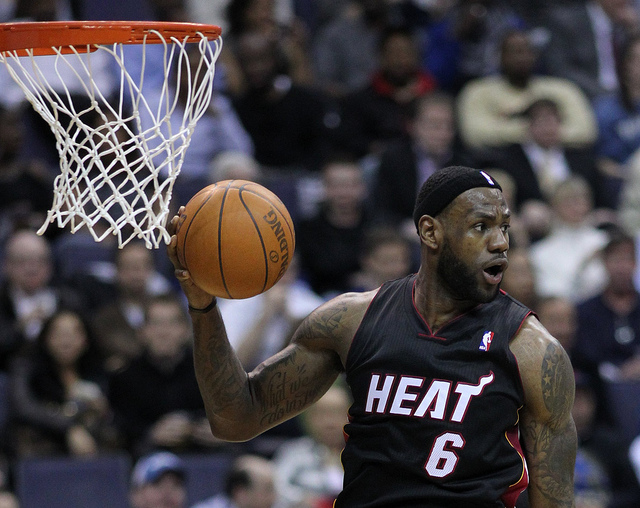 'Tis the season to be merry and happy. I wouldn't want to be a turkey around this time of year but I do appreciate the bird for its services. Two week's worth of action for you all to celebrate the ThanksgivaHanukkah festivities. Part 2 hits you some time around ChristmaKwaanza. Right now, let us be thankful for what we have, and be thankful that we are enjoying some exciting basketball. The strong are getting stronger and the weak are trying to figure things out. For the holidays (and since I left you hanging last week) I've added a little more gobble gobble for your ass. Let's check out the action from 11/24 to 12/8. Enjoy!
King of the East – LeBron James
The King is back in his rightful place. The Miami Heat have been putting some distance between themselves and most of the other teams in the East not named the Indiana Pacers. His points, assists, and rebounds are down from last season, but 25/7/6 is still an eye-popping stat line. His percentages are up across the board, making this campaign one of his most efficient seasons yet. As the first quarter of the season comes to a close, the Miami Heat are rightfully among the top teams in the Eastern Conference. Regardless of who's watching, King James is sitting squarely in his throne.
ODBs
Paul George – If it weren't for LeBron, George would be the best player in the East. He's the real deal, ask Danny Granger.
Dwyane Wade – The Heat clearly struggle without the WOW factor, so he's as important as ever, and he's having one hell of a season.
John Wall – The Wiz are magical. Now you see him, now you don't. Abracadabra, the Wizards are relevant.
Al Horford – Other than the Heat and Pacers, the Hawks are the only other team in the East above .500. Thanks in large part to Al.
Carlos Boozer – The Bulls have the worst luck when it comes to injuries, but Booze has been solid, helping them stay afloat. He's a 20-10 caliber player and he's been playing like it.
King of the West – Kevin Durant
If there is one to contest the great King James for the title of League MVP, it would be the Duke of Thunder. Kevin Durant has an air of defiance about him this season. There seems to be an edge that wasn't there before. On the court, there is less of a smile and more of a scowl, like his right hand man, Russell Westbrook. Losing tends to do that to the great ones. There isn't a player in the Western Conference that can defend Durant, and his own defensive intensity has picked up tremendously. KD has his eyes on the throne and an army behind him that is more than ready for war. Let the Thunder roll!!!
ODBs
LaMarcus Aldridge – The Portland Trail Blazers are the top team in the West. "All Day" L.A. is the reason for this. He's the best big man in the game right now.
Chris Paul – CP3 is the motor behind the high-powered Los Angeles Clippers. No offense to Vinny Del Negro, but Doc Rivers is the coach Paul needs to get to that championship level. He's playing that way now.
Kevin Love – His numbers remind me of the numbers of the '60 and '70s. He rebounds with a passion and his touch from outside is oh so sweet. He'd be MVP if his team could actually win.
James Harden – Houston is his team, at least on offense. His defense lags, but who cares when Dwight Howard has his back? His Euro step may be ugly (and a travel), but it's the deadliest out there.
Monta Ellis – Dallas is quietly putting together a solid season, and "Money" Monta wants the rest of the league to know what they could have had this past offseason. Dirk loves him for sure.
Rising Star of the East – Andre Drummond
Last season, he was like a big puppy, too big for his own good. This season, he's the alpha dog down low. He knows what he can do well, and that's all he does. Yeah, he may be a little erratic at times, but the rebounding numbers and his ferocious approach to the game make up for it. He's going to be an All-Star this season.
ODBs
Bradley Beal – He's been out of the lineup since November 25th with a stress reaction in his tibula, but when on he court his game is money. He works well with John Wall. His outside game is butter, he's athletic, and he's got a great work ethic. I see good things in this Wizard's future.
Evan Turner – I was a little skeptical as to whether he hit his ceiling or not. I stand corrected. He's averaging 20 points, 6 rebounds, and 4 assists on a surprising Philadelphia 76ers squad. Keep balling young fella.
Tristan Thompson – Anyone who grabs 20 rebounds in a game gets respect. He's consistent in the paint for an inconsistent Cavaliers team. Maybe he can give some pointers to his fellow countryman, Anthony Bennett. Go Canada, eh.
Jared Sullinger – Sully is getting his touch back. After a back injury last season, he has the space and opportunity to flourish now. He's doing it.
Rising Star of the West – Isaiah Thomas
Young Zeke, no relation to the Pistons great, is dynamic. Coming off the bench, he's a nightmare for opposing defenses. He's always had the talent, now this season he's brought a new maturity and poise to his game, which means danger for anyone outside Sacramento. Thomas seems to be the perfect engine to run the young gunning Sacramento Kings. There's a bright future in Sac-Town, and Isaiah Thomas is IT!
https://www.youtube.com/watch?v=PViiigOsX98
ODBs
Anthony Davis – Unfortunately a broken hand is going to keep him off this list for a while, but give credit where credit is due, the Brow is the real deal!
Damian Lillard – He's the frontman for a Blazer team that is tops in the West. That's no short order (even if he is short), so Lillard gets credit for the success.
Harrison Barnes – The Black Falcon was injured but now he's back. With Andre Iguodala going down to a hamstring injury, he has more opportunity to fly. Go Black Falcon, Hoooooooo!
Markieff & Marcus Morris – I'm picking both because every night at least one of them puts up big numbers. If they could only figure out how to have big games on the same night (and do it every night).
Rookie of the East – Victor Oladipo
Oladipo gets the honor because he's managed to stay healthy throughout the season so far. He's very assertive already, and not afraid to go and get his. In his much awaited debut against fellow rookie phenom Michael Carter-Williams, Oladipo recorded a triple-double. He's got the skill and he works hard. Not much more you can ask for from a rookie. I think he expects more from himself than the coaching staff does. That's a good thing.
ODBs
Michael Carter-Williams – If he hadn't missed games due to injury, he would have had the top spot this episode.
Mason Plumlee – The Brooklyn Nets have disappointed, but at least we know Mason can play. He rebounds, hustles, defends, and he can play offense if he ever gets the chance.
Tim Hardaway Jr. – The Knicks are in bad shape, but Timmy Time 2.0 is a sunny spot in that thunderstorm. He's going to command more minutes sooner rather than later.
Kentavious Caldwell-Pope – Besides having a long name, he's got some game. He can score and defend and that matters. He was instrumental in a huge win against the Miami Heat. That KCP secret recipe, 11 herbs and spices.
Rookie of the West – Ben McLemore
Benny Mac has gotten the start in the past few weeks and he's benefited. We all knew he could shoot but I don't think people knew how athletic he is. He flies through the air with the greatest of ease, and he has the capability to be an able defender. Once he learns the tiny nuances of the NBA game, he's going to be something to watch. Good thing Sac-Town was able to hold on to their team. Enjoy the show.
ODBs
Trey Burke – Since he's been back, the Jazz have a winning record. Nuff said.
Steven Adams – Skill-wise he may not be too flashy, but the kid's tough. I like him.
Robbie Hummel – He took Derrick Williams' spot. That doesn't say much, but I hear him.
Hero of the Week – Allan Houston
I was walking down 42nd Street and I saw limos outside of a building. When I see limos, I figure it's a spot I'd like to be. So I walk in and it turns out to be The Allan Houston Legacy Foundation Celebrity Poker Tournament. Now I'm not too big on Texas Hold 'em and Royal Flushing (unless I'm taking a dump in Buckingham Palace), but I am a fan of community outreach and uplifting people. The AHLF promotes fatherhood and entrepreneurship, and has been serving the community for years. This was the second annual tournament, and the celebrities were in full effect, especially past and present Knicks. I saw my man Allan Houston, Larry Johnson, J.R. Smith, Amare Stoudamire, Kenyon Martin, and Cole Aldrich. I asked Allan if he was planning on suiting up the to help out the struggling Knicks, but he said the Knicks were getting it together. I hope so. Either way, kudos to Allan, and it was a wonderful, and successful event. Please visit the Allan Houston Legacy Foundation at https://support.allanhoustonfoundation.org/ and donate.
Team of the Week East – Miami Heat
They don't have the best record in the conference, but I still feel they are the team to beat. They have the best player in LeBron James. And as far as support players, Dwyane Wade and Chris Bosh would be the main attraction on any other team, so the Heat are good on that level. They had won 10 straight before a setback to the Pistons but still they are rolling and LeBron is looking hungrier by the day. Rough times ahead for the rest of the Eastern Conference. The Heat is on!
Team of the Week West – Oklahoma City Thunder
Kevin Durant is cementing himself as the next best thing to one LBJ, but if you ask the Duke of Thunder he'll tell you he's the same Grade A beef. I believe him. Add in Serge Ibaka, plus the bench duo of Reggie Jackson and Jeremy Lamb, and the Thunder have the formula for success. OKC is on a tear and will be tops in the West once again barring any setbacks.
Game(s) of the Week
Spurs vs. Hawks – The Big Fundamental turns back the clock on 'em.
https://www.youtube.com/watch?v=ygRDSUOZn2Q
Pelicans vs. Bulls – This was a long ass game, but the finish was dope.
76ers vs. Magic – This was a long ass game also, and two rookie triple-doubles is even more chocolatey goodness for your balanced breakfast.
Stat line of the Week
Michael Carter-Williams vs. Orlando Magic – 27 points, 12 rebounds, 10 assists, 3 steals
https://www.youtube.com/watch?v=CqV99X-7aTw
Victor Oladipo vs. Philadelphia 76ers – 26 points, 10 rebounds, 10 assists, 3 steals
Kevin Durant vs. Minnesota Timberwolves – 32 points, 10 rebounds, 12 assists, 4 steals, 4 blocks
Andre Drummond vs. Philadelphia 76ers – 31 points, 19 rebounds, 6 steals, 2 blocks, 12/15 FG
Play of the Week
Tim Duncan vs. Atlanta Hawks – Tim still got it.
Drue Holiday vs. Chicago Bulls – That's why he's an All-Star.
Iman Shumpert Dunk vs. Orlando Magic – He's mad at the world, and took it out on the rim.
https://www.youtube.com/watch?v=o1pMm9K1_Cs
Stat line of the WEAK – Kyrie Irving vs. Atlanta
0 points, 0/9 FG, 0/3 FT, zip, zilch, nada and a loss. Some people penciled him in as MVP this season. Not this night.
Team of the WEAK – Brooklyn Nets
It's one of the New York teams, and I'll give you a hint, it's the New York team that lost to the other New York team by 30. Jason Kidd has been having trouble in third quarters, and it's translated into one of the worst records in the Eastern Conference. Paul Pierce is out, as is Deron Williams, and the rest of the Nets just aren't picking up the slack. My Knicks are playing like trash, so when the Nets lost to them by 30, this choice was a no-brainer.
Player of the WEAK (East) – Andrea Bargnani
The New York Knicks brought Bargnani in to score, and they were prepared to deal with his defensive shortcomings. I get that, but his shortcomings are somewhere around Emmanuel Lewis status (Webster). What's the point of being seven-feet tall if you're not going to grab a rebound?
Player of the WEAK (West) – Pau Gasol
He just doesn't seem engaged. At a time when the Lakers are without Kobe Bryant and Steve Nash, Pau is looked upon to man up and carry the squad. Instead he is crumbling under the weight. It seems like his body language is screaming "Kobe come save me!" Pau, you're better than this. There is no way Xavier Henry and Steve Blake should be the focal points of your offense. Shame on you.
***SHOUTOUT ALERT***
We lost a true hero this past week. World leader, civil rights activist, and all around awesome dude, Nelson Mandela passed away this week. He was 95 years old. The Nobel Prize winner has been priceless in the pursuit of world peace and equality, especially in his native South Africa. We lost a great man, but his legacy will live on forever.
Peace and love, family.
Follow me on twitter @MisterKing730 and enjoy your holidays! Don't be afraid to comment. See your around Christmas.
Image courtesy of Keith Allison/Flickr