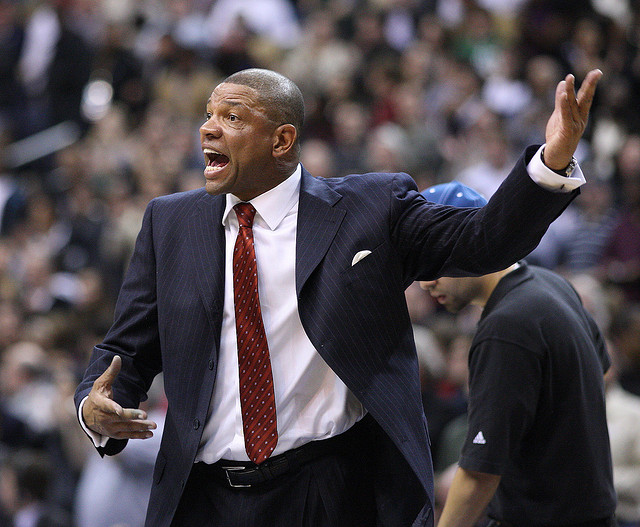 The secret to winning it all in basketball isn't even much of a secret. Offense wins games, and defense wins championships. Everybody and their mothers know that. The concept is simple, but the execution can be complicated. Consider the Los Angeles Clippers, a high-flying act of lobs and dunks. Can they win a championship being Lob Angeles? Go around the bin and ask, and the resounding answer will be "no."
During the preseason, the Clips stated that they were going to be a defense-first team under the tutelage of Doc Rivers, an NBA champion that knows a thing or two about great defense. So far, they've been a bit sporadic in their defensive groove. Some of the team's biggest names, Chris Paul and Blake Griffin, have voiced their frustration over their team's lack of consistency on defense.
"We've got to find a defensive identity," Paul told ESPN. "That starts with us in the locker room. We know what to do. We just got to do it."
Sometimes they have it down, and sometimes they don't. That's okay for now, since it's early in the season and they're still building a defensive identity, but if they want to win it all they have to find steady ground. A few games back, the Clippers let the Atlanta Hawks light it up from beyond the arc, hitting 52.2 percent of their three-point shots. However, they recently held the Philadelphia 76ers to 35.9 percent shooting, and 14.3 percent from beyond the arc.
Without a doubt, Doc has made an impact with this team on the less glamorous end of the court, as the Clips have moved up to a defensive efficiency of 100.4, which is the 10th best in the NBA. They also have a Defensive Player of the Year candidate in DeAndre Jordan, a tenacious defender in CP3, and have recently picked up Stephen Jackson, a veteran that's known to be a versatile defender. Griffin has also set himself up to be more focused on defense this season, but he's still a work in progress on that end. He definitely has the potential, especially with his ups, to increase his 0.8 blocks per game average.
The great teams this season, such as the Indiana Pacers, San Antonio Spurs and the Miami Heat, have all established a defensive mindset that usually doesn't get rattled. The Clippers aren't quite there yet, but with the progress they've made so far, they're in line to start knocking on their doors.
They might not completely lose their Lob Angeles swagger, which is hard because Griffin and Jordan are always up in the air, but if they manage to overshadow that label with shackle-down D, they'll become what they want to be: elite contenders.
Image courtesy of Keith Allison