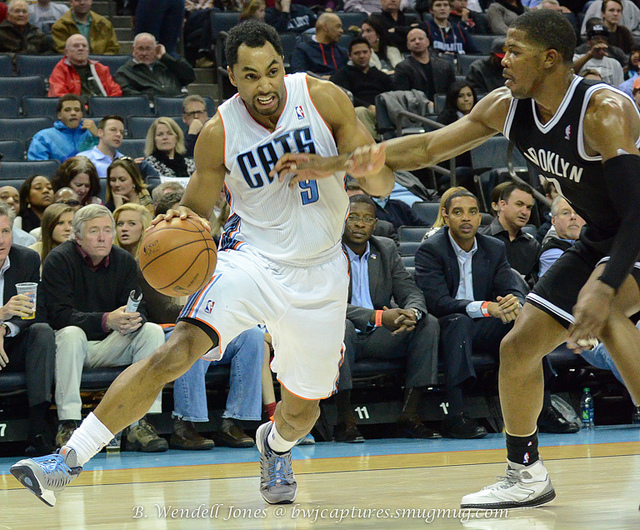 The Charlotte Bobcats were looking to get back to the .500 mark after an exciting victory Monday night over the Golden State Warriors. But the Bobcats would not have the same result against the Orlando Magic, losing 92-83
Both teams started out slow, the first quarter ended with the Bobcats leading 18-16. The action picked up in the second quarter, with Cody Zeller providing energy off the bench. Despite a solid effort in the second quarter the Bobcats trailed at the half 43-42.
There were several lead changes in the third and fourth quarters with Orlando finally pulling away in the last two minutes to seal the victory.
Gerald Henderson led the Bobcats in scoring with 12 points, Josh McRoberts had 11 and Al Jefferson scored 10 points and grabbed 11 rebounds.
The Magic were led by Glen "Big Baby" Davis and Jameer Nelson, who both scored 17 points. Nikola Vucevic added 12 points and 14 rebounds.
What went well:
The Bobcats continued to play great defense, giving up only 92 points to the Magic. Cody Zeller had a solid game with 10 points and grabbing 6 rebounds. He played with great energy on defense and was a spark off the bench. Zeller may have earned himself more playing time with tonight's effort. Josh McRoberts had a highlight assist, throwing an around-the-back pass to Jeffery Taylor, who finished the play with a nice dunk. The Bobcats shot well from the free-throw line, making 17 of 18 attempts.
What went wrong:
As a team the Bobcats shot poorly, shooting 36.9 percent from the field and 23.5 percent from the three-point line. The Bobcats starting backcourt of Kemba Walker and Gerald Henderson shot poorly combining to shoot 7 for 32. The Bobcats have a difficult time winning when both Walker and Henderson shoot poorly. With time expiring at the end of the first half, Davis hit a tough corner three-pointer to give the Magic the lead at the half. Davis' shot ended up making a difference in the game. Jameer Nelson scored all 17 of his points in the second half and hit a clutch three-pointer with 1:13 to go, putting the Magic up by seven. The Magic also out-rebounded the Bobcats 52-41.
Next Game: The Bobcats travel to Indianapolis to take on the Indiana Pacers on Friday at 7 p.m.
Read Zach Oliver's take from the Orlando Magic's perspective here.
Image courtesy of B Wendell Jones.