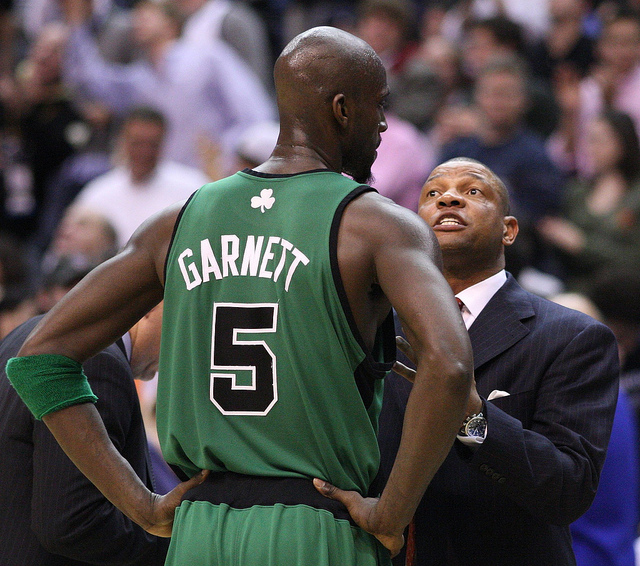 In the 1991 Eastern Conference Playoffs, the Indiana Pacers strolled into the Boston Garden for a Game 5 fight in which Celtics fans would gasp in unison and lose hope for a brief moment. A crash to the floor put Larry Bird in excruciating back pain, so much that he would leave the game with no indication of return. The Pacers would take advantage of Bird's injury as Chuck Person continued to torch the less athletic and significantly older Celtics team. Moments later, Larry Bird ran out of the Celtics tunnel ready to go and an explosion of cheer ensued as he would lead the Celtics to victory.
In the TD Garden Wednesday night, a comparable celebration would commence, as one of Boston's most beloved returned home for a game that meant more than an early cross-conference matchup, but an opportunity for Boston to remind the Los Angeles Clippers and the league that Doc Rivers was, and always will be, a Celtic.
He would return to Boston as a member of the opposing team for the first time in 10 years. And for the second time of the young NBA season since opening night, Rivers was the center of attention. Emotionally overwhelmed by a standing ovation, he did his best to fight tears, reminiscent of what was, while holding his clipboard with every intention of planning what could be.
On a night where the Clippers would match their third-best start in franchise history, and forward Antawn Jamison would score his 20,000th career point, it would take an insurmountable number of highlight dunks and amazing on-court play to divert attention away from Rivers. At the end of the first quarter, the Celtics kicked up the smooch fest a notch, and on the giant overhead screen a video montage of Rivers' Celtics history played, showing Doc at various children's hospitals, embracing former Celtics players and championship photos that belong to a long list of memories that have been eternally imprinted in Celtics culture.
Even if for a moment you'd think there was a possibility that the boo birds would show up, you could barely hear any distaste from the crowd. Whether that's due to his charismatic, media friendly personality or a bevy of headlines in the same span of time that took attention away from his departure (like Aaron Hernandez or the Bruins in the Stanley Cup Finals), winning trumps all and is never forgotten. It's never easy for NBA fans to accept a rebuilding state for their beloved team after a long stretch of accomplishments, and when Doc Rivers decided not to spend the pinnacle of his coaching career dedicated to that process, fans and media alike showed respect, and allowed for a graceful departure.
For a brief moment, Clippers and Celtics fans shared a common bond with the ability to dissolve the blatant difference in franchise history. It was a far stretch from holding hands around the campfire, but the love, respect and admiration that Doc Rivers received Wednesday night in Boston and currently receives in Los Angeles is indicative of the consummate professional he is, and a testament to the old adage "game recognizes game".
Oh and the Clippers won, 96 to 88.
Image courtesy of Keith Allison.