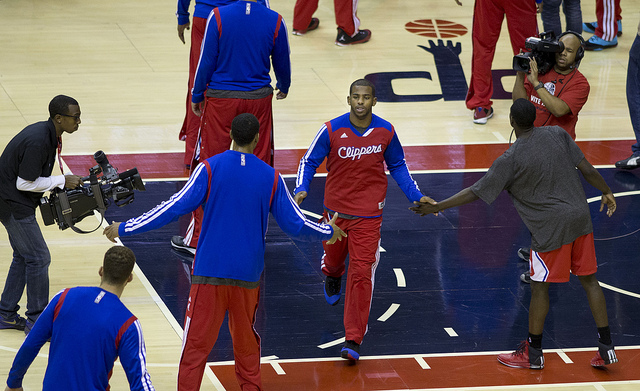 Barely 24 hours after Los Angeles Clippers small forward Jared Dudley apologized for his poor play on Twitter, he came out on fire in the Clippers' last road stop against John Wall and the 9-13 Washington Wizards, losers of their last three games since reaching the .500 mark for the first time since 2009. Dudley got out to a hot start and finished with 16 points. Although the Clippers only tallied 11 bench points on the night, they shot the lights out, going 57 percent from the field and 43 percent from three.
A must-win for a feel-good trip back to Los Angeles, Doc Rivers inserted Jamal Crawford into the starting lineup, giving him his first start since April 9, 2012. Crawford would finish the game with 17. The extra threat on the wing gave the Clippers a more balanced attack, as the starting group put up 102 points.
"We just wanted to win the game…. There are a lot of factors. Long flight back home and we've got a lot of sore losers on this team. We just wanted to come out and play the right way," said Chris Paul after the game. Aware of the crippling effect a below-.500 road trip could have, Chris Paul backed up his agenda by shooting the team back into three-point respectability, going 5-of-7 from three and a perfect 11-of-11 at the free-throw line. He finished with 38 points and 12 assists.
The Clippers were in control of this one all night long, taking a 34-28 first quarter lead and expanding it to as much as 23. Blake Griffin closed the game with 16 points and DeAndre Jordan brought home 16 points and 9 rebounds.
Losers of seven in a row when he's not in the lineup and 3-24 without him since the beginning of the season, Wizards big man Nene sat out due to a foot injury, which was sweet music for the Clippers as they were already banged up and bruised from the physical and mentally taxing road trip. John Wall tried to will his team a win, pouring in 24 points, but the Clippers were intent on returning home winners and gave maximum effort toward that goal.
With the Wizards trailing by double digits the entire second half, the Clippers coasted to an easy win with a final score of 113-97, improving their record to 16 wins and 9 losses. The Clippers' next matchup is Monday night against the San Antonio Spurs.
Image courtesy of Keith Allison.