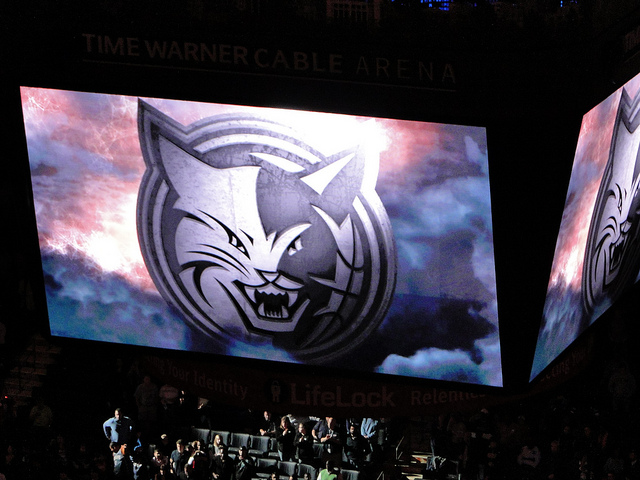 The Indiana Pacers embarrassed the Charlotte Bobcats by 25 points on November 27, so last night the Bobcats were out to put together a better performance. Although the Bobcats put forth a strong effort, they suffered their second loss of the season to the Pacers, 99-94.
Early in the first half, the Pacers built a 10-point lead, but the Bobcats responded and took a five-point lead of their own. The Pacers went on run late in the second quarter and led at halftime, 56-55.
The second half went back and forth with both teams taking the lead several times. But, with less than a minute to play, the Pacers used defense and clutch free throws to earn their 20th victory of the year. The Bobcats dropped their second game in a row and fall to 10-13 on the season.
Al Jefferson led the Bobcats in scoring and rebounding with 21 points and 9 rebounds. Kemba Walker and Ramon Sessions both had 13 points.
For the Pacers, Lance Stephenson almost had a triple-double with 20 points, 11 rebounds and 7 assists. Roy Hibbert finished with 18 points and 11 rebounds. David West chipped in 14 points and 8 rebounds.
What went well
The Bobcats matched the Pacers' intensity and didn't back down from their physical style of play. Jeffery Taylor defended Paul George very well, holding the All-Star small forward to only 10 points on 2-of-12 shooting. Al Jefferson challenged Roy Hibbert on the offensive end. Jefferson's ability to play inside and outside kept Hibbert off balance defensively. Jefferson displayed why the front office was happy to sign him during free agency.
What went wrong
Lance Stephenson had an awesome game, when he plays well the Pacers are tough to beat. Kemba Walker and Gerald Henderson combined to score 23 points. This is the second game in a row they haven't played well offensively. Ben Gordon has received more playing due to the injury to Michael Kidd-Gilchrist, but tonight he only scored four points in 24 minutes. Newly signed Chris Douglas-Roberts may get a shot at filling the void left by MKG. The offense in the last two minutes was stagnant. The most disappointing play was the potential game-tying shot from Al Jefferson took with 17 seconds left to go in the game. The Bobcats were down 94-96 and ran an isolation play for Jefferson against Roy Hibbert. Jefferson shot an air-ball about eight feet from the basket which forced the Bobcats to foul George Hill. Hill then hit two free throws to seal the victory.
Next Game
The Bobcats host the Los Angeles Lakers on Saturday at 7 p.m.
For Thomas Lunay's take from the Indiana Pacers' perspective click here.
Image courtesy of Amy Meredith.