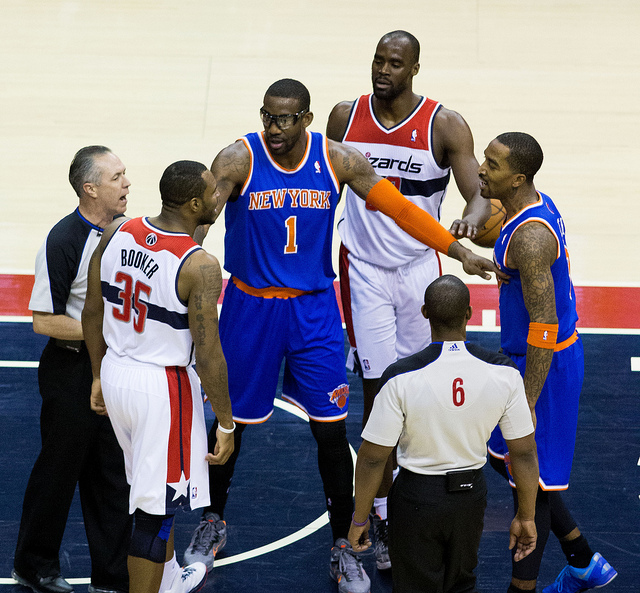 The ineptitude of the New York Knicks has once again taken center stage in an otherwise entertaining NBA campaign. A nine-game losing streak that carried New York from mid-November through the first of this month left the team at 3-13, one of league's worst records, and nary a day has gone by without a new catastrophe: injuries to Tyson Chandler, Raymond Felton, and Metta World Peace; quarreling between coach Mike Woodson and the hindrance J.R. Smith; Iman Shumpert's in-the-huddle unraveling; even the Knicks City Dancers have been at the center of controversy. Players are feuding and trade speculation is at a fever pitch. In short: New York Knicks basketball.
From within the drivel of rumors and speculation came recent word that the Toronto Raptors were negotiating a pact to send point guard Kyle Lowry to the Knicks for a handful of assets. As the media narrative goes, the trade was in the final stages before Knicks honcho James Dolan vetoed the deal. Ultimately this would have been a dud for the Knicks: Lowry has a reputation for being moody, is in the last year of his contract, would have stripped New York of scarce assets, and was unlikely to do much course correction in what's rapidly becoming a lost season. Avoiding this mishap made it seem momentarily possible that Dolan had mustered patience and vision as part of his decision-making process.
But then the media narrative concluded with the explanation that Dolan feared further public humiliation after being fleeced by Toronto general manager Masai Ujiri several times previously. So much for vision.
At the same time, media narratives such as this are loaded, particularly when it comes to a character that is perpetually regarded as one of the greatest buffoons in sports. In the end Dolan avoided what would have been yet another shortsighted and questionable decision, so can we maybe for once optimistically assume that cooler heads prevailed? Yes, this is naïve, and willfully neglects a long history in New York of desperate recklessness and stupidity. But let's assume for a moment that cooler heads do indeed exist in New York, that they prevailed in the case of the Lowry swap, and that they might again prevail going forward. What could that possibly look like?
The latest rumor to seize the fan base has Los Angeles Lakers center Pau Gasol coming to the Knicks in exchange for New York's own center, Tyson Chandler. Reports also have the Lakers intrigued by Shumpert, New York's best and arguably only real prospect. This is yet another looming disaster for New York, who if they've learned anything at all this year must know that Chandler is the team's most valuable player, or at the very least its most important defender. Why trade him for another aging big man minus the defensive prowess (or any defensive prowess)? This is a panic move, and not even a shortsighted one, either; this makes the Knicks worse both now and well into the future.
The NBA's thinking fans long ago concluded that New York's true best move is to shed Carmelo Anthony, who according to this line of thinking cannot possibly live up to the massive new contract he has coming in 2014. Such a move could happen either by February's trade deadline or by simply failing to extend a new offer next summer. Anthony is an elite scorer and little else, and tying such a large portion of the team's salary cap to a limited one-way player does not seem to many to be the road to contention. But this ignores the basic fact that the task of managing the New York Knicks is not a cerebral roster-building exercise but rather a massive corporate ordeal, and so for better or worse, Anthony is staying put.
This dramatically limits New York's options. The roster is beyond capped out even next year, and the team's performance has been poor. What do the cooler heads say?
Cooler heads say that the Knicks have tremendous financial means and the draw of Manhattan on their side, and that the team doesn't need to get primed for a superstar free agent in 2015, but to use the options it has at its disposal now. Those franchises that have used financial flexibility to their benefit didn't just have cap room on their side. They had savvy, too, and the last run at top-flight free agents didn't exactly work out in New York's favor.
Cooler heads say that Chandler stays put. He's the anchor of the defense, an offensive linchpin, and the team's leader. His return will have an immediate impact on New York's success, and if the Knicks care to come anywhere near a playoff run next spring, or in 2015, then Chandler will be instrumental. The same goes for Shumpert, the only player on New York's roster with anything resembling energy, a seemingly underrated ingredient to basketball success.
Cooler heads also say that the players with questionable character and work ethic ought to see their roles reduced or eliminated, or be shipped out entirely. One well-chronicled aspect of last season's success was the presence of veterans like Jason Kidd and the impact they had on Anthony and on the roster overall, and their absence has been marked by a series of interpersonal outbursts. What J.R. Smith brings in offensive capacity is more than offset by his adolescent nonsense, Raymond Felton can't be bothered to get himself into half-decent shape after a summer off, and Kenyon Martin manages one hiccup after another.
Moving these players would not be easy, nor would any landscape-altering moves without the inclusion of Chandler or Shumpert, two of New York's only desirable assets. But that doesn't mean it's impossible. New York isn't as far away from success as it might appear, particularly given unlimited financial resources. Would the Boston Celtics accept sheer cap relief in the form of Amar'e Stoudemire in exchange for some combination of Jeff Green, Kris Humphries, Courtney Lee and Gerald Wallace? Maybe the Philadelphia 76ers would swap Thaddeus Young out for Smith and Felton, or the Raptors would do the same with DeMar Derozan. The Chicago Bulls are in shambles, would shedding Taj Gibson's four-year pact interest that wounded franchise?
None of this makes the Knicks better than, say, the Miami Heat or the San Antonio Spurs, but then again very little will. The Knicks need not focus on future cap space but rather on keeping together what works, shedding what doesn't, and taking one step at a time in the right direction. If Anthony is the focal point then surround him with the right types of players: capable three-point shooters, some speed on the wings, and defensive-mindedness all around. And maybe don't trade away every available draft pick. Cooler heads say so.
Image courtesy of Keith Allison.