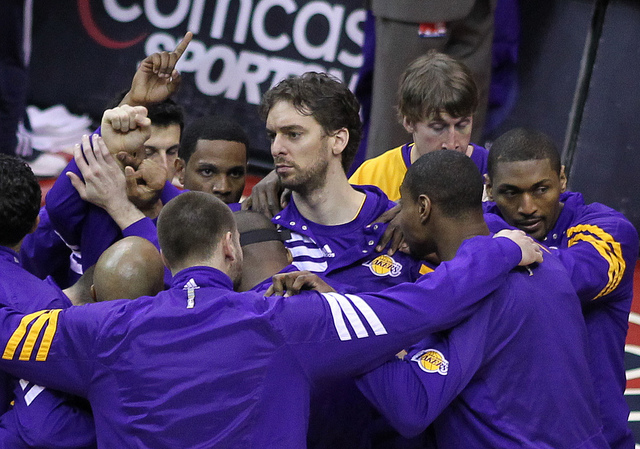 The Los Angeles Lakers began the season with trade rumors, threatening to break up the basketball brotherhood of Kobe Bryant and Pau Gasol well before they retook the court together. Nothing's happened yet, perhaps because Gasol's market value remains murky due to inconsistent play, but if recent post-game comments are any indication, and of course they are, Gasol is looking for a way out of Los Angeles and the Lakers are more than happy to oblige him.
Gasol's displeasure with the organization and their readiness to move him are not new developments. Only two years ago, he was the centerpiece of a three-team trade that would have landed Chris Paul in Los Angeles proper, until commissioner David Stern vetoed the deal as acting owner of New Orleans. Since the public outing of the Lakers' intentions, Gasol has alternated between playing the good soldier and putting on a pouty face for the cameras, dishing out as many throwback stat lines as complete duds.
If the on-court attitude wasn't enough cause for concern, now Gasol is taking to the media to complain about coach Mike D'Antoni's play calling and offensive sets. This sort of chatter happened last year too, but we all assumed it was because Dwight was clogging up the paint. Now that Gasol's the dominant big man on the roster, you figure he'd get all the touches in the post he can handle. When asked about the latest grumblings, D'Antoni pointed out that post possessions are some of the worst offensive sets, statistically, that the Lakers run. Gasol isn't getting the ball where he wants because it doesn't align with the team's strategy, not because he's being overlooked by his coach in favor of a brighter star.
Before we begin burning effigies, however, we must remember two things: Gasol is an elite post player and D'Antoni coaches on crazy pills. The first assertion is substantiated, objective fact. The other half, that D'Antoni ingests insanity inducing pharmaceuticals prior to every game, is only a hypothesis. If you have a better explanation for marginalizing some of the sharpest talents on the roster, I'm all ears. Short of an intervention, however, we're stuck with bizarro rotations, fast-paced offensive sets, and limited post plays, making Gasol irrelevant as long as he resists change, which is a pretty safe bet by now.
Making matters murkier, Gasol's contract expires at the end of this season and he seems unlikely to sign a discounted veteran's deal, which means we'll be missing Gasol next season no matter what happens. If we've learned one thing from the Dwight Howard debacle, it's that you don't let a star walk for free when you can get something back in return. While Gasol's value may be unclear, it is present, and the right team may be willing to take a chance on a rejuvenation free from his toxic situation. I'll be sad to see him go, as he's been a terrific counterpart to Kobe and helped win two rings in honorable fashion, but inevitability outweighs sentimentality.
There have been whispers of rumors regarding his destination, though most of the conversations happen behind closed doors. As I'm too impatient to just sit here and wait while GM Mitch Kupchak works his magic, I've drawn up a few deals of my own. Mitch, if you're reading this, try for the top trade and work down from there. You're welcome in advance.
Gasol for Kevin Love and Alexey Shved
We'll start with the "Sure, it's crazy, but we might as well ask" category. Last season, when Love was injured and it was unclear if he'd ever jell with Spanish phenomenon Ricky Rubio, you could have talked the Minnesota Timberwolves into switching a disgruntled star for a fellow Spaniard with established chemistry from their time together on the national team. Now, with Love and Rubio propelling the Wolves to one of their best starts in years, they're unlikely to depart with a franchise centerpiece for a one-year rental of a player on the decline. Let's just move on.
Gasol for Tyson Chandler and Iman Shumpert
Another "This couldn't possibly happen without hypnosis" deal, recent reports from unconfirmed sources suggest that the Lakers are interested in both players, but really, why would the New York Knicks ever pull the trigger? They already have two players that serve about the same function as Gasol—Amare Stoudemire and Andrea Bargnani—and they'd be losing the only consistent defenders on the squad. That said, the Knicks are still run by James Dolan, so despite the illogical imbalance of the exchange, it's a possibility.
Now we're circling a little closer to reality. The Memphis Grizzlies have been looking for a taker on Randolph for a few seasons now, and who better to duplicate the Twin Towers dynamic with Marc Gasol than his very own brother, Pau? As evidenced by their run in the Olympics, the brothers' on-court connection could be enough to revitalize the team and bring Memphis back to title contention. That's the pitch, anyway.
Gasol for Evan Turner and Spencer Hawes
Hawes is having a quietly great season for the Philadelphia 76ers and Turner remains an athlete of enormous potential, even if it's never been fully realized. There's no real reason for the Sixers to make this trade, other than to slide further toward the bottom of the league in pursuit of a lottery pick, but Gasol would fit in fine and Hawes and Turner could be the missing pieces to the Lakers' rotation. Best of all, they're both on year-long contracts, giving Los Angeles a competitive edge this season while preserving precious cap space for next. Of all the trades listed here, this could be the most realistic and beneficial for both sides.
Gasol for Anderson Varejao, Dion Waiters, and Alonzo Gee
The Cleveland Cavaliers got off to a disappointing start and may be looking for a serious move. If the Lakers threw in a first-round pick, Cleveland's favorite asset to waste, they may justify Varejao and Gasol as more or less interchangeable and Waiters as an unhappy athlete who will never mesh with team leader Kyrie Irving. Alonzo Gee is thrown in to match salaries. The downside for the Lakers here is the length of the incoming contracts. If the plan is to hit free agency hard in the offseason, bringing in two- and three-year contracts doesn't make any sense, especially not if you give up a pick in a stocked draft for the privilege.
Gasol for Caron Butler, Ekpe Udoh and Luke Ridnour
Continuing the trend of "switching a star for change," the Milwaukee Bucks get an experienced big man to pair with Larry Sanders and the Lakers get a starting small forward (Butler), a point guard stopgap (Ridnour) and a rotation center (Udoh). While none of those players are game-changers, they'll give the Lakers more depth where they need it and all of the contracts expire at the end of the season, keeping long-term goals in place.
In the end, none of the plausible deals are home runs, mostly due to Gasol's mammoth contract. As he's owed over 19 million this season, any potential trade has to include a big contract or two, and not many teams would be willing to give up the players earning that money for an over the hill Gasol. The other option, taking on the massive contract of a dead weight like Gerald Wallace or Kris Humphries from the Boston Celtics, cripples future financial flexibility and doesn't help much in the present tense.
As beneficial as it may be to move Gasol before the trade deadline, it's a difficult task, even for a wheeler and dealer like Kupchak. He'll need all the wiles he can muster and a good portion of luck, but if he can find the right sucker of a GM, the Lakers just might flip Gasol for value before he walks out the door.
Image courtesy of Keith Allison.