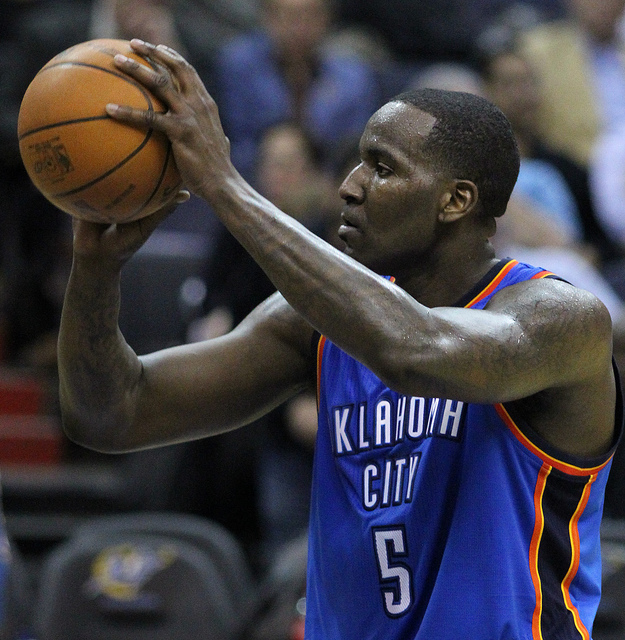 After a long and trying season, an amateur draft process, an arduous window of regulated market activity, exploratory summer leagues and training camps and pre-season contests, each franchise rolls out its carefully assembled roster for yet another season of NBA competition. Given the depth of process and analysis, the scouting and the spending and the blossoming technology, you'd think that each of the 30 current NBA franchises would be at the very least able to assemble a competent five-man unit to use at the start of each game. You'd be wrong.
About 24 games into the current NBA season and several teams have been starting players whose performances are unfathomably awful. Here they are, one man's selection of the 10 worst starters in the NBA at this point in the 2013-14 season:
10. Shane Battier, Miami Heat. It is a proven fact that Battier's contribution to the Heat is immeasurable, because what's being measured is no contribution at all. Battier started the season coming off the bench but, discounting a missed game with a cold, has now started 12 straight for the two-time defending champs. It isn't that Battier is doing anything wrong so much as he isn't doing much at all: he assists on only 3.5 percent of teammate field goals, averages 1.8 rebounds per game (as a forward), and somehow only turns the ball over once per 100 possessions … because he never touches it. He's not bad so much as he's just there.
9. Pau Gasol, Los Angeles Lakers. By his own standards, and really the standards of any high-usage player, Gasol is shooting the ball exceptionally poorly. His 42.8% from the field is by far the worst of his career (10 of 12 previous seasons he shot above 50%), and his shooting near the basket sits unacceptably below 50%. Gasol has never finished an NBA season making less than half his shots near the basket, and so unless he starts compensating with three-pointers, Gasol's shooting is a non-starter.
8. Michael Kidd-Gilchrist, Charlotte Bobcats. Kidd-Gilchrist's usage rate, an estimate of the percentage of team plays used by a player while he is on the floor, is 17.1%. His turnover percentage, an estimate of turnovers committed by a player per 100 plays, is also 17.1. While this doesn't mean what it seems to mean, it's not good, either. Kidd-Gilchrist is one of only three non-primary ballhandlers to manage this particular feat (Dwight Howard and Nikola Vucevic are the others).
7. Kevin Garnett, Brooklyn Nets. No starter is shooting as poorly as Garnett. His true-shooting percentage, a measure of shooting efficiency that takes into account every type of shot and their value, is the worst of any player with even as few as 10 starts. Garnett is shooting 37.3% from the field, more than 8% below his career worst. Injuries and a new system undoubtedly contribute, but nonetheless, Garnett has been abysmal.
6. Jared Dudley, Los Angeles Clippers. Dudley has started every one of the Clippers' 17 wins and 9 losses. He's on the floor approximately 30 minutes a game, and attempts nearly four 3-point shots each contest. He's even shooting well, disregarding a below-average performance from the free-throw line. And yet somehow Dudley is a giant dud, sporting the fourth-worst Player Efficiency Rating of any player having started 75% of his team's games, and negatively impacting his team's performance on both sides of the ball.
5. Iman Shumpert, New York Knicks. This spot could quite easily go to other Knicks starters Andrea Bargnani or Raymond Felton, but with Bargnani playing out of his comfort zone and Felton hampered by hip and hamstring injuries this season, the dishonor falls to Shump. Shumpert is allegedly in this unit to stretch the floor and play lockdown D but he's accomplishing neither, shooting poorly and doing little to improve his team's torrid defense. In Shump's defense, the key alternative, J.R. Smith, has been even worse.
4. O.J. Mayo, Milwaukee Bucks. Mayo's season has been an astounding disaster. He has started all but one game, and despite shooting below 40% from the field and harming his team on both ends, uses more than 23% of possessions while on the floor and averages more than 12 shot attempts per game. There are 36 players who match Mayo's output in these areas, containing many of the high-usage stars you'd expect (LeBron James, Chris Paul, etc.), and Mayo is dead last in Player Efficiency Rating amongst these players.
3. Tayshaun Prince, Memphis Grizzlies. Prince is the only regular NBA starter to have yielded a negative win share this season. Enough said.
2. Richard Jefferson, Utah Jazz. The Jazz sit at 6-21 as of this writing and Jefferson has shouldered a considerable load. One can understand the temptation to start Jefferson: the Jazz's rotation is ridiculously young and has a woeful lack of scoring on the wings, and Jefferson can theoretically alleviate both of those problems. The trouble is, with his poor overall shooting and apparent inability to get to the line, Jefferson is an offensive liability. If he can keep up the dramatically-improved three-point stroke (he started season 6-for-32, went a scorching 19-of-32, and has settled since at a still strong 11-of-26), the conversation may change. Although none of this speaks to the very real possibility that Jefferson is the single worst defender on the NBA's worst defensive team.
1. Kendrick Perkins, Oklahoma City Thunder. By far. Poor Perk has been a source of derision for years, due in large part to the trade of James Harden (understood by many to be the Thunder's only alternative to using the amnesty provision on Perkins). Outside of two missed games following a death in the family, Perkins has started every contest for the 19-4 Thunder, the undeniable success of whom almost kept Perkins from the top of this list. But Perkins has not only been one of the NBA's worst starters but one of its very worst players, sinking his team's offense by a stunning 14.1 points per 100 possessions and even worsening its defense while on the floor. Perkins is simply years beyond the point where he should be in any NBA team's rotation, let alone starting lineup.
Of course this is not always fair. Players fall short of very reasonable expectations, and injuries happen. Sometimes fit takes precedent over individual quality, and so players find themselves starting despite torrid performances. And despite these very reasonable caveats, the performance of these ten remains hard to stomach.
Image courtesy of Keith Allison.