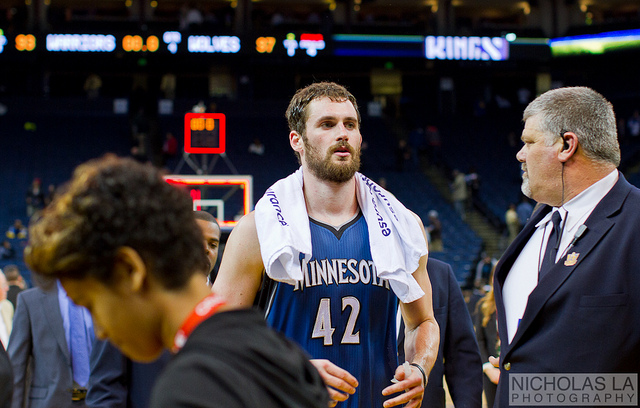 In the battle for king of the power forward position in the NBA, versus LaMarcus Aldridge, Minnesota Timberwolves NBA All-Star Kevin Love had 29 points, 15 rebounds and 9 assists to lead his team to a 120-109 victory over the Portland Trail Blazers on Wednesday night. Center Nikola Pekovic had his way with the likes of Robin Lopez and Meyers Leonard, pouring in 30 points and nine rebounds of his own, with the Timberwolves frontcourt often appearing dominant for the much of the contest. Love amassed a double-double before halftime, something he's done more than any player in the league to date (insert Love-fest pun here).
This was just the fifth loss of the season (in 27 games) for the Blazers, who got 36 points, 6 rebounds and 6 assists from Damian Lillard. However, it wasn't enough for a Portland team that hasn't grown terribly accustomed to losing. Aldridge, normally a 20-10 player, chipped in 15 points and 14 boards of his own for a weary Trail Blazers team playing in a fourth consecutive road game.
Love's season averages of 26.0 points and 13.6 rebounds trump Aldridge's 23.6 and 11.0, but as the best player on the league's best team, Aldridge has generated quite a bit of NBA MVP buzz this year. The Timberwolves are "just" a .500 team in the ultra-competitive Western Conference, and until the team starts competing against the contenders, as they did in Minneapolis Wednesday night, Love will fall short in the hearts and minds of the writers, except those that pay attention to fantasy hoops. That, of course, is another MVP discussion altogether.
Kevin Martin scored 22 for the Timberwolves, who led by 32 in the second quarter and held off a charge in the second half from the Blazers.
Image courtesy of nikk_la.