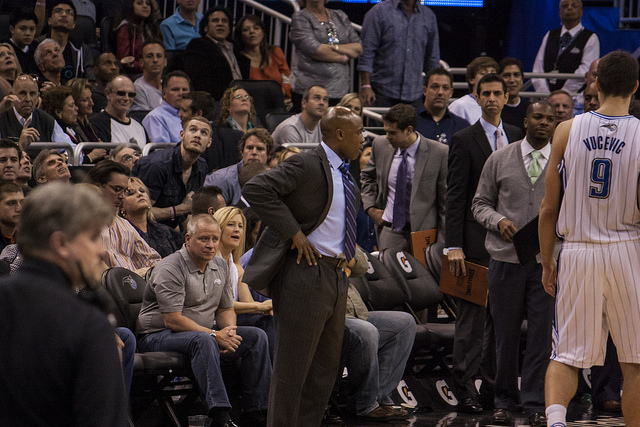 After a close win on Monday night, the Orlando Magic returned home to open up a six-game homestand. Wednesday night saw the Utah Jazz, coming off a loss at the hands of the Miami Heat on Monday night, come into the Amway Center. When the final buzzer rang, the Jazz found themselves on top with an 86-82 victory.
From the start, the Jazz seemingly controlled the game. While the Magic were able to make runs and take the lead at times, Utah was always able to counter and retake the lead. Both sides struggled to make shots, and looked lost at times out there. The basketball was ugly, but the end result was what the Jazz wanted and needed.
Utah was led by rookie sensation Trey Burke. Burke, who missed the team's first 12 games due to a fractured finger, had a career night, finishing with 30 points, 8 assists and 7 rebounds. Fellow guard Gordon Hayward poured in 15, while big man Derrick Favors added 14 points, 11 rebounds and 5 blocks. Alec Burks led the bench unit for Utah, finishing with 13 points.
Orlando, playing without leading scorer Arron Afflalo, struggled to get a rhythm going offensively all night. Point guard Jameer Nelson led the team with 17 points, but was unable to hit the game-tying layup late. Tobias Harris, making his first start of the season, notched a double-double, finishing with 14 points and 10 rebounds. Nikola Vucevic notched another double-double, tallying 14 points and 14 rebounds, while a banged-up Glen Davis added 12.
Magic Game Notes
Magic Miss Afflalo
One of the surprises this season has been Arron Afflalo's hot start. Afflalo ranks 10th in the entire league in scoring at 21.6 points per game, and ranks 10th among shooting guards in shooting percentage. From the start, it was evident the Magic would miss the UCLA product. They struggled to find good looks and looked lost at times offensively. Afflalo is able to add balance to the team and create opportunities for his teammates, which the team didn't have Wednesday night. If Afflalo is to miss extended time, the Magic will be forced to find a new balance and someone who's able to get himself and his teammates going.
Harris Steps Up
Making his first start of the season, Tobias Harris gave the Magic good minutes in just his fourth game back from a sprained ankle. While his shooting numbers may not have been there, Harris was able to get a couple of buckets and really helped propel the Magic. His ability to create off the dribble was very important without Afflalo to try to set himself and teammates up for good shots. It's still early for Harris, who admitted after the game that he was getting tired in the fourth quarter, but it's a good sign that he reported no pain in his ankle after a season high in minutes. The team is still trying to incorporate him fully, but once they do teams will be forced to respect multiple playmakers.
Shots Don't Fall
"We got the looks we wanted." A statement that coach Jacque Vaughn seems to echo every night was echoed once again post-game. While they may have been the shots the team wanted, they were not falling. The Magic shot an ice-cold 32.6 percent on the night, and never seemed to get anything going consistently on offense. Some of it can be attributed to the Jazz defense, but a lot of the burden is on the Magic just missing wide open shots. It happens, it's a long season, but it's got to be just a "once in a while" thing if the Magic want to see success down the road.
Quotable
Jacque Vaughn on Jameer Nelson's final shot: "That play was for him. He got his right hand, got to the rim, he had a couple of safety valves if he needed to use them but the play was drawn up for him. Good look."
His message to Victor Oladipo: "Go get some liquids in you, get a good night's sleep, and come to work tomorrow. You've got Sacramento and a tough backcourt that you have to guard against, life goes on, and here we go."
Victor Oladipo: "I missed shots. We all missed shots collectively. They hit big shots."
Stat of the Night
Utah and Orlando combined to shoot 27-of-80 in the painted area. Utah 12-32; Orlando 15-48
Image courtesy of RMTip21.