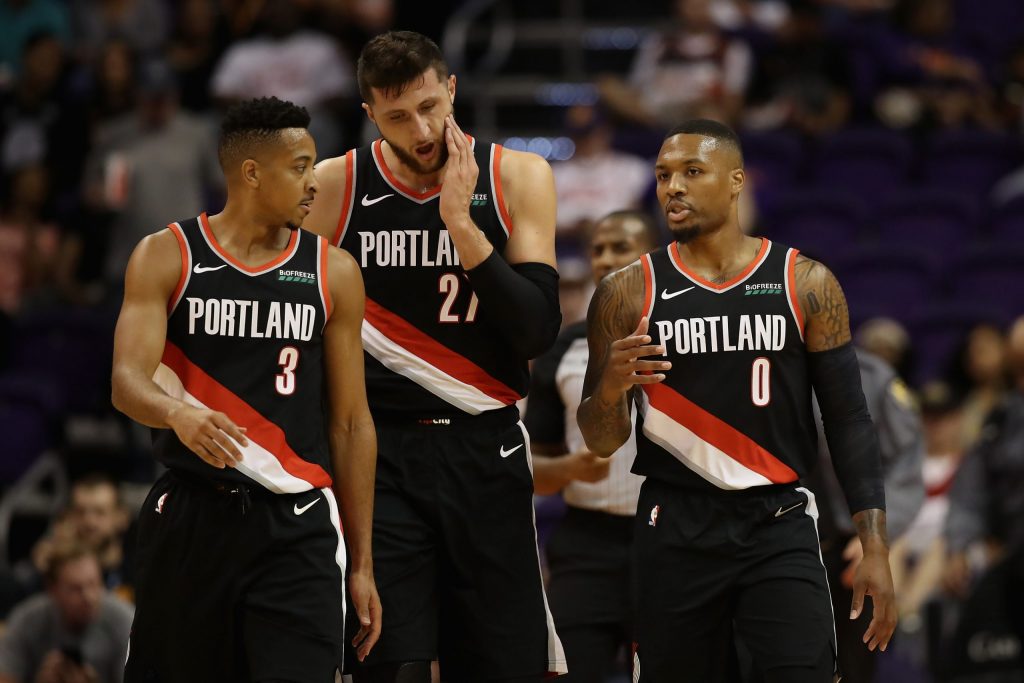 The Portland Trail Blazers defense has been atrocious this season and will hold back any chance they have to win a title. In order to show just how bad it's been, here is a couple of lists that can illustrate such a fact.
Defensive Rating
30. Sacramento Kings
29. Portland Trail Blazers
28. Minnesota Timberwolves
27. New Orleans Pelicans
26. Washington Wizards
In what statistic does the Blazers find themselves against all these teams outside the play-in games? It happens to be the list of the worst defensive ratings in the league (defensive rating is the number of points allowed per 100 possessions). The Blazers should never be in a category with these teams that most likely will not see the playoffs this year. Unless it's for top lottery odds, which hopefully will not happen anytime soon.

Opponent Field Goal Percentage
30. Sacramento Kings
29. Minnesota Timberwolves
28. Cleveland Cavaliers
27. Detroit Pistons
26. Portland Trail Blazers
25. Chicago Bulls
24. Washington Wizards
23. New Orleans Pelicans
22. Houston Rockets
This list appears even worse and has only one team that is in play-in position or better (Chicago Bulls). Another list that the Blazers should want to find themselves nowhere near. 
How do these problems happen? The Blazers found themselves with the fourth-best defensive rating in the 2019-2020 season. The change happened when Terry Stotts decided to implement a new defense in a historically short preseason. It was doomed to fail from the start. The pickups of Robert Covington and Derrick Jones Jr. were supposed to boost the Trail Blazers defense. It has not helped to the degree that Blazer fans had hoped for. 
That boils down to Head Coach Terry Stotts and his defensive ideas. Whether it be running drop schemes on Stephen Curry pick and rolls, or running drop schemes on any shooter in the pick and roll, it makes the Blazers defense look terrible. Granted, they were without the services of Jusuf Nurkić for a couple of months. Having Enes Kanter as your starting center is not exactly a catalyst for a good defense. Kanter purely is played in drop schemes as he will get beat off the dribble if he steps up. Nurkić is more agile and can give the Blazers more defensive looks when going up against pick-and-roll heavy teams. This helps balance out an average defensive starting line-up.
Already in the games Nurkić has been featured in since his return, the defense has looked quicker and more dynamic because of the options he gives. In fact, since Nurkić's return to the lineup, the Blazers rank 19th in the league in defensive rating. That mark is still not where the Blazers need to be, but it is a good start.
Damian Lillard and CJ McCollum don't exactly incite fear into an offensive player's heart, in fact, star players will hunt them out and attempt to get a switch. Norman Powell is an average defender that can guard star players if need be. Covington is a great defender that anchors the Blazers starting unit and really should have better defensive players around him to make him even better. Then there is Nurkić who can protect the rim and use his quickness to mess up guards coming off screens. If there's one problem with his defense, it comes from his lack of tenacity. Many times he finds himself shying away from contact and being backed down by stronger and more physically opposing big men. In fact, Rudy Gobert dominated both Nurkić and Kanter as he amassed 18 points and 20 rebounds in a Jazz win. The starting line-up defense is subpar, but the Blazers bench unit is very poor.
The bench is already shaky defensively and when Nurkić was out, it was horrendous. A lineup of Lillard, Anfernee Simons, Rodney Hood, Carmelo Anthony, and Kanter sent shivers down the spine of Blazer fans. That lineup was the mix of the five worst defensive Blazer players on the roster. Having Anthony and Kanter as the bigs create a massive hole defending both inside and against the pick and roll. 
The Blazers defense is poor for many reasons: not hustling on defense, not boxing out, slow rotations, not getting back on defense, slow or no closeouts, and letting people blow-by. These changes are not that difficult and are not only a coaching issue, but a player effort issue. Stotts must inspire his team to try harder as well, adjusting defensive schemes to put players in the right position. That's another sign of a good coach, not one who can just create good schemes, but one who can inspire his players; two things that Stotts seemingly lacks. 
The coach's job – to do the best with the team he has. This is a very talented team offensively, while the defense is the opposite, especially looking slow and stagnate. However, with an offensive rating good enough for seventh in the league, the team is able to succeed and get wins. However, when the playoffs come, the offense will be challenged a lot more. Opponents will play better defense, something that hampers the Blazers' playoff chances. Another stat that puts a wrench in the Blazers' chances is that the past 20 NBA champions have ranked 11th or higher in defensive rating and the Blazers are far off that mark at 29. If the Blazers want to have any chance to compete in the playoffs this year, they must fix their defensive schemes and do it fast. Otherwise, they will find themselves sitting on their couches once again for the second round.