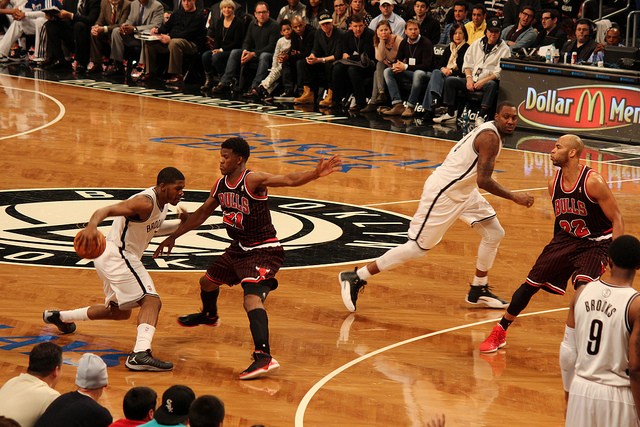 With all the nagging injuries, especially Derrick Rose's season-ending meniscus tear, the Chicago Bulls seem to be set up to fail this season. For some players, these obstacles are a burden, but for one Bull in particular, it's just another opportunity to defy the odds. Jimmy Butler broke onto the scene last season with his tenacious defense and solid contribution on offense. Now he has the opportunity to shine again on a war-torn Bulls team. It's safe to say that Butler is used to being challenged because he's a natural survivor of harsh times.
Right now, he's struggling with being consistent on offense. Two games back against the Orlando Magic, he was cold, and only made 1 of 11 shots from the floor, putting up four points. Recently, he put up 20 points on 53 percent shooting. He was out with turf toe for a few weeks, and now he's come back to a Rose-less Bulls where injuries are abundant once again. He's going to need to be one of the main options on the banged-up Bulls team, and he may occupy that spot permanently if Luol Deng drops out of the picture. Nobody's critiquing his defense, and he's made sure of that by holding opposing players to 32 percent shooting, according to statistics from Synergy. However, many people agree that he needs to step up offensively.
So, how can he become a better, more consistent scorer? For starters, he can improve his jump shot. As of now, he's shooting 39.8 percent from the floor and 35.1 percent from downtown. Usually, he'll drive to the basket or step back and pop a jumper. Simply put, he needs to add more moves to his resume. It wouldn't hurt to learn how to create off the dribble, as well as develop a solid post-up game, a seemingly lost art in the league. With his quickness and strength, a post-up game is right up his alley. While his defense is more than stellar, adding a consistent offensive game will allow him to level up from X-factor to featured player.
Watching Butler in interviews, you'll notice that he's a laid back guy that seems easy to get along with. He's earned his spot in the NBA, as his journey has been rockier than most. When he was just a baby, Butler's father left without a trace, and his mother kicked him out when he was just 13 years old. He bounced around from home to home, staying with friends for a while without a permanent roof to call his own. Butler has been molded by life to endure rather than fold.
To this day, he still doesn't know why his mother kicked him out, but he's used that pain in a positive way ever since.  "That was the fuel to my fire," Butler told the Sun Times. "It gave me the perseverance to push through anything."
For Butler, developing a better offensive game won't exactly be a breeze, but he's dealt with more difficult obstacles before. Even though the Bulls team is crumbling around him, and he's probably going to need to take on the difficult task of filling in the shoes of a go-to guy, I'm sure he's up for the challenge. Although the Bulls' situation right now is a nightmare, Butler is tough enough to walk through it with bravado.
Image courtesy of Shinya Suzuki.