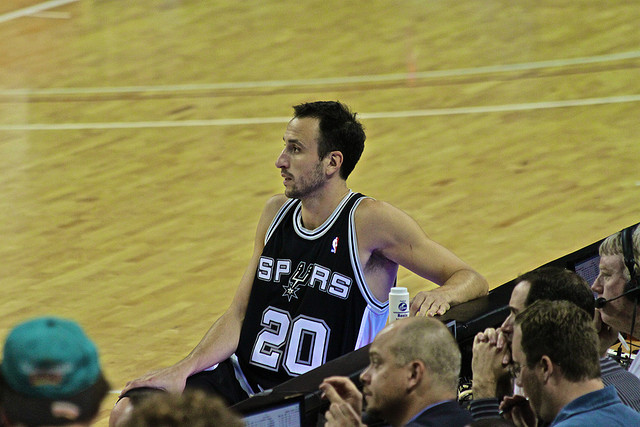 Manu Ginobili's breakout fourth quarter led the Tony Parker-less San Antonio Spurs to victory on Wednesday night, as the reigning Western Conference champs came into U.S. Airways Center and derailed the Suns, 108-101. The loss ended the Phoenix Suns' five-game winning streak and dropped them to 14-10, while the victory boosted San Antonio's record to 20-5.
Ginobili scored 13 of his 24 points in the fourth quarter, turning a back-and-forth game decisively in the Spurs' favor, and Tim Duncan (17 points, 13 rebounds) overcame some early struggles. For Phoenix, the Eric Bledsoe-Goran Dragic backcourt combined for 33 points, Miles Plumlee recorded another double-double (13 points, 13 rebounds), and Channing Frye scored a team-high 22 points (15 of which came in the first quarter) on 8-of-11 shooting, connecting on all four of his three-point attempts.
Bench scoring proved to be the difference in this one; San Antonio's bench, driven by Ginobili and his big fourth quarter, outscored Phoenix's bench 58-29. The Spurs held slight advantages elsewhere, such as in shooting percentage (47.1 percent to 46.3), free-throw percentage (79.2-75), rebounds (46-42), assists (23-16), steals (10-8), and turnovers (18-19).
A disappointing loss for coach Jeff Hornacek's troops, but it shouldn't at all take away from what the Suns have accomplished to this point in the season. They hung in there with one of the NBA's top five teams on Wednesday, and while they may be 0-2 against San Antonio this season, they haven't looked at all frightened by playing them; their combined margin of defeat against the Spurs is 11 points. The Suns are now 14-10, a record good for seventh in the Western Conference, and a record few (if any) expected the Suns to have. They have continued to play solid, energetic basketball, and reviews from opposing teams are a testament to the Suns' relentless style. This loss is a learning experience for Phoenix, and they can take this with them to Denver on Friday, where they will seek their 15th win of the season.
Image courtesy of aaronisnotcool.