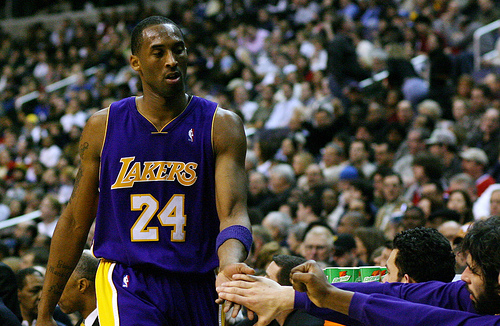 Los Angeles Lakers shooting guard and legend, Kobe Bryant (yes, he's still playing, but can you argue he deserves to be called a legend?), will be sidelined for six weeks with a fracture to his left knee. How will this affect the Lakers? When the season started sans Kobe, the team went on to a 10-9 record, an admirable feat considering their main player was simply on the sidelines cheering his teammates on. Once Bryant got back on the floor, the team went a less than stellar 2-4 and now find themselves under .500 at 12-13.
The season has certainly been one of highs and lows for the Lakers and their fans, but it seems expectations worked out in a reverse sort of manner. No Kobe? There's no way the team will do well. Kobe's back? Look out NBA, now the Lakers are going to rip through the league! Imagine how sports handicappers and online betting sites, like those listed on Sports Betting Dime must feel? It'll be a difficult task for anyone to plan, speculate and analyze how the Lakers will play moving forward because history has shown (for this season, anyway), what one might think should happen with the Lakers won't always play out that way.
It seems like dire straits for the Lakers, particularly for their fans. If the franchise ends up not doing well, they do not have a first round pick in what many are calling the best NBA Draft since 2003 when LeBron James and company put on hats of the respective team that chose them. If the team does well enough to make it into the postseason somehow, eeking out a spot as they did last season, how far can they go? And, Kobe's best teammate in this iteration of the championship Lakers, Pau Gasol will either be traded before the February deadline or allowed to walk away during the offseason. So, yes, it's dire indeed and it seems that this latest injury to Kobe Bryant could end up having a domino effect on the team.
However, it's hard to argue about going over .500 without Kobe. But, how much are you willing to bet they do well without him for this long of a stretch in the season. I don't doubt that Kobe will come back strong, but I felt that way already this season, so if you don't mind, I'll keep my money if I'm wagering on the team without Kobe.
Photo courtesy of Keith Allison/Flickr