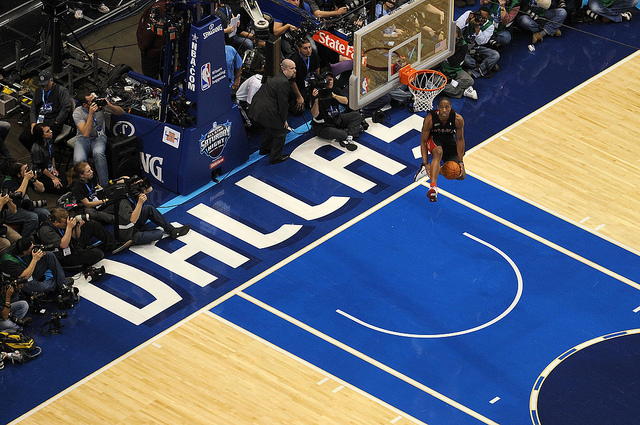 After losing a heart-breaker in overtime to the Charlotte Bobcats, the Toronto Raptors did not want history to repeat itself when they took the Dallas Mavericks into the extra frame last night. Luckily for the Raptors, a few of their players really stepped up and helped secure the victory.
With less than a week to go until Christmas, last night's game between the Raptors and Mavericks was very much like Charles Dickens' A Christmas Carol, but instead of ghosts of Christmas past, it was Raptors of Toronto past. Vince Carter, Jose Calderon and Shawn Marion, all former Raptors, are now playing for the Dallas Mavericks and one of those players nearly led his team to the win over Toronto.
Jose Calderon, a Raptor for eight seasons, had one of his best games of the year. He finished with 23 points, 9 assists and 4 rebounds on a very impressive 8-for-13 shooting night, 7-for-10 from three-point land. At the age of 32, Calderon is still one of the most underrated point guards in the NBA. Many Raptors fans still wish he was on the team, not only because he's a great player but because he's one of the nicest and most humble players to ever play for the Toronto Raptors franchise. It's awesome to see him still put up great numbers like he did in this game.
DeMar DeRozan ended up making shots down the stretch, in the fourth quarter and eventually in overtime, but he struggled mightily throughout. He had 15 points, a career-high 9 assists and 7 rebounds in this one, on a subpar 6-for-18 shooting.
Kyle Lowry had a great game with a stat line of 20 points, 6 assists and 5 rebounds. This was the type of game that Lowry wanted to have against a former teammate, a former teammate who played the same position as him and took his starting spot after he got hurt last season. Calderon had a great game and Kyle matched his play all night.
Raptors fans know the level of disrespect Valanciunas has to deal with from his coach and teammates on a game-to-game basis. His teammates pass him the ball early on but if he misses a couple of shots, they quickly forget about him, which makes him almost useless out on the court which makes Raptors head coach Dwane Casey take him out of games early. Jonas battled through that in last night's game and had 18 points and 13 rebounds on 8-for-13 shooting from the field. He was aggressive all night but his teammates helped him out by actually passing the ball to him. Hopefully this trend continues for future games.
Next up for the Raptors are the Oklahoma City Thunder on Sunday in OKC. The Thunder are on an eight-game win streak and sit atop the Western Conference. Toronto is in for a really tough game against Kevin Durant and Russell Westbrook. All of the Raptors will have to play at their best to win this one.
Image courtesy of Danny Bollinger.