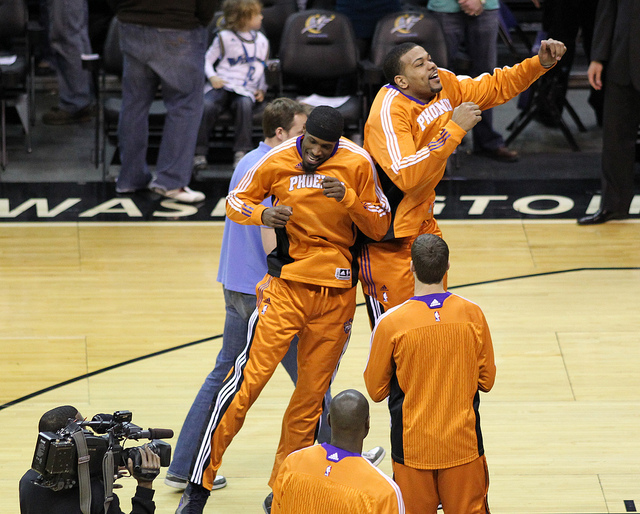 Markieff Morris scored 25 points, Gerald Green added 19, and the Phoenix Suns overcame a 17-point third quarter deficit to defeat the Denver Nuggets 103-99 on Friday night. The shocking victory elevated Phoenix's record to 15-10, while Denver fell to 14-11 with the loss.
Halfway through the second quarter, the Suns were trailing by 20; they cut the deficit to 14 by halftime. With four minutes left in the third quarter, the Suns were trailing 79-62. Green hit three three-pointers over the final 3:08 of the period as Phoenix cut the lead to 10 heading into the fourth quarter. The Morris twins scored the first 14 points of the final period for the Suns before an Ish Smith layup tied the game at 88 with 8:21 to go. The Nuggets regained the lead on a Darrell Arthur jumper with 2:49 to go; they would score only two more points, missing four of their final five shots in the process.
The Suns bench did major damage on Friday night, accounting for 64 points, 62 percent of Phoenix's scoring against Denver. The Morris twins combined for 39 points and Green's 19 came via six three-pointers and one free throw. In fact, Green accounted for half of Phoenix's threes on the night. On the other sideline, Wilson Chandler led the Nuggets with 15 points. J.J. Hickson scored 13 and led all players with 14 rebounds. Denver's bench struggled in comparison to Phoenix's, shooting less than 35 percent and scoring 34 points.
This was a huge win for the Suns. Not only were they able to bounce back from a narrow defeat at the hands of the San Antonio Spurs on Wednesday, they were able to overcome a large deficit in the process. What's more, they were able to win on the road against the Nuggets—the Suns had lost 10 of their previous 11 games in Denver. After 25 games, the Suns are 15-10 and sixth in the West. A great story just keeps getting better in the Valley of the Sun.
Image courtesy of Keith Allison.