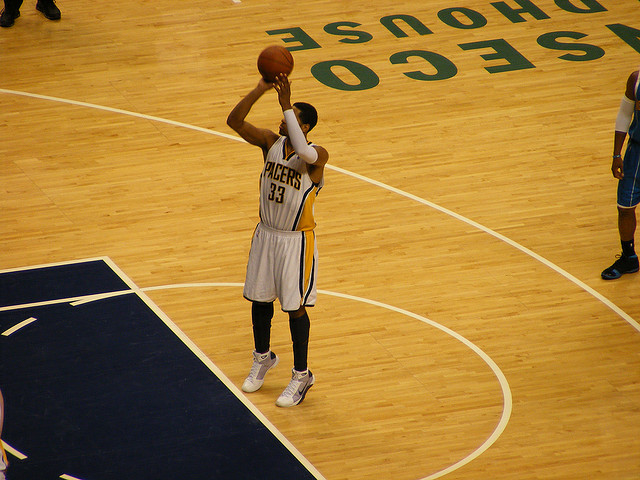 The return of Danny Granger for the Indiana Pacers against the Houston Rockets in Bankers Life Fieldhouse marked the beginning of the real vision that team president Larry Bird had for the blue and gold since he put this squad together during the offseason. Last night his brain child turned in a fantastic performance against a quality Rockets team, winning decisively 114-81.
Indiana beat Houston in virtually every aspect of the game, leading by as many as 36 points in the fourth quarter. Coach Frank Vogel got a serious look at his bench, as the Indiana starters sat for nearly the entire fourth quarter. Paul George had 24 points and 9 assists and Luis Scola came off the bench with 13 points and 6 assists.
The game was relatively close until the third quarter when Indiana put the proverbial screws down on the defensive end, which in turn sparked their offense, which seemed shaky over the past 10 quarters. It was done on so many levels, and even though Houston was able to hang around for the first half, the blue and gold pulled away 87-65 by the end of the third quarter.
Houston had four players in double figures, but James Harden seemed locked down by Paul George, only shooting 3 for 14 from the floor. The 81 points that Houston scored was the lowest total the Rockets have scored all season as they were stymied by a strong and energetic Indiana defense.
Overall, it was a very impressive win for Indiana and they bounced back well from an emotional loss against Miami on Wednesday. The Pacers were able to return to the discipline that led them to the best start in franchise history and the best record in the league after seeming to stray over the last few games.
The return of Granger changes the entire dynamic of who Indiana is in relation to player rotations and energy. It's an exciting time for the Indiana Pacers and this team, if it remains healthy, are formidable toward for any team that faces them. They were built with size, length, and muscle, and they showed all three aspects tonight against a team that has a front line who were able to match the size and muscle of Indiana.
Next up for the blue and gold is the Boston Celtics at Bankers Life Fieldhouse on Sunday evening before a home-and-home against the Brooklyn Nets. As long as they they stay focused and do not overlook these teams on this part of their schedule, they should have a solid opportunity to get back on track.
Image courtesy of Chris Isherwood.