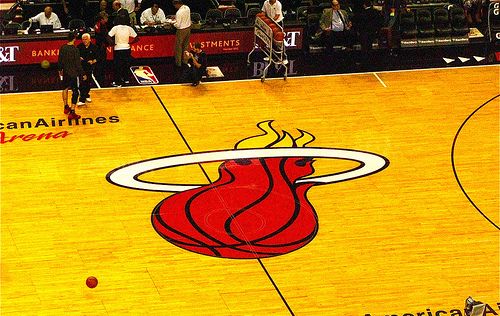 It may be winter, but South Beach is a haven to the cold-averse, particularly on a night like Friday when the Miami Heat and Sacramento Kings radiated extra warmth.
The two teams were scorching hot from the field for most of the night, but the Heat's pace ultimately passed up the Kings' in a 122-103 Miami victory.
Sacramento shot 58.1 percent from the field Friday only to be outdone by Miami's 61.4 percent shooting performance. Both teams entered their respective locker rooms at halftime emitting steam and shooting over 61 percent.
The Kings' offense was led by DeMarcus Cousins, who created for himself and others.
With a size advantage over everyone on the Heat's roster, Cousins tallied his points by way of brute force. Chris Bosh and company proved to be little more than obstacles for Cousins to break through en route to the basket and a 27 point outing. He sustained plenty of contact throughout the night, but was able to shrug it off to sink contested post shots and draw fouls.
When he wasn't taking on defenders in the paint, Cousins displayed impressive court vision. Once, as he drew multiple opponents' attention while on the block, Cousins quickly glanced over his shoulder before tossing a behind-the-back pass to the corner, where Ben McLemore proceeded to knock down a three.
The Kings' rookie was one of the main beneficiaries of Cousins' six assist night, making numerous shots created by passes from a double-teamed Cousins. McLemore cashed in on his open looks, shooting 4-7 from beyond the arc and putting up 20 points, but his and his teammates' efforts proved futile.
Miami had open looks of their own due to poor Sacramento defense – a defense that, at times, made Ray Allen look 10 years younger. Twice in a matter of minutes, the Kings simply watched as Allen sauntered to the basket unimpeded and finished with a dunk.
And if Allen was able to finish above the rim, it shouldn't be difficult to imagine the highlight reel the rest of Heat put together.
Like a pack of malnourished wolves, Heat players salivated at and pounced on their opponents mistakes. With the help of some outlet passes that would make Bill Walton and Wes Unseld blush, the Heat torched the Kings in transition; on 20 turnovers, Sacramento gave up a whopping 32 points.
Offense has been hard to come by for the Kings and Friday, in what may have been their best offensive showing of the season, they were hot.
But competent defense has been similarly sparse for Sacramento this season and against Miami its players looked frozen.
Photo courtesy of stab at sleep | Flickr