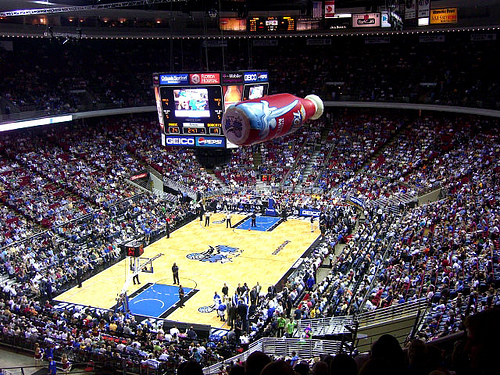 The Sacramento Kings changed course and avoided a gruesome scene Saturday.
Midway through the second quarter, Michael Malone looked like his head was going to explode.
Friday night, after allowing the Miami Heat to shoot 61.4 percent from the field—the fourth time in six games an opponent scored over 115 points—Malone didn't hide his frustration. In the post-game press conference, he called out his team's defensive effort and overall mentality.
After a rough quarter-and-a-half or so Saturday, the Kings finally seemed receptive to their coach's gameplan, holding the Orlando Magic to 45 second-half points in a 105-100 road win.
"We were kicking, punching, bobbling the ball around, but we made enough plays to get that win," Malone said. "Instead of hanging our heads and feeling sorry for ourselves, we battled back."
The game, which went into halftime at 56-58, slowed to a crawl in the third quarter. While the Kings improved their defense, they had trouble getting baskets, particularly in the paint where the Magic effectively clogged the lane.
Then an unlikely source of offense emerged.
Although Marcus Thornton is known for offense, his season has been underwhelming thus far. (Entering Saturday he was shooting 35.5 percent from the field, 28.2 percent from three and had registered nine DNP-CDs.)
Still, he was called upon in Orlando Saturday and proceeded to catch fire.
In 23 minutes off the bench, Thornton put up 15 points—most of which came in the fourth quarter. Thornton's nicknames include "Lil' Buckets" and "Bayou Bomber," but it may be time for a new one: "Heat Check"; when shots begin to fall for him like they did Saturday night, Thornton is quick to regain his confidence, freely launching shots every trip down the floor.
Malone, who has limited Thornton's playing time this season, was quick to praise him following the game.
"I just gave him a lot of love in the locker room, and not just because of the way he played tonight, but because Marcus has been an unbelievable pro throughout this process," Malone said. "He went from being a starter, to a guy off the bench to out of the rotation, and to his credit—what being a true pro is about—he continued to work hard, he supported his teammates and he was ready when he was given the opportunity. He shined tonight."
Thornton had the timeliest game for Sacramento, but Isaiah Thomas logged the most time in the game, and the Pizza Guy delivered.
Thomas, who has seen a tremendous jump in minutes since taking over as the starting point guard, barely received a respite Saturday, registering 43 minutes. The increase in playing time hasn't overwhelmed him, however, and has only served to increase his production.
Against the Magic, Thomas got off to a quick scoring start before settling in and setting his teammates up. His 23 points and nine assists led the Kings on the night.
Thomas won't have much time to rest, as he and the Kings square off against the New Orleans Pelicans Monday for the team's fifth game in seven days—a brutal stretch for Sacramento, which just completed a four-game road trip that featured two back-to-backs.