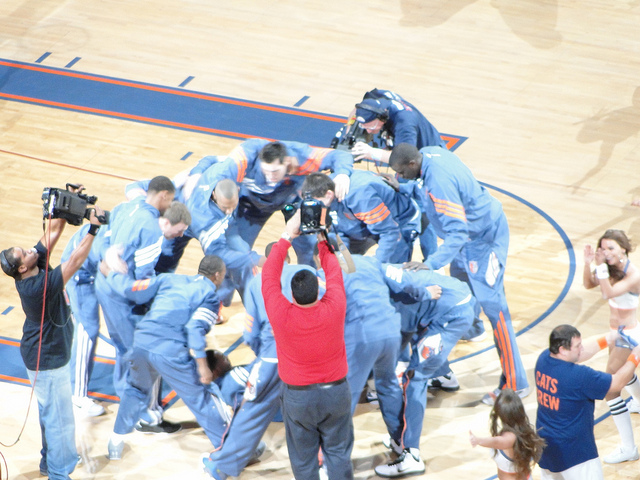 It was an exciting night at Time Warner Cable Arena, as Charlotte Bobcats owner Michael Jordan revealed the new logo and colors for the name change from the Bobcats to the Hornets. Despite the excitement in the arena, the Utah Jazz beat the Bobcats 88-85, snapping the Bobcats' three-game winning streak.
The teams didn't create much separation from one another in the first half. The Bobcats took a four-point lead at the midway mark, 46-42.
The Jazz came out in the second half and took charge. Led by rookie point guard Trey Burke, Utah took a four-point lead heading into the fourth quarter. The Bobcats cut the led to one late in the fourth, but turnovers by Kemba Walker and Gerald Henderson doomed Charlotte.
Kemba Walker scored a team-high 20 points and Al Jefferson tallied 19 points and 11 rebounds. Ramon Sessions added 13 points off the bench.
The Jazz were led by Trey Burke's 20 points, Derrick Favors scored 14 points and grabbed nine rebounds, and Gordon Hayward scored 12 points and grabbed 10 rebounds.
The Bobcats fell to 13-15 on the season.
What went right
After giving up over 100 points each of the last two games the Bobcats played great defense, only giving up 88 points. Kemba Walker and Al Jefferson set the tone defensively with Michael Kidd-Gilchrist and Jeffery Taylor out with injuries. Cody Zeller played well off of the bench (4-of-5 from the field) and is pushing for more playing time. The Bobcats out-rebounded the Jazz 50-44.
What went wrong
Despite Cody Zeller playing well, he was posterized by Gordon Hayward in the middle of the fourth. Trey Burke hit a three-point shot with 2:35 to play that put the Jazz up 86-83, which turned out to be the difference in the game.
Two crucial turnovers in the last 1:30 cost the Bobcats. Kemba Walker threw an errant pass intended for Al Jefferson and Gerald Henderson had the ball stolen from him. The Bobcats shot poorly from the three-point line, going 2-of-12. Al Jefferson tweaked his ankle with less than a minute left in the fourth quarter while going up for a rebound. He immediately returned to the game, but the Bobcats have to be concerned with his long-term health.
The production at the small and power forward positions are a problem. Anthony Toliver, Chris Douglas-Roberts and Josh McRoberts were ineffective. With Jeffery Taylor out for the season with a ruptured Achilles tendon and Michael Kidd-Gilchrist out for a few more weeks, the Bobcats need to look at signing a free agent and explore trade possibilities.
Next game
The Bobcats host the Milwaukee Bucks on Monday, December 23 at 7 PM.
Image courtesy of Amy Meredith.