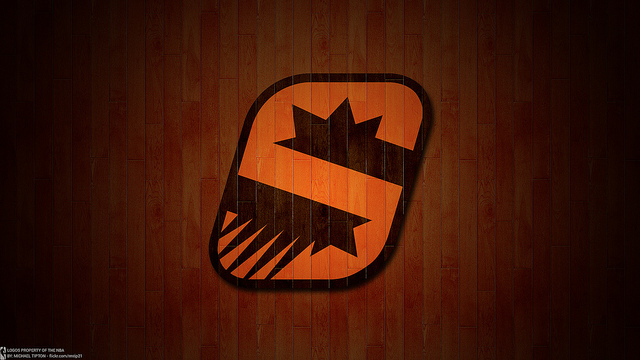 Eric Bledsoe's game-high 25 points led the Phoenix Suns to a 123-108 victory over Dirk Nowitzki and the Dallas Mavericks on Saturday night. For the Suns, the victory was their fourth in their last five games at home, and ninth in 13 games at the US Airways Center this season. The Mavs fell to 4-9 away from American Airlines Center.
The Suns were scorching from the opening tip, as they led 38-25 after 12 minutes. Gerald Green scored 12 of his 22 points in the first quarter, Bledsoe added nine, and the team shot better than 60 percent for the period. Dallas was able to cut it to five at halftime, but the Suns reasserted themselves in the third behind the Goran Dragic-Eric Bledsoe backcourt, which combined for 10 points in the frame. Phoenix was able to pull away further in the fourth, as Channing Frye stepped up and scored 10 of his 18 points.
The Suns were able to win despite getting out-muscled in the paint and turning the ball over 18 times compared to Dallas' 11. The Mavericks outscored the Suns 62-36 in the paint but connected on only three of their 17 three-point attempts, whereas the Suns shot 50 percent (15-30) from long range. Dallas shot 17-of-23 from the free-throw line, while the Suns shot 20-of-22 from the stripe. Phoenix also had the advantage on the glass, 45-36. The Mavericks got 21 from Dirk and 19 from Monta Ellis, but weren't able to overcome Phoenix's depth, as five Suns scored at least 13 points: Bledsoe (25), Green (22), Frye (18), P.J. Tucker (16) and Dragic (13).
Phoenix is now 16-10, and coach Jeff Hornacek's troops find themselves in sixth place—two games out of fourth place in the loaded Western Conference. Earlier in the season, the Suns were winning with tough defense; now, they boast the NBA's sixth-best offensive rating at 106.1. Since a 110-91 loss in Memphis on December 3, the Suns are 7-1 and averaging 108.3 points per game. They return to action Monday night against the Lakers at US Airways Center.
Image courtesy of RMTip21.