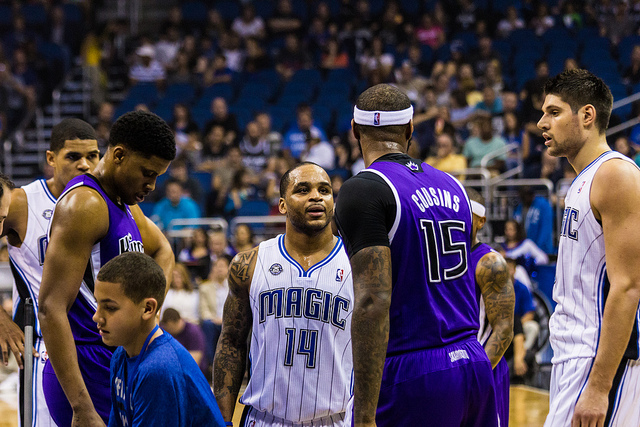 Following a tough loss at the hands of the Miami Heat, the Sacramento Kings traveled up the Sunshine State to take on the Orlando Magic on Saturday night. Sacramento, looking to end their East Coast road trip on a good note, took down the Magic 105-100 to finish their road trip 1-3. Both teams had success offensively while struggling at times defensively.
Orlando was able to get a hot start early, jumping out to an eight-point lead at one point in the first quarter. However, Sacramento was able to fight and claw their way back into it, cutting the Magic lead down to two going into the half. After a strong end to the third quarter, the Kings used an 18-4 run at the start of the fourth to take the lead and never look back.
The Kings, playing their fourth game in five nights, finished with five guys in double figures, led by Rudy Gay and Isaiah Thomas, who each had 23. Marcus Thornton spearheaded the run in the fourth quarter, pouring in 11 of his total 15 in the final quarter. Center DeMarcus Cousins, who picked up his eighth technical foul of the year, finished with 14 points and 11 rebounds, while fellow big Jason Thompson finished with 11.
Orlando, who missed leading scorer Arron Afflalo in Wednesday night's loss to the Utah Jazz, also finished with five players in double figures. Afflalo led all scorers with 26 points. Tobias Harris, making just his second start of the season, tallied 21 points, 11 of which came in the closing quarter. Point guard Jameer Nelson poured in 13, while Victor Oladipo and Glen Davis scored 12 and 10, respectively.
Magic Game Notes
Afflalo Returns Strong
After missing Wednesday night's game due to illness, Arron Afflalo returned to the floor in a big way against the Kings. He showed that a game off didn't knock him out of rhythm, leading the Magic in scoring yet again. Afflalo was sorely missed against the Jazz, and his impact was felt from the start against the Kings. His ability to create his own shot and score coming off screens and other set plays make him very dangerous for opposing defenses. He's possibly the biggest key to the team's success, and it showed against the reeling Kings.
Vucevic Struggles
Going up against DeMarcus Cousins is no easy task, and it showed Saturday night. The big man was able to get Vucevic in early foul trouble and really knock him off his rhythm. It wasn't the first time Vucevic struggled with Cousins, but it was a big factor in the Magic's struggles all night. Their inability to get him going and make him a real offensive threat, coupled with the difficulty of guarding Cousins, led to a rare poor night from the Montenegrin.
Three-Point Defense Struggles
While the Magic were able to limit the Kings' attempts inside, the team struggled defending the three-point line. Sacramento made 8 of 11 from deep in the first half, and finished 12-of-23 overall in the game. Whether it was penetration and kicking to open shooters, or just pulling up and hitting a shot, the Kings' ability to knock down the three ball was big Saturday night. It's been a problem for the Magic at times this season, but if it continues it could lead to them continuing their downward trend.
Quotable
Jacque Vaughn on Kyle O'Quinn: "He's growing up. He's feeling more comfortable on the floor. He's doing things at a high rate, good things at a high rate, whether it's boxing out, whether it's making good passes, whether it's being in the right position and not fouling. So, I think he's progressing as a basketball player."
On Tobias Harris' development, role and fit on the team: "Well, I think overall we'll get a sense of his development and whether it's starting or coming off the bench. I elected to start him coming off last game and saw that he played okay and he felt okay after playing 30 minutes. It would've been a tough matchup tonight for Arron to start off on Rudy Gay. He's probably giving up four inches to him and I thought it was a good night for Tobias to get his feet wet a little more and overall he did some really good things."
Stat of the night
Between the end of the third quarter and start of the fourth, the Kings went on a 28-6 run to take control of the game.