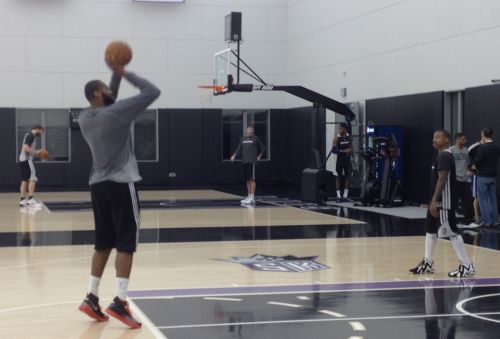 Finally, after a four-game road trip and the holiday season, the Sacramento Kings were able to do something they haven't had many opportunities to do lately: practice.
Aside from a win against the Orlando Magic, Sacramento's last five games have been marked by self-sabotage, as mental miscues have led to embarrassing defeats.
Thursday's practice gave the Kings a chance to iron out various unbecoming wrinkles. It was just the second practice the team has had together since Rudy Gay's arrival two weeks ago.
"(It was) one of our first practices in two weeks where we've had a chance to really get after it with no limitations," Michael Malone said. "We addressed some areas that we have to continue to work on, starting with transition and pick-and-roll defense, one-on-one defense and offensive execution—it's a long list of things—but we came in and got good work in."
Defense has been a sticking point for Malone since he was hired, and he was especially disappointed with the Kings' defensive play over the recent stretch. On Thursday Malone emphasized the stress that turnovers put on the defense as well.
Over the past five games the Kings have turned the ball over 17 times a night and incrementally increased the number of points allowed off those turnovers, culminating in Monday's debacle against the New Orleans Pelicans.
"We have to find ways to stop beating ourselves, trying to make plays that aren't there and get a lot more fundamentally sound with our decision making," Malone said. "We're not good enough where we can give the New Orleans (Pelicans) 29 points off of our 22 mistakes, and that's just the reality of the situation."
After you
Individually, Isaiah Thomas has thrived since taking over as Sacramento's starting point guard—averaging 20.9 points and 7.1 assists per game—but the team hasn't produced such successful results. In Thomas' nine games as a starter, the Kings have posted a 3-6 record.
The losses can't completely be pinned on Thomas, but both he and Malone acknowledge he still needs to adjust his game for the betterment of the entire team.
Coming off the bench, Thomas had been given free rein to wreak havoc, but, Malone said, he needs to work harder at getting teammates into the flow of the game.
"My message to him is, 'Off the bench you were a scorer first, a passer second. You have to flip that now, as a starting point guard. You have to think: let me get everyone else involved,'" Malone said. "I give Isaiah a tremendous amount of credit because that's not easy to do … to all of a sudden change it and say, 'OK, I need to be a playmaker.' You're playing at a Sixth Man of the Year level, but now I need you to be a starting point guard."
With the new role and responsibilities, much is expected of Thomas, but Malone is confident he'll always be able to score.
"Isaiah's been a scorer his whole life, so now he has to find that fine line of when to score and when to get guys off," Malone said. "Early in the game you have to get guys their shots because … you're going to get plenty of opportunities to score for yourself."
One King v. The King
Tonight, the Kings take on the Miami Heat for the second time in a week, which means a tough task is ahead for the defense; in particular, for Gay, who will presumably be charged with guarding LeBron James most of the night.
While there's no denying the difficulty of his assignment, Gay has done it numerous times in his career and is as ready as one can be for the matchup tonight.
"(James) is a bowling ball and you have to give so much attention to him defensively," Gay said. "He's the best right now, but for me to be anywhere near that, I need to accept the challenge."