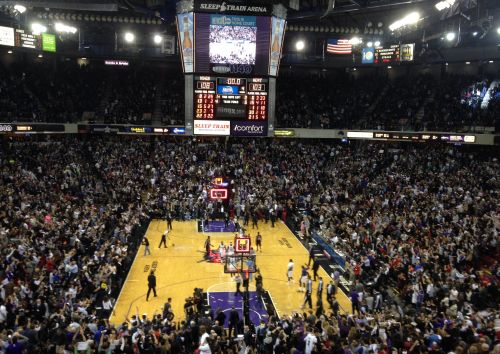 A sellout crowd packed Sleep Train Arena Friday to witness visiting nobility, LeBron James and the Miami Heat, but was instead treated to a royal performance from its own Sacramento Kings.
With the Heat (22-7) shorthanded, the Kings (19-9) were able to overcome a dismal first quarter and climb back into the game before eventually winning 108-103 in overtime.
Friday's win comes four days removed from a collapse against the New Orleans Pelicans, after which Michael Malone had pointed words for his team.
"Responding, I think that's the biggest thing, and why not against (one of the league's best teams)?" Rudy Gay said. "We responded today. Obviously coach was very adamant about what he had to say. … We responded and that showed a lot of maturity."
DeMarcus Cousins reigned supreme for Sacramento, putting together a temper and tension-fueled, dominate performance. Tempers flared in the fourth quarter when Cousins was the victim of two hard Miami fouls, but, with five fouls and one technical already to his name, he uncharacteristically kept his cool.
Once the game tightened in the third quarter, the Kings' intentions were clear – nearly every possession down the floor for a long stretch, they looked to dump the ball into Cousins on the block. Under pressure, the Kings center thrived against the two-time defending champions, scoring when targeted and cleaning up teammates misses.
"He is who he is, and he's an emotional player and hates to lose, but he came up with some huge plays tonight," Malone said of Cousins, who finished with 27 points and 17 rebounds. "Not just scoring, but offensive rebounds, defensive rebounds and taking charges, which is great to see from him."
Cousins was the focal point throughout the night, but he was surrounded by strong performances and timely plays from teammates as well.
After Thursday's practice, Malone challenged Isaiah Thomas to play a more balanced brand of basketball. Against the Heat Friday, Thomas brought his coach's vision to life. Rather than playing in fifth gear the entire 41 minutes he was in, Thomas dialed it back a bit, playing under control and making prudent decisions in a 22 point, 12 assist outing.
Thomas hit shots when the Kings needed him to, particularly in overtime, but throughout the night he worked to get teammates involved; Rudy Gay was one of them.
Gay struggled in the early on, but corrected course. As the game progressed he gradually regained confidence – attacking James on a few occasions – before making key shots in the game's waning moments.
"You look at this game and the Houston game, where Isaiah, DeMarcus and Rudy all got off and we got a three-headed monster approach … I ran Rudy the whole second half and he came up with some big, big baskets for us and played some decent defense on LeBron at the end," Malone said. "We need (Gay) to be an efficient player and scorer and if he doesn't have a shot, make a play for his teammate. He's been terrific for us and tonight was one of his best games as a Sacramento King."
Big performances propelled Sacramento in the second half, but the game looked in doubt at the outset. The Heat manipulated the Kings' defense with deft passing, getting open shots and lanes to the basket.
James led the first-half charge, setting up teammates and getting his own shots in his typical MVP form. After his 19-point first half, though, Sacramento adjusted and held him to just three points in the following two quarters.
Malone attributed the late-game success to the gameplan aimed at limiting James' shots in the paint.
"You have to give up something with LeBron – he's the best player in the NBA. From coaching him, his jump shot has improved considerably, but I'd still rather him beat you with jump shots than getting to the rim, getting you into foul trouble and creating offensive rebounds for his teammates," Malone said. "We wanted to back up, make him take some contested jump shots and live with the results."
While Friday night's game was a rare highlight in an otherwise frustrating season, Malone said the focus is on finding consistency.
In order to do so, the Kings will need to recapture the mentality they displayed in prevailing against one of the league's elite teams.
"It feels good because of the way we got the win. We had to fight for it. We were down early, we didn't play too well, but we just kept fighting," Thomas said. "That's what this season is about: we got to just stay together and keep fighting."