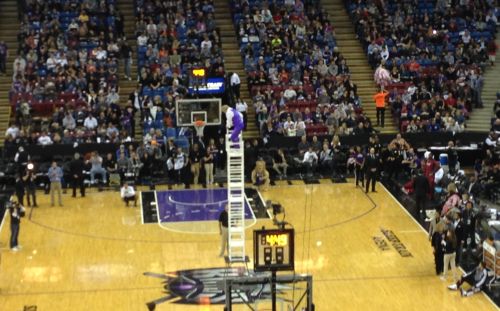 Balance is the goal for any aspiring NBA contender. Without it a team can find success, but in the end will likely become a novelty act doomed to be pigeon-holed into defeat.
As is the case with any professional sport, though, such a thing is easier said than done.
The Sacramento Kings have as long a way to go as any team in the league to find that ultimate equilibrium – especially difficult considering the sway generated by two significant trades made early in the season – but they may yet be establishing a reliable center of gravity.
Since acquiring Rudy Gay in a trade with the Toronto Raptors, the Kings seem to have found balance at the top of their roster.
Gay's reputation as an inefficient ball-hog reached Sacramento long before he did, but in nine games with the Kings he's looked more comparable to the player people praised before things soured in Memphis.
In his new uniform, Gay is taking 3.6 shots less per game than he was in Toronto this season while putting up nearly identical point production. Many scoffed at Gay and his 38.8 field goal percentage prior to his arrival in Sacramento, but he's shot 48.1 percent since.
Part of the reason for Gay's success is his decision to go a bit off-kilter, not countering good shots with bad ones – or at least not as much. The reduction in shots has meant cutting out some deep-twos and threes from his self-indulgent diet.
From time to time, Gay still devolves into the ball-stopper he's best known as, but he also has a healthy appetite for attacking the rim, which accounts for his increasing field goal percentage.
Gay's ability to find the bit of balance he has in his own game has in turn evenly spread out the offense amongst Sacramento's top three players. In most of the games since trading for Gay, he, Isaiah Thomas and DeMarcus Cousins have consistently taken a similar amount of shots.
As previously mentioned, the reduction in Gay's shots have increased his efficiency; Cousins has continued his All-Star caliber pace, registering double-doubles with clockwork regularity, and Thomas has played brilliantly, averaging 21.4 points and 7.2 assists per game since Gay joined the team.
The top of the Sacramento food chain is successfully dividing spoils amongst itself, and the Kings' top three players are producing nearly ideal individual numbers … but the team keeps losing.
In the last nine games, the Kings have posted a 3-6 record.
While there's stability among Gay, Thomas and Cousins – offensively, at least – almost every other area of the team is lacking.
The aforementioned players have thrived, but depth is missing, and the Kings often get little from their bench.
They play decent enough offense, but are one of the league's worst teams defensively, something that hasn't changed with any of this season's new arrivals.
On the whole, players seem to take care of the ball well (the team is tied for 10th in the NBA in turnovers per game), but they make egregious errors and when they do cough the ball up they surrender a crippling amount of points off turnovers.
These flaws are anything but unexpected, however. They're merely symptoms of a team in the midst of rebuilding and trying to acquire talent.
It's a mission far from completion, but the production from the Kings' three most talented players is a promising sign.
For now, Sacramento stands with little sure footing, a team trying to find its balance.