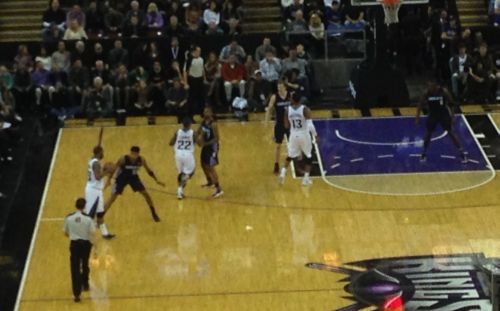 With plenty of  help from the Sacramento Kings, the Charlotte Bobcats looked like a different team Saturday night.
Ranked 28th in the league in offensive efficiency, the Bobcats have struggled to find points all season, but scoring came to them with ease Saturday. Charlotte took advantage of a sloppy Sacramento defense in a 113-103 win.
The Kings need only look in the mirror to find the source of their opponent's success. They consistently got lost in defensive rotations, which freed up Bobcats players for good looks at the basket.
"At some point, we have to be embarrassed by being ranked 29th in almost every defensive category. That's got to bother guys, and right now I'm not sure it does," Michael Malone said. "It's another disappointing loss against a team that we knew had lost five in a row and was going to come in here and play with a great sense of urgency."
Kemba Walker led the charge for the Bobcats, attacking the Kings from every angle offensively. Charlotte frequently ran pick and rolls through him, which Sacramento defended by going over screens, though to little effect. When Kings guards went over screens to defend the jump shot, Walker would charge toward the basket, leaving defenders behind.
Near the end of the game, he and the Bobcats quelled any hope the Kings had of a comeback by knocking down key shots and scoring in transition.
Aside from late miscues, Sacramento tightened up its defense in the second half, but after Charlotte's 65-point first half – the second most by a Kings opponent this season – the effort was futile.
Before Saturday, the Bobcats were last in the NBA in field goal percentage (at 42 percent) and 28th in shooting beyond the arc (at 32.7 percent). Against the Kings, though, they shot 54.2 percent from the field and 60 percent from three.
"When we allow teams to get off to starts like that – where they don't feel us and they score at will – by the end of the game it's too late; the basket's a hula-hoop," said Malone, who was visibly upset for much of the game. "It's becoming a broken record. I can't defend for our guys."
Sacramento players seemed somewhat confounded by Saturday's performance considering the recent success they had against the San Antonio Spurs, Houston Rockets and Miami Heat.
But consistency eludes the Kings.
After playing to the level of those three teams, they returned to Sleep Train Arena only to underwhelm against fellow lottery teams.
"I don't know what it is we have to do. Do a couple extra push-ups or do some extra stretches, but we have to come out for the challenge," Rudy Gay said. "We're not that team that can just turn it on whenever we want to."
Despite the lackluster team effort, the Kings received decent individual performances from some players. DeMarcus Cousins finished with 26 points and 11 rebounds and his aggressive play out of halftime helped to narrow the Bobcats' lead. Jason Thompson registered a double-double. Isaiah Thomas had 21 points and 8 assists.
But nights like Saturday – Sacramento players could be seen arguing on the bench at times – suggest the Kings are more a group of individuals than a cohesive team.
Added to a long list of self-admitted issues, Sacramento needs to find a way to bring the different pieces together to create a singular whole.
"The easiest thing to do is to lose. The toughest thing to do in this league is to win," Gay said. "So we have to put in the effort, put in the time and do whatever we have to do to get these wins."