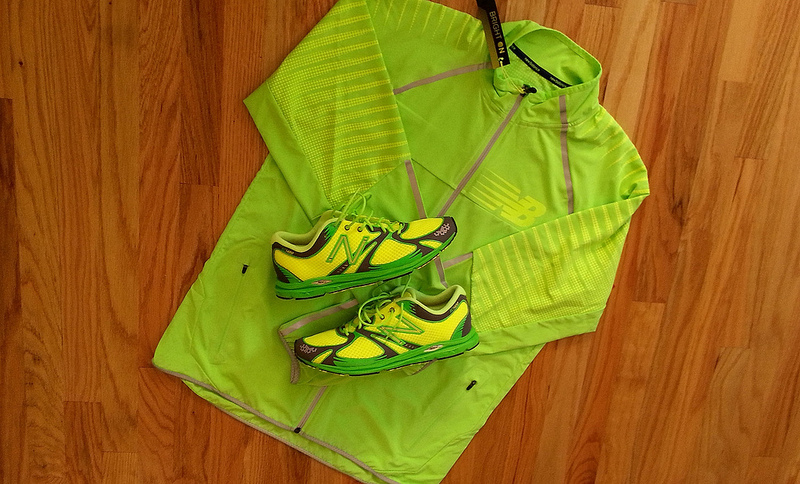 Just like playing ball, training for ball is all about making the most of what you have. Not that's it's at easy. In fact, most of the time, the training for playing is harder than the hardwood (or concrete) classics that you see or participate in yourself, making it all the more essential to get better – and running is a big part of that.
You can run virtually anywhere and since you have to be well-conditioned, running at different times and different places makes it even more challenging, and New Balance has been thoughtful enough to acknowledge that.
With the High Visibility Collection, you can make those training runs that much more worthwhile.
Translating directly to the collection's purpose, the New Balance High Visibility Collection is all about placing direct emphasis on your safety, so you can run whenever you need and wherever you need.
Highlighted prominently with the High Visibility Beacon Jacket, you can get three different kinds of light refraction to properly make you visible on your runs, whether it be day or night (a good reason that it has also been known as the TRI-VIZ Beacon Jacket). Read below to see what the fuss is about: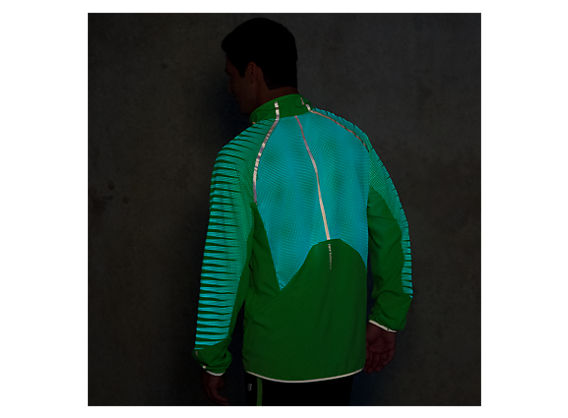 The High-Visibility Beacon Jacket features three levels of visibility details, making you visible from top to bottom. The low-light visibility comes from the bright green gecko color, blending safety with style. The oncoming-light visibility comes from the 360-degree reflective trim, so you'll be more than one kind of flashy when the headlights and streetlights hit you at night. The no-light visibility comes from the revolutionary glow-in-the-dark technology on the sleeves and back: charge the Beacon Jacket under light and you're ready to go, and ready to glow, day or night.
Perfect, right? It's a well-fitting jacket that's semi-tailored, so you aren't flagging around in the wind and you have less material giving you resistance while you streak through the streets.
And that's not all – it helps to have a pair of shoes that offer the same protection as well – enter the New Balance 1400.
Also known as the Glow In The Dark 1400, the shoe carries the same properties as the Beacon Jacket, with its trifold visibility and bright stance. Here's what New Balance says about the 1400: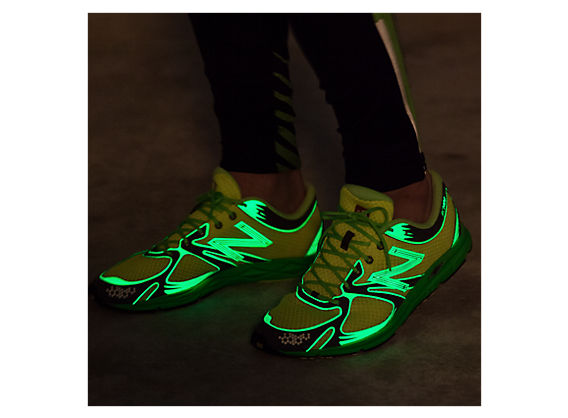 The Glow in the Dark 1400 is a racing flat not only built for speed, with an ultralight design but for stability with a responsive REVlite® midsole for performance. Beyond that, the Glow in the Dark 1400 is New Balance's most visible shoe, using three levels of visibility to make runs at any time of day safer. In low light, the shoe's fluorescence creates visibility. In the dark, light sources reflect from the shoes, creating visibility. In darkness without a light source, the shoe, when charged, literally glows in the dark.
In light of the 1400's appearance, the shoe itself is a very strong performer, and not merely a shoe that's about style. As aforementioned, the 1400 is a racing flat, meaning that it's not really a high-mileage running trainer. It's okay to run in for long distances occasionally, but because of the light build of the shoe, it's best for sprints or shorter distance training runs, like intervals – perfect for ballers, since games are naturally more like intervals between long court runs and all-out sprints. The 1400 also comes with a removable insole, so that some of you with higher arches or more sensitive feet can put your own orthotics in without any issues.
For more information, go to www.newbalance.com.
Photography courtesy of Sandy Dover for Baller Mind Frame and New Balance.
Additional photography of the New Balance High Visibility Collection is also available here.