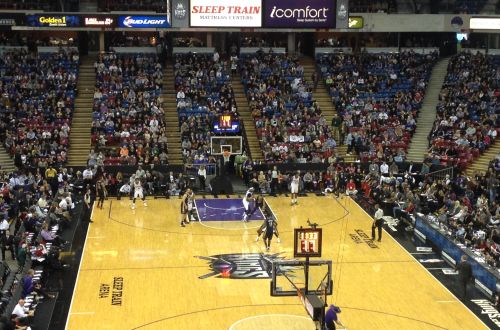 Michael Malone can only say the same thing so many times before action becomes necessary.
Since he arrived as the head coach of the Sacramento Kings, Malone has preached a defense-first philosophy. So far this season, however, the Kings have failed to emulate their coach's vision.
Entering Wednesday, Sacramento ranked 28th in the NBA in defensive efficiency, a position that figures to fall even further after its performance against the Memphis Grizzlies. Typically known for their defense, the Grizzlies orchestrated a surgical offensive performance against the Kings in Wednesday's 99-89 victory.
Memphis shot 54.7 percent from the field in an offensive assault that has prompted Malone to make changes to his lineup.
"I told our team after, I'm going to start playing guys that are willing to defend," Malone said. "I can no longer be a hypocrite. I got the job in June and preached defense – that's what I believe in – and we're one of the worst defensive teams in the league."
"For me, if you don't play defense – it's not just Marcus Thornton – if you don't play defense I can't play you. It's ridiculous that we give up 54 percent (shooting) to this team; they played a back-to-back last night and score at will."
It was Memphis' point guard Mike Conley that kept the gears turning offensively. Prior to tip-off, Grizzlies coach David Joerger suggested Conley was on the edge of making this year's All-Star Game. Wednesday night, though, there was nothing borderline about his play.
Conley was an efficient offensive force. He shot well from the entire floor, sinking a couple piercing threes off of the bounce, in particular. But when Conley wasn't beating the Kings from the perimeter, he was doing it on the inside.
He utilized the pick and roll to get past Sacramento defenders and charge the basket before finding frontcourt teammates under the hoop. Conley also got fouled as a result of his penetration, and got to the free line nine times, making every attempt.
Once the dust settled, Conley emerged with 27 points on just 13 shots to go along with 10 assists, making for a strong statement ahead of today's selection of All-Star Game reserves.
"Mike is an All-Star level point guard in my eyes. I think that he's one of the more underrated players in the NBA," Malone said. "He has an impact on both ends, runs the team, he's a good two- and three-point shooter and he makes plays for his teammates. I'm not surprised. He's had his way with us all three times this year."
Wednesday night's game marked the seventh time in the last ten games that the Kings have allowed an opponent to shoot over 45 percent from the field.
Malone wasn't shy about voicing his frustrations with Sacramento's defensive efforts and inside the locker room players agreed with his sentiments.
"There's nothing the coaches can do. We work on it every day. We start practice with defensive drills. Since August, since September we've been doing the same things every day," Isaiah Thomas said. "I don't know what it's going to take for us to understand we've got to be a better defensive team for us to even win any game."
While Thomas denied there was anything left that the coaches could do to improve the team's defense, in the coming games Malone figures to use the bench to sift out which players are willing to defend. He said he will no longer sacrifice defense in favor a player's offensive capabilities.