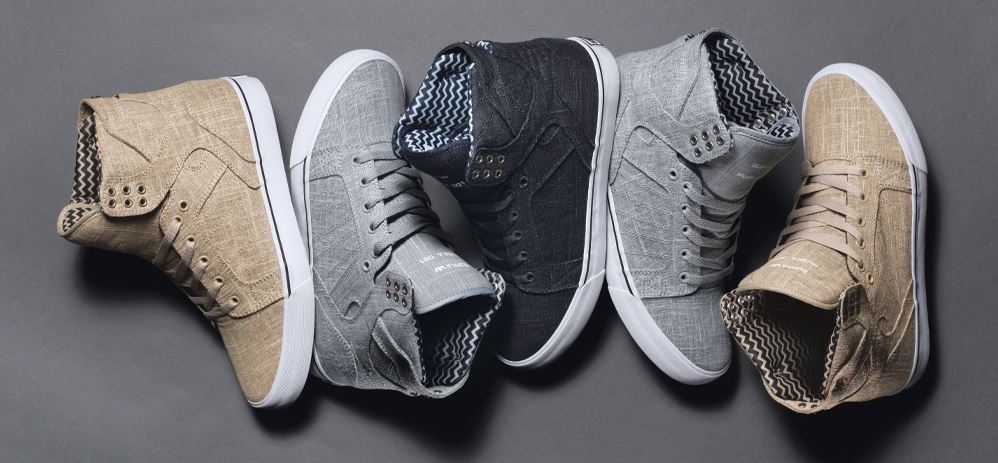 BMF Style: Because balling is more than the roundball – it's the lifestyle that surrounds the ball. BMF Style brings you the best styles in sportswear and fashion apparel for when you're away from the court, whether you're checking for new gear or checking for your favorite NBA players' pieces outside of the locker room.
—
The original Skytop by SUPRA, when released several years ago, was a shock to the skating world – where a shoe that had been originally designed was engineered to skate, but made to look like the shoe of a rock star. And that's what happened exactly – skaters skated and rock stars rocked out in the first Skytop and it was received with adulation all across the world.
Now dressed up a little fancier, the SUPRA Skytop Linen is a premium update that lends to a more casual appearance, but a still-capable performance profile.
See more of the Linen below, courtesy of SUPRA:
Arriving in three new linen options is the iconic SUPRA Skytop. Coated for added strength, this true high top rises up from a traditional vulcanized sole to showcase its highly imitated design. The Skytop is now cloaked in khaki, slate blue, or grey linen, offering a range of classic colors to this pillar of the SUPRA footwear line. The linen Skytops are available now at fine SUPRA retailers and suprafootwear.com.